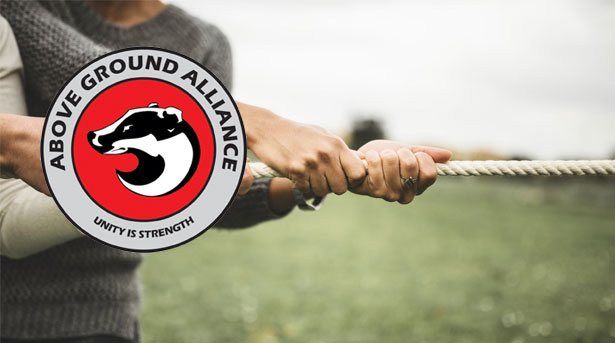 Above Ground Alliance
Above Ground Alliance - Strength & Unity
Visit Jason from GLOW at CHAMPS Booth #829

I can't even remember a time when my life didn't revolve around head shops. I was only four when my dad first opened the Head Shed in Toledo, Ohio, barely out of diapers and not yet in kindergarten. My earliest memories played out on a backdrop of psychedelic posters and tapestries soaked in the layered scent of a dozen varieties of incense. I can still see the smiling faces of my dad's employees on those days off from school when I'd sit in the back room and work my creative magic with crayons.

For most of us, a head shop represents a certain chapter in our life, be it a youthful rite of passage, a start of a new career, or both. For me, it's everything, the only way through this world I've ever known.

I'm not just aware of the struggle; I've lived it. As a child of the industry, my survival was tied to it. It was a head shop that put food on my plate, clothes on my back and a roof over my head. I bought my first car when I was 16 with the cash I made sanding water pipes after school in my dad's acrylic shop. And when I came of age, it was a head shop that propelled me into a career of my own. Glow was originally started in 1979 as a shell corporation to help my dad get around the scruples of nervous bankers. Twelve years later, he passed it on to me as a banner under which I could start selling such specialty items as scales and wooden pipes to other shops. I don't think either one of us could have foreseen at the time what the company would become.

Now in business 26 years, I can honestly say that I've seen it all. I have seen small businesses crumble under the weight of a prosecutor's ambitions. I have seen mass seizures without charges. I've seen court cases won and products never returned. I've seen the sweat on my father's face as he risked it all to clear his name and I've seen his relief when he wonthe appeal. I've seen an army of law enforcement armed to the teeth coming down my driveway. But I've also seen the looks on their faces the day they lost in court.

Now, I see the writing on the wall. We are on the precipice of a major shift in our market. Up until now, it's been the brave and reckless few who would dare plant their flags in the ground and embrace this culture, regardless of the legal risks. It was the artisans, the activists, the visionaries, the non-conformists of every variety, willing to throw caution to the wind and daily open their doors to an often-hostile public bent on seeing their demise. But legalization is now all but a foregone conclusion and with every day that brings us closer to this eventuality, more and more opportunists line up at our gate to get their piece of the profits. They've done their homework. They know the potential and they know that there is no gatekeeper.

If we continue with business as usual, with business as it's been in this space for the past 50 years, our market won't even be recognizable in another five. The so-called "mom and pops," will fall by the wayside, chewed up and spit out by corporate-backed chains, homogenized and sterilized reproductions of the culture we hold dear, while artists and artisans will be all but replaced by sweat shop workers churning out soulless schwag at 50 cents a pop.

This doesn't have to be our future. There are 10,000 shops across the country, most of them individually owned, with new ones coming into the fold every day. With the foot traffic coming through each of these, we are looking at a network of millions. Our potential is infinite.

It is for this reason that we have started the Above Ground Alliance, a business association conceived specifically for our industry, to unify, educate and empower its members and equip us for the battles that lie ahead.

For a unified industry, the possibilities would be endless. With the muscle of 10,000 plus stores, we could beat back stifling regulation before it's passed, provide legal counsel to those within our ranks who are unfairly targeted, even begin guarding our gates to fend off the vultures before they've sunk in their claws. We could obtain real news pertinent to our trade, not from Facebook, but from legal firms who specialize in defending and advising business like our own. Credit card processing, health insurance, tax assistance, these aren't just possibilities; they're aspects of our plan that are in the works as I write this. And with a network of millions, we could take this one step further and effect the change we want to see on the grand scale. It's all within our grasp.

There have been a number of attempts at this in the past, but none have come to fruition. Whether by a lack of proper planning or from the understandable paranoia that permeates our market, each have shown up and failed just as quickly. But failure is no longer an option. The days of flying under the radar are over. To borrow a phrase from Harborside Health Center's Steve DeAngelo, it's time to step "out of the shadows, into the light."

I would like to invite every one of you to come be a part of the Above Ground Alliance and solidify your future, our future, through unity, education and action. You don't have to trust me to join. In fact, if you don't, that's all the more reason to join and keep my intentions in check. It is no longer a question of whether this will happen. It's merely a question of when, and if it happens soon enough. In the words of Benjamin Franklin, "Join or die." Your participation is essential to our survival.