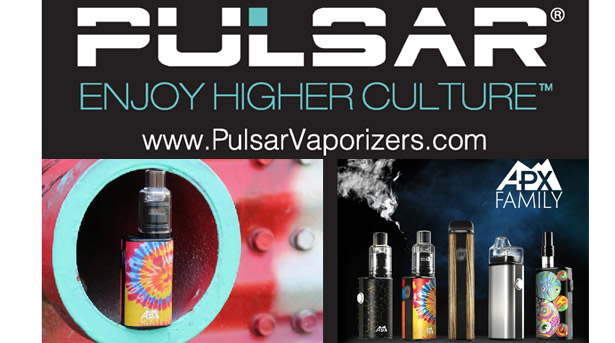 AFG Spotlight PULSAR
AFG Distribution is currently celebrating their 20 Year Anniversary in the industry as a distribution channel, delivering great brands to the market all over the world. In light of this extraordinary accomplishment, AFG would like to spotlight a brand that they are very proud to offer retailers; Pulsar!

Pulsar has always been at the forefront as proud veterans of the vaping industry. Their first product was a handheld portable dry herb vaporizer called the Pulsar 7. Since those early days, they have designed and developed many quality products for the modern day smoker to #EnjoyHigherCulture in their everyday life. Now, Pulsar houses over 1,000 different products at facilities in the vibrant and creative city of Asheville, NC. Though they are most recognized and respected for the APX Family line of vapes, they also offer other vaporizers, water pipes, rolling trays, e-nails, dabbers, bubblers, and silicone products. As a close-knit team of passionate vaping and smoking enthusiasts, they pride themselves on having a finger firmly planted on the pulse of this quickly growing industry!

At Pulsar, their goal has always been to listen to the community to create the most wanted, best quality products offered at the most reasonable prices. That goal has been consistently met, exceeded and will continue to in the future so everyone can #EnjoyHigherCulture! Pulsar Vaporizers is based in the beautiful Blue Ridge Mountains of Asheville, NC. When the Pulsar Team set out to thoughtfully design and develop the APX Vape, the sole mission was a "vaporizer for the people"!

There was a large need for a quality mainstream vaporizer that the everyday citizen could get their hands on. The Pulsar Team decided to create an affordable top notch vaporizer that provided both a quality and reliable way to enjoy higher culture. It's that simple. They saw a void to fill in a market where most affordable vaporizers are made from poor quality materials and tend to malfunction or deliver a poor experience. Vaporizers made from these lower quality materials more often provide the user with negative unwanted smells and flavor profiles. Engineered using only the best materials, the APX has no harsh smells and allows each specific strains' flavor profile to really shine.
Pulsar's APX Family has grown from the original dry herb APX Vape to become a full "family" of popular portable vape and smoking devices. When the Pulsar APX Vape came out, it was considered the next gen of portable, affordable, palm-sized vapes!
Delighting consumers with a 30-second heat time, an enhanced LED display, an ergonomic mouthpiece with an improved silicone cooling system, a 10x16mm ceramic chamber, and finely tuned temperature settings with a range from 356°F - 428°F, the APX Vape was a hit. These features make it simpler for users to choose a desired temperature setting, and once the herb chamber has reached temperature, the unit will vibrate to alert the user it is ready for use. The versatility of multiple design options only adds to the appeal of the APX Vape from a consumer standpoint. They can choose from brushed aluminum in black, blue, gold, or silver; and artistic designs like a psychedelic spaceman, skulls, tie dye, wood grain, THC molecule and an urban design. Other features include a simple 5-click power function and a 5-minute auto turnoff time. The complete kit includes the APX, a USB charging cable, stir tool, cleaning brush, and an extra mouthpiece silicone insert, all packaged in a reusable gift box. The Pulsar APX Vape has a price point that aims to satisfy with a MSRP of only $69.99. Most Pulsar devices are backed by an end-user 1 Year Warranty.

Pulsar couldn't come out with a dry herb vaporizer and just forget about the most common way consumers enjoy their dry herb- Smoking. The Pulsar APX Smoker was designed for the die-hard herb smokers who just can't get enough of those smoky hits. The APX Smoker provides a hit much like a standard glass pipe would, except without a lighter- just with the push of a button! This eliminates both flames and that undesirable butane taste from the equation. The Smoker's incredible 7-second heat time (reaching 950 - 1094 degrees F) comes from a powerful 1100 mAh battery and is equipped with a self-cleaning ceramic power pad heating element. Once heated, this palm-sized combustion pipe will deliver on-demand hits, again and again, at the push of a button. Other features of this remarkable electric pipe include a hand-blown glass mouthpiece, 1.5 hour use time, a 1.5 hour charge time via USB, a heat indicator, battery life indicator, and a 5-minute auto turn-off function for safety. It also comes with a replaceable quartz-lined atomizer. The APX Smoker was also created with versatility in mind, with multiple body designs and color options available. Following along the lines of the original APX Vape, the Pulsar APX Wax vaporizer packs a powerful, portable and distinctly discrete punch for concentrates! It may be palm-sized at 3.5 inches tall, but the APX Wax fires up its triple quartz coil atomizer exceptionally fast using a long-lasting 1100mAh battery and an atomizer resistance of 0.7ohm. The pure quartz heating chamber delivers even heat and a super-strong borosilicate glass or steel mouthpiece keeps vapor inside until inhaled. Other features include the pure quartz chamber, 5-click button locking function, 1.5 hour charge time, vape ready light, Micro USB charging port, and a 5-minute safety auto shut off.

The newest additions to the APX Family are the Oil and the Volt. The Pulsar APX Volt variable voltage vaporizer for wax features a 5-second heat time, 3.5 inch size, 1100mAh battery, 4 voltage settings, pure quartz coil-less cup, 0.4ohm atomizer resistance, and low temp capability for enhanced flavor. It comes with multiple colors and designs including black, blue, silver, tie dye, THC molecule, and wood grain and more. It also includes a silicone container, dabber and USB charger, and 5 second heat time. The Volt provides a full flavor profile which is great for high-end concentrates and terpene flavor. The Pulsar APX Oil vaporizer is a high-end oil vaporizer for use with thick oils. The 1100mAh battery unit boasts a preheat function and variable voltage settings so you can enjoy a light vape or up the voltage for a dab like rip. The included ceramic cell cartridge allows you to get the most flavor and vape consistency out of your thick oils. With a solid 510 threaded connection, the APX Oil is compatible with all 510 threaded oil cartridges. The large battery size provides a prolonged battery life giving you less time on the charger and more time to #EnjoyHigherCulture. It is equipped with variable voltage settings (2.8V / 3.2V / 3.6V), a Preheat/ Boost mode (20 sec.), a 1100 mAh lithium battery with Atomizer resistance of 1.5 ohm, a Micro USB charging port, a 5-minute safety auto shutoff, and a truly solid connection between battery and cartridge.

Pulsar also just came out with an addition to their silicone "RIP" series of Rugged Indestructible Pipes, called the Lava Flow! This silicone rig features Pulsar's 14mm deep bucket quartz banger and even allows for on-board concentrate storage in the bottom. Future plans for the brand include releasing a brand new product created by designing and developing a uniquely different portable vaporizer- be on the look out! Pulsar plans to continue to design, develop and deliver exclusive, leadingedge products. As the country evolves and this industry progresses, it is a very exciting time for Pulsar! You can meet the team and see the APX Family and the RIP series at upcoming tradeshows ASD, SSE, Champs Las Vegas, MJBIZCON Las Vegas, INTERTABAC, and Spannabis. Create a way for people to enjoy a higher culture when you visit Pulsar's social media pages IG/FB @pulsarvaporizers or visit their website at www.pulsarvaporizers.com and www.afgdistribution.com