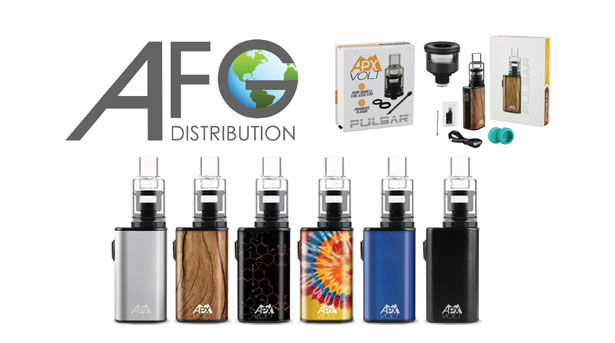 AFG Distribution
20 YEARS OF SUCCESS - AFG distribution humbly started almost 20 years ago in 1999 from a rented house of the Founder and CEO, Jayson Magura in Asheville, NC. This humble start, however did not stop AFG from doing nearly a half a million dollars in sales its first year.

Still in Asheville, fast forward almost 20 years and AFG Distribution is in a 50,000 square foot warehouse with 120+ customer-focused employees! Needless to say, AFG has had tremendous growth over the years. Their main goal is to be "Your One Stop Alternative Distributor." They currently offer over 9,000 products and their Product Team is always on the forefront looking for products that are not just unique and different, but also offer excellent value to their loyal customers. Constantly uncovering products that fit these requirements can be challenging at times, so several years ago AFG Distribution expanded from only distributing products to also manufacturing and selling their own brands and product lines. In fact, AFG's bestselling innovative high end product line, Pulsar Vaporizers & Water Pipes (#enjoyhigherculture) are the fastest growing brand in the business. The Pulsar APX Family (Volt, Wax, Vape & Smoker) is also extremely popular and they are continually p rogressing this exclusive line!

WWW.PULSARVAPORIZERS.COM

INSTAGRAM - @pulsarvaporizers
FACEBOOK - @pulsarvaporizers

AFG'S ADDITIONAL HOUSE BRANDS INCLUDE:

GRINDHOUSE - High-quality grinders, vaporizers, RYO products to pollen presses - www.grindhousegrinders.com
HERBAL CHEF - Electronic & stove top cannabis infusers & silicone cookware for cannabis cooks www.herbalchefshop.com
SESHGEAR - Quality vaporizers for herb, oil & wax www.seshgear.com
BUCK NAKED ECIGS - Portable vapes, eLiquids & Nic Salts - www.bucknakedecigs.com
CRUD BUD - Hassle-free, easy to use cleaning products for all your smoking accessories
SHIRE PIPES - Fine Tobacco pipes
THREADHEADS - Tapestries, purses, backpacks, necklaces & other festival wear

AFG's target markets are vast and include most B2B channels such as Distributors, Wholesalers, Smokeshops, Headshops, Convenience Stores and Dispensaries. AFG is truly honored to serve their customers, old and new, who continue to come back month after month, year after year. CEO Magura believes, "It is truly the American dream to run your own business, and we are thrilled to have the opportunity to do business with all of you making your dreams come true. Without your loyalty and support we could never be what we are today, and we are very grateful!"

AFG takes pride in its constant efforts to offer the best range of products in the industry while also providing friendly, knowledgeable customer service with a staff of over 120 people who are each fully committed to serving its customers' needs first and foremost. They realize that their customers' time is valuable and, with this in mind, strive to create a wholesale environment that offers the convenience of a one-stop-shop. They do this by keeping up with current trends and cutting-edge new products while also making sure to stock all the go-to staple products and brands in the alternative industry. When combined with their personal attentive service, AFG's Account Managers will provide customers with the best shopping experience possible.

Marketing also plays a key role in AFG's success. Bennett Dickert, Marketing Manager has been with AFG for five years and has seen the organization grow exponentially. "Each year we release our 450+ page annual catalog. Throughout the year we also release a bi-monthly 175+ page supplemental source to growth & profit for our customers called The AFG Insider. Some of the newer products include: Pulsar APX Volt, Sesh- Gear, and Herbal Chef Electric Infuser.
According to Dickert, "We continuously strive to develop and bring fresh products to market that are both unique & innovative, but it's also about offering high-quality products at affordable prices."
While AFG has experienced tremendous growth, Dickert says that culturally, "AFG Distribution is still like a big family. Even though we have drastically grown and our day to day tasks have changed, we still all understand the importance of a good laugh! At the end of the day it is still All Fun Gifts, it's a great place!"

AFG Distribution will celebrate 20 years in business in 2019 and they still have several big plans on the horizon. They will be at trade shows throughout the year and you can easily follow them on social media to be kept up to speed. Customers can order through the web at www.afgdistribution.com by Phone 855-234-4386 and email - info@afgdistribution.com. Be on the look out for their upcoming 450+ page 2019 Annual Catalog and their bi-monthly 175+page supplemental catalog, The AFG Insider - "AFG Distribution's Insider Source to Growth & Profit," which features special deals and sales as well as showcasing all the hottest and newest products in the industry.
(Mon-Thurs 9am-8pm / Friday 9am-5:30pm EST)

UPCOMING TRADESHOWS:

SSE Tampa October 7-9, 2018 • www.smokeshopevents.com
RAD Portland October 10-11, 2018 (B ooth 817) • www.theradexpo.com
Cannafest Prague November 2-4, 2018 (B ooth 1A-21) • www.cannafest.com/en

SOCIAL MEDIA:

INSTAGRAM: @afgdistribution | FACEBOOK: @afg.distribution | TWITTER: @afgdistribution