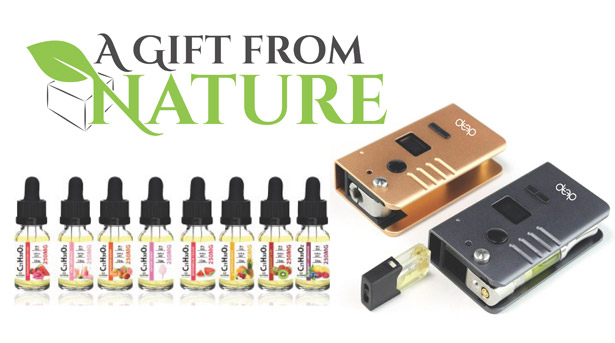 A Gift from Nature
Founded in 2016, A Gift from Nature was established out of the desire to provide quality of life and wellness improvement options to consumers. A Gift from Nature is a full spectrum line of products that embodies wellness and is formulated with organic, non-GMO, beneficial ingredients comprised of the highest quality and consistency. A Gift from Nature was created by passionate users of Hemp derived CBD. The owners have experienced first-hand how daily consumption can improve wellness and the overall quality of life. They discovered many inconsistencies and low grade ingredients in most products available to consumers. A commitment to quality was formed in order to create a line of products that are derived from only the purest Hemp CBD available in the market.

This is why they source organic ingredients from farmers and partners they know and trust, creating meaningful relationships with the source, resulting in consistent quality. They are continuously developing new products to improve the mind, body and spirit of all users. From a dedicated sales team that truly believes in the products, to an abundance of consumer testimonials; A Gift from Nature is paving the way to wellness and an improved quality of life.

During their experience within the vape industry and with manufacturing hardware, wholesale/distribution and retail operations, the founders of A Gift from Nature recognized a need in the market for a safe, affordable, and quality line of products that both work, and are 100% backed by every employee in the organization. They not only make their products, but also use them daily. Their "WHY" is driven by the passion they have for creating the quality of products that deliver noticeable results and improvements by enhancing the quality of life for its users.

MISSION STATEMENT: To become the trusted leader for the full spectrum - Hemp Cannabidol (CBD) based products industry through our focus on education, product creation and innovation.

VISION STATEMENT: To offer innovative natural wellness solutions focused on improving quality of life and inspiring healthier communities.

PURPOSE STATEMENT: Our purpose is to provide natural wellness solutions by incorporating the purest ingredients available and providing our customers an opportunity to experience proven results focused on wellness and quality of life.

The major difference that sets A Gift from Nature apart is that their team does not only sell and manufacture their products, they are all dedicated daily consumers of their products. They are not interested in "flipping" or making fast cash by flashing the market with cheap quality goods. They offer buy-back if the products don't sell and they strive to protect the market. When a customer orders their products (retailer or wholesaler), they recognize this as an investment into their brand, and intend to protect that investment by only selling at (2) price points (wholesale or distribution). Every buyer is valued equally, and customer "A" will not get a lower price than customer "B" (wholesale vs wholesale or distro vs distro). This ensures that margins are not eroded and customers can purchase based upon their budget.
"Our biggest point of pride would be our customers. We are honored to hear their testimonials and feedback after using our products. We take a consultative approach to selling our products and devote a lot of time informing and educating our customers on how and when (and for what needs) to use our products."
Easily one of A Gift from Nature's most popular products is the classic Gel Capsules. These Gel Capsules are 25mg strength each of potent full spectrum oil housed in a gel capsule that is easy to swallow and digest. These come packaged as 4ct daily dose bags or 30ct bottles, which is perfect to appeal to both new customers who want to try the product, as well as returning loyal customers of the brand. Their CBD capsules are produced combining a Hemp CBD oil with MCT coconut oil and plant-derived starches and cellulose, which are then all wrapped up in a vegetarian formulated capsule.

A Gift from Nature is thrilled to offer two brand new products to the market: CBD Oral Spray Tincture, and CBD Vape Liquid/ Sublingual. The CBD oral spray is a blend of their own Full Spectrum Tincture crafted with spearmint and lemon lime flavors to deliver a fresh tasting, fast performing tincture dose. This 250mg strength (10ml pump delivery) spray has added terpenes and natural flavorings to make an easy "On the Go" Spray dose. A delicious Lemon Lime and Spearmint combination provides great relief and conveniently fresh breath. Consumers will be delighted by this easy POP sale item as a fun and convenient way to try the benefits of CBD. The newest product to launch at A Gift from Nature is very exciting because this innovative 15ml CBD vape liquid can also be taken sublingually. It is available in (8) great flavors and is priced to offer consumers the chance to use the product without a large cost associated ($16.99 MSRP).

A Gift from Nature's 3 year anniversary is just around the corner in July of 2019; they feel equally proud and humbled to have reached this mark of achievement. As they continue to grow within the industry, they are fully committed to their primary long term objective, to become a trusted brand (trusted for information, quality and service after the sale). They are always innovating with products and technology. Currently, they are developing a device that will be used to power cartridges and pods through the same device. This device will be affordable and powerful. They are also developing a full line of terpene infused liquids (tinctures), and expanding their pet line of products as well as their line of bath oriented products. To keep up on all the new and exciting product launches at A Gift from Nature, you can be visit them at multiple Champ's Shows, CBD Expo's (US and UK) or at their website:

www.agiftfromnaturesupplies.com