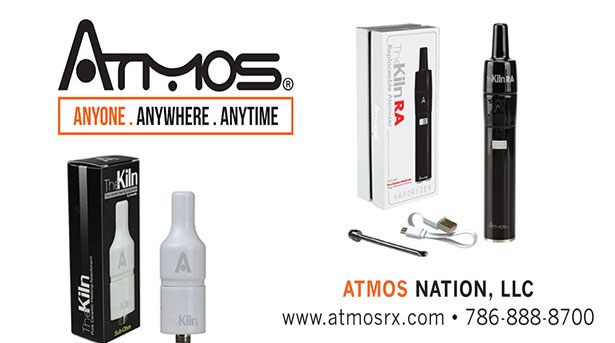 Atmos Nation, LLC
Started in Florida in 2010, Atmos took the industry by storm, introducing portable vaping devices that did away with the need for torches and butane to create heat. At its heart, Atmos is focused on design and engineering. Manufacturing is actually where Atmos got its start. As early as 2007, Atmos made its name as a "hardware" company, and along those lines they also manufacture products for other brands in the vape industry by private label.

Atmos Nation LLC is currently managed by three founders, Charly Bens, Eli Eroch and Sean Ben from their headquarters in Davie, Florida. The location boasts a 32,000 square-foot facility with more than 50 employees, including engineering, research & development departments. They engineer ninety percent of their products in-house, which gives them an edge when it comes to quality control and getting their products "just-so" before releasing to the public. They offer an extensive line of portable vaporizers for dry herbs, wax consistency products, and e-liquids.
"We're really excited about our new Kiln RA device and our upcoming collaboration with Tyga X Shine. It's definitely something our customers should be on the lookout for," explains Charly Bens.
"We engineer most of our products in-house, meaning we get to make changes on a level that is more in-depth than our competition. We play a role in the creation of all of our devices, ensuring products are made from the highest quality materials and with an attention to detail no one else really has in the market right now. For example, we released the Kiln and Kiln RA devices not too long ago, and since the release, companies have been working hard to copy our design. What sep arates our product from theirs is the quality and coloring of the ceramic. While anyone can simply paint a ce ramic device, our ceramic is colored. Meaning the color doesn't scratch off. You can even take a torch to the ceramic and the color will stay the same. It's just a small example of the quality that separates an Atmos product from an average product. Many suggestions come from consumer feedback, and that was the genesis for the Kiln RA which builds upon the original Kiln attachment by introducing rebuildable atomizers. Easy to use and maintain, the Kiln RA's deep ceramic chamber is capable of handling an impressive amount of product, satisfying one of the biggest requests of waxy vapers. Re-engineered with ultra-versatility, the Kiln RA is designed to sit flush with all box mods and mod batteries and is equipped with an advanced dual post system that makes changing the ceramic coils faster and more convenient."
The Atmos team shares a common mission – to enhance the customer's quality of life. By combining the benefits of revolutionary technologies with the gentle touch of a well-equipped and genuine customer service team, they are able to deliver quality vaporizers and accessories that exceed the expectations of their customers, setting the standard for
"We here at Atmos want everyone to join the Atmos Nation. It isn't about target demographics, but rather, about helping people do what they do best. Whether it's creating art, working their nine-to-five job, writing, accounting, anything. Atmos wants to make doing what you love easier, by improving the quality of everyone's lives. Quality, innovation and customer service are synonymous with the Atmos brand. Many of our customers have been with us since day-one and it's only increasing. We're constantly trying to make everyone happy," states Charly.
"Customers can get a hold of us any way they want, we make it very easy for them. They can get in contact directly from our website, www.AtmosRx.com, by telephone or through our 2016 catalog." Atmos are winners of: High Times #1 Portable Vaporizer: The AtmosRx Dry Herb Kit High Times Cannabis Cup Winner: #3 Atmos Jump Kit Atmos products are available in 23 countries, including the U.S and Canada, and work with the largest and most established distributors. One of their goals for 2017 is to expand eastward and strengthen their position in Europe and Asia. Atmos proudly contributes annually to the Susan G. Komen for the Cure. vaporizer companies everywhere.