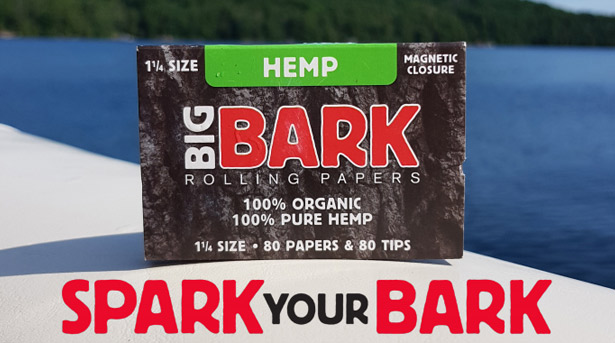 BigBark
BigBark Rolling Papers were conceived out of a love for the artistry behind a great roll. Just like a painter, sculptor or musician, the tools an artist uses make all the difference. Big Bark USA is dedicated to providing customers with thoughtfully designed and crafted packs that offer consumers from novice to expert, the right tools to craft the perfect roll- every time.

Nick Sutton and Jim Sutton first launched the BigBark brand in Ontario, Canada in 2018. Jim's 10 year background in the tobacco and convenience market combined with both Jim and Nick's experience with marketing for a variety of fortune 500 companies guided a natural progression into building their own brand within the industry. After working with Cannabis Licensed producers in Canada on their promotional merch/swag, the two discovered a superb papers factory. After rigorous testing and development, the papers' outstanding quality inspired them to build their very own brand, which is now known as Big Bark Rolling Papers.

Following the brand's initial success in Canada, the team is now proud to introduce Big Bark USA Inc. to the United States' market. The official Big Bark USA Inc. launch is at the Champs Trade Show in Orlando this March will aquaint the US market with their highly innovative and unique take on rolling papers. BigBark Rolling Papers and Pre-Rolled Cones are one of the thinnest, slow burning rolling papers and Pre-Rolled Cones on the market, carefully constructed for a better cannabis consuming experience.
"Our products were designed specifically for the 'Cannabis Culture' market, which is filled with consumers who are becoming more selective in their choices, as connoisseurs. We've begun prepping Big Bark to serve the expanding market in the US as legalization continues to occur throughout the states." –Jim Sutton, Managing Partner
BigBark Rolling Papers and Pre-Rolled Cones feature three of the top categories of rolling paper types; 100% Organic Hemp, Organic All-Natural (Unrefined Wood Pulp) and Select All-natural Rice papers. BigBark Rolling Papers are 1 1/4 size and include 80 Papers, 80 Tips and a patented full magnetic strip to maintain the integrity of the pack as the supply is depleted, providing the opportunity to finish every last paper in the pack! Big Bark took the most common complaints of rolling paper users and set out to solve each and every one. Their efforts have resulted in a pack that would last, a pack that won't need to be ripped for tips, a pack that can withstand the wear and tear of daily use, which provides a more efficient and pleasing experience. The magnet closure prevents the package from dog-earing through repeated travels from pocket to table and back, and also acts as a fantastic scraper to ensure no herb goes to waste.

Pre-Rolled Bark, Ready to Spark! BigBark Pre-Rolled Cones are 1 1/4 size with a 24mm tip and available in the same three paper types as the rolling papers. A pack includes 8 pre-rolled papers (2 more than the industry standard!), 4 'packer sticks' and a tear-away scoop built right into the packaging, creating an all-in-one tool to make a perfect roll every time. The popularity of Pre-Rolled cones is born of efficiency and accessibility. BigBark Rolling Papers takes that notion to the next level with their innovative 'Scoop' package design. The merchandising tab on the top of each pack of BigBark Pre-Rolled Cones doubles as a filling tool to help make the process of rolling that much easier and so much more efficient. Just tear off the scoop, fold on the scores, fit the end of the scoop into the BigBark Pre-Rolled Cone, and slide in the herb. Pack it down with the packer sticks (included in the pack) and repeat!

The company takes great pride in providing "Big Value with Big Bark", by finding exceptional opportunities to offer added value to the consumers, complimented by the quality of the papers themselves. Their innovative in-house packaging design stands out from the pack, and was even recognized in Canada with a convenience award as a Top New Product! Their team's big strides to be ahead of the times with creative designs has paid off with their quality product that can boast as a preferred supplier to AAPAC Members. "There's just nothing quite like it; the burn on all our papers are slow, smooth and clean. Once you try one, you'll only want Big Bark because it truly stands out from the crowd once the quality is experienced." –Nick Sutton, Managing Partner

The team behind Big Bark believe that the quality of the product speaks for itself. Retail customers even contact them directly to ask for the product. However, they simply relay to the customer the nearest shop where it's available for retail purchase, which could be your shop! The BigBark Rolling Papers are sold wholesale in a Display Box with 20 retail-ready packs of 80 papers, and the BigBark Pre-Rolled Cones are available in a Display Box with 24 retail-ready packs of 8 cones each. For shops in California, their packaging is prepped for Prop 65 compliance. They've really thought of everything and are ready to make a big splash in the USA market in 2021. Once a customer tries the product, they always come back to Spark Big Bark!

Website:
www.bigbarkusa.com
Social Media:
IG @spark_your_bark FB @sparkyourbark
Twitter @Spark_Your_Bark