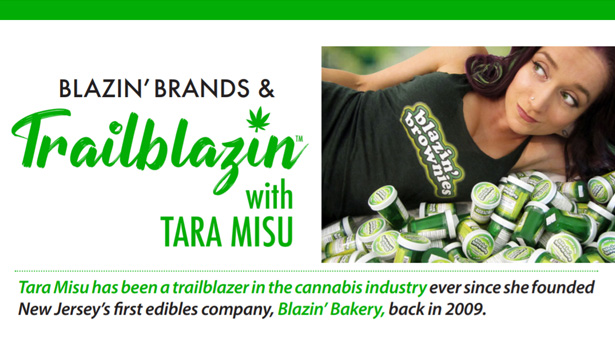 Blazin' Brands
Tara Misu has been a trailblazer in the cannabis industry ever since she founded New Jersey's first edibles company, Blazin' Bakery, back in 2009.

Woman-owned from day one, Blazin' Bakery has been pioneering the national trade show market with unique CBD and DIY edibles products for the past decade. Tara recounts, "I created the first brownie mix designed specifically to make edibles called Blazin' Brownies. It was revolutionary and people were instantly intrigued. Knowledge of how-to make edibles was not easy to come by back then. I made a how-to video which went viral and put me on the map. In 2013, Spencer Gifts approached me at the Champs Atlantic City trade show. They said, "we know who you are, we want your product." Blazin' Brownies have been in their 700+ stores and countless independent smoke shops nationally ever since.

In 2018, Governor Murphy took office and talks of legalization came to New Jersey. At this point, Tara decided to transition from strictly a business woman, to a prominent voice and leader in the cannabis movement. Being a trailblazer in her home state, Tara was appointed a consultant and advisor position on the new medical marijuana bill. She worked with legislators to write the historic Jake Honig's Law, New Jersey's first cannabis legislation passed in nearly a decade. Combining her significant cannabis business knowledge with first-hand experience of the state's legal policies, she was named Executive Director of the New Jersey CannaBusiness Association, the state's first and largest cannabis trade organization.

Since then, Tara has developed and taught Cannabis 101 at Atlantic Cape Community College, which is one of the first three cannabis courses to become available at an accredited college in NJ. This inspired her to create an online course, which is planned to launch in 2021 and will cover all aspects for people looking to work in the industry. In addition to knowledge, course registrants will have access to online group discussions, and a weekly virtual think tank session with Tara to discuss their goals, plans and progress.
Tara affirms, "Since we are seeing a general move towards online learning, this is the best way to help the largest number of people. I really am proud of what I'm putting together. I truly believe it's the best course and value available yet."


Currently, Tara runs Blazin' Brands, does consulting privately for cannabis businesses/applicants, and holds her position at the New Jersey CannaBusiness Association, while continuing to do speaking engagements and now, hosting her very own podcast. The Trailblazin' with Tara Misu podcast was launched on 4/20/2020 at 4:20 pm, the once in a century occurrence when the day, month, year and time were all 420. Because of the diversity of the show and its guests, Trailblazin' with Tara Misu attracts a wide range of listeners, including hopeful startups, CBD and ancillary business owners, industry service professionals, activists and even just the canna-curious. "I started Trailblazin' with Tara Misu because I love podcasts, it's my absolute favorite way to consume content. I wanted it to be both educational and entertaining, something where listeners could laugh a little but still learn a lot."

Tara aims to introduce listeners to advances in technology that save business owners time and money, help patients, and set dispensary owners apart from their competition. The podcast has already had such a rich variety of guests, with cutting-edge cannabis research, from epigenetic tests for the endocannabinoid system, to a company that manufactures machines which cryogenically cure cannabis in 24 hours. To keep things fun celebrate the culture, there's celebrity guests, such as Bob Marley's daughter, and NFL Super Bowl winner and CBD advocate, Cullen Jenkins. As progress is realized and legalization is more eminent than ever, the show is intended to address the issues on both the state and federal level across the country while updating listeners on all things cannabis. Trailblazin' with Tara Misu will continue to provide lots of great industry information with guests such as edibles makers, food scientists and extraction experts. In addition, it will feature vital talks with cannabis service providers such as marketing specialists, people who deal with banking, insurance, licensing and other areas that are often an issue for cannabis businesses. Tara believes that, "A good podcast host makes you smile, trust their opinion, and look forward to spending that hour with them every week. The time flies by and you leave feeling inspired or maybe just a little wiser, which is what I strive for. I want Trailblazin' with Tara Misu to be a fair voice to all sides. Small mom-and-pop shops as well as MSOs, cannabis legends and hot news voices, even some people occasionally who inject a dose of healthy skepticism. Not saying I'll always agree, but come on the show and let's talk about it. "

The podcast provides the perfect opportunity for Tara to share her extensive knowledge and experience in the cannabis industry with newcomers. After her life flipped overnight from a laidback manufacturer who wore a t-shirt to work most days, to having a full business wardrobe and driving all over the state for meetings with suits of all kinds. With respect to all the new opportunities in the cannabis industry it came with, Tara was left feeling nostalgic for the t-shirt days. In order to blend these two worlds, the Trailblazin' podcast became a platform where corporate meets culture, merging together into one bigger and better industry. In a post-covid world, the industry is a completely different environment than it was just a few months ago. What's amazing, is cannabis is more normalized than ever, which has led to some great improvements in legislation. At the same time, things like trade shows are going away, leaving people to look for alternative means of communication. Podcasts are going to be one of the channels that really experiences growth as people are looking for virtual entertainment and exposure.

After making her mark on the industry with her well-known original Blazin' Brownies mix and noticing the evolution of the industry, Tara has positioned her brownies to be the delicious chocolate foundation on which she builds her cannabis empire. Blazin' Brands is now the umbrella company that has been busy expanding from Blazin' Bakery's claim to fame with new product lines. These include the CBD product line for dogs, Blazin Barkery, and other new CBD products and lines such as a new women's line (coming in time for the 2020 holiday season), which will be geared toward sophisticated and high end consumers, with well thought-out packaging and feminine branding that will be on trend with the current move towards whole plant alternative medicine and spiritual influences, to manifest some truly magical products.

The Blazin' Barkery CBD line for pets came about after Tara read terrible product reviews for CBD dog treats of dogs having kidney failure, vet trips, hospitalizations and even in extreme cases, death, on Amazon. Her keen eye was able to identify the treats were all white labeled from the same supplier, and found the source to be insanely cheap, low quality, and unregulated from China. Because hemp is used for soil remediation, sometimes even on site from nuclear disasters, it can be grown cheaply and is excellent at absorbing the contaminants from soil, which is great when the hemp is disposed, not made into CBD. This is why CBD coming in from overseas is a fifth of the price of US grown hemp. CBD oil and isolate is made by extraction, thus literally extracting the contaminants and waste back out of the plant and into the CBD, rendering it unsafe for consumption by anyone. Tara understands this and believes that every pet deserves for their owner to do their due diligence to make sure what they get is the best quality, safety and purity possible. She started Blazin' Barkery to help pet owners by providing the quality, innovation, and attention to detail necessary to test her treats on her own 3.5 pound Chihuahua. CBD can't be a race to the bottom, it needs to be high-quality, tested products. That's what Blazin Barkery is about, along with all products from Blazin Brands. Tara's position in the industry is clear as she asserts that "Consumers are better informed these days. It's crucial that operators be ethical and shop owners carry quality products because the world is watching and it's up to us to act responsibly, to manufacture, distribute and sell only great products that are going to stand the test of time. Retailers and manufacturers have a massive new market with entire new demographics for the first time, so the industry must respect these new customers and create repeat buyers by providing quality products they will come back for. That's my mission with Blazin' Brands, the podcast, everything. Be upright, provide great value and do this industry proud."

Tara plans to speak at the Chicago CBD Expo this December 11-13th and CWCB New York in spring 2021. You can reach out to her on social media to connect. She is seeking more private speaking engagements in the next year. Tara is also planning to release a series on Patreon, called Tales from the Trail which is a collection of stories and lessons she's learned through the years in cannabis.
"The best possible case of what the cannabis industry should be is the marriage of a rich cultural history with a bright shiny new future. By respecting the past, yet generating excitement and hope for the road ahead, all elements combine to create a beautiful thriving industry. I hope through my podcast, products, activism, and consulting, I can help move this industry in the right direction and inspire others to do the same." – Tara Misu
WEBSITES
Podcast: TrailblazinPod.com
Products: BlazinBakery.com

SOCIAL MEDIA
(Instagram & Twitter)
Tara Misu: @iamtaramisu
Blazin' Bakery: @blazinbakery
Facebook: facebook.com/theblazinbakery