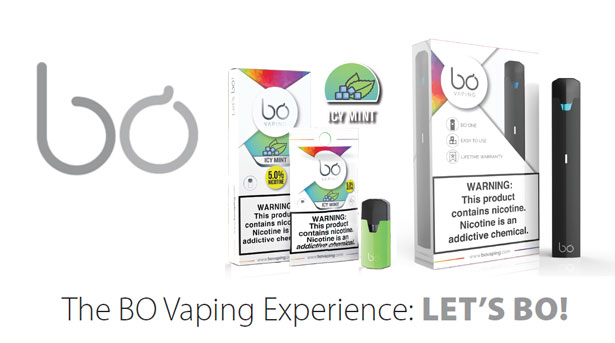 BO Vaping
The BO Vaping Experience: LET'S BO!

In an effort to improve and refine the vaping experience for consumers, BO Vaping has been hard at work. Their efforts have included testing, researching, designing, and developing the ideal technology. Mastering perfection for the masses is no mild task, but not one too great for the team behind The BO! They took on the challenge of their critics and applied the innovations required to pull off a dream this big. Now, they are thrilled to share the fruits of their labor with retailers and consumers nationwide.

Following the mantra that less is more, BO Vaping is proud to be the first closed system to offer their most exciting line of flavors in single pod packs for $3.99. The line includes eight unique flavors: Vanilla Ice Cream, Butterscotch Tobacco, Raspberry Wafer, Melon, Bubble Gum, Gold Tobacco, Icy Mint and Lemonade, with a 5% Salt Nic Level. The BO has also embraced the success of a previous pod design. This 1.6mL pod is leak proof, innovative, and is sure to wow former and new BO consumers alike. The objective of offering single pod packs is to give consumers a larger quantity of e- liquid for an affordable price, and more flavor choices without the commitment of multiple pods. This allows them to become more acquainted with flavors that make the BO Vape experience so satisfying.

BO Vaping has always taken great pride in their superior device. Key features include a strong battery life, quick 15-minute charge time, temperature control included to promote consistency, and a sleek sophisticated design. The BO One device will be available from retailers for $19.99 to $24.99. To make charging on the go convenient, BO offers both a wire charger and power bank to keep customers mobile. BO Vaping has always offered all their consumers a life-time warranty on their device. To make this process a smooth experience, every device now includes a unique registration code to keep BO connected to their consumers. After registration, BO consumers can enroll in a new "BO Miles Reward Program" that will add exciting incentives. For more information go to bovaping.com.

The BO is sporting a new look, a new feel, and packaging that is bright, clean, and inviting. The new white counter display is vibrant and eye catching, and most importantly, will take up just one fourth of counter space than their original display. In compliance with FDA regulations, warning labels and packaging has been reworked to promise clarity. This is an exciting opportunity for wholesalers and retailers to offer a 100% compliant product with the strongest margins compared to any other e-cigarette on the market.

Their new slogan is "Let's BO," which pairs well with the simplicity and ease of using BO Vape products. They are not going for gimmick, they are going for a responsible approach to an adult-specific demographic. They are proud to be a socially responsible company, whose targets are, and always have been, adult smokers.
"We are very proud of who we are. We have invested a great deal of time and energy into our marketing efforts to share this pride."– BO Vaping Team
The future looks bright for The BO, intending to be the leading closed system e-cigarette for adult smokers that want to be tobacco-free by offering both quality e-juice and devices, that together make for an extremely satisfying experience. Retailers can expect to see the new and improved BO exhibiting at NACS this October, Vapexpo, Vapor Dynasty Expo, and TPE. Find out more about all the changes going on with The BO at bovaping.com.

contact@bovaping.com
516-373-2400