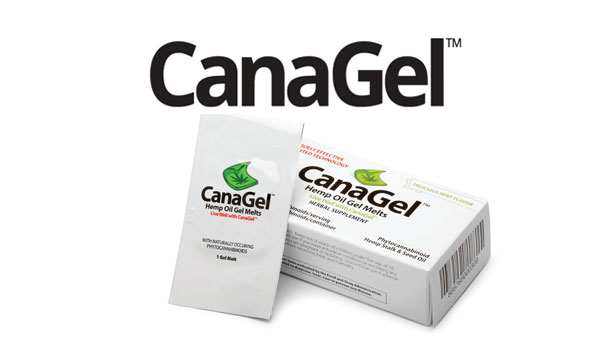 CanaGel
Hemp Oil Gel Melts

Uniquely Effective Patented Delivery System Virtually 100% Absorption in only 7 minutes

An internationally renowned oral surgeon had a problem to solve. His young son suffered from severe anxiety and autism. He did not want to get his son started on prescription drugs knowing the adverse consequences. Through his own research, hemp oil (CBD) seemed to be the best solution. However, like so many of us, the boy could not tolerate the bitter taste of most hemp oils and had trouble swallowing capsules. After extensive research and development he created what would become CanaGel, the first ever patented phytocannabinoid rich full spectrum hemp oil gel melts. Today his son is a high achiever in school and sports, can easily focus, learn and socialize.

INNOVATIVE PATENTED TECHNOLOGY

A major consideration in developing the product was that it was non-psychoactive, (no high as there is under .3% of THC), that no prescription was needed, legal in all 50 states and had a pleasant mint flavor. In addition, CanaGel was designed to be easy to use and more convenient to carry than all other methods of obtaining one's daily hemp oil. By simply placing a CanaGel gel melt inside the cheek and allowing it to slowly dissolve, within 7 minutes virtually 100% of the nutrient rich hemp oil is absorbed as verified by an independent laboratory. This compares to typical absorption of edibles, gums, capsules and oils of only 6%-33%. Research shows that having the hemp oil enter into your blood stream gradually through the mucous is the most effective way to obtain hemp oil. With other methods the stomach acids take over weakening their effect.

FULL SPECTRUM PHYTOCANNABINIODS-RICH HEMP OIL

In addition to having the most effective delivery system, Cana- Gel utilizes only the highest grade of Phytocannabinoid-rich full spectrum organic hemp oil (CBD). Naturally occurring Phytocannabinoids are an important class of compounds found in hemp. That's why in CanaGel they always use full spectrum hemp oil, derived from specially cultivated hemp. The Phytocannabinoids interact with the body's endocannabinoid system, located in the brain and throughout the central and peripheral nervous system. The Phytocannabinoids, terpenes, vitamins, minerals, etc. work in sync naturally in the body, just as they would in the hemp plant itself. The product is vegan, sugar and gluten free and there are no artificial preservatives.

GREAT RESULTS!
"It's most gratifying to hear feedback from CanaGel clients that report major health benefits, some within the first day of using the product," stated Spencer Kay, CEO of CanaGel.
CanaGel is sold though retailers and distributors and comes in a 100mg of CBD and 400mg of hemp oil per box of 10 gel melts. They are currently seeking distributors and wholesalers in the U.S. and internationally. The company provides a promotional kit including brochures, counter tent cards, etc. for retailers to help promote CanaGel.