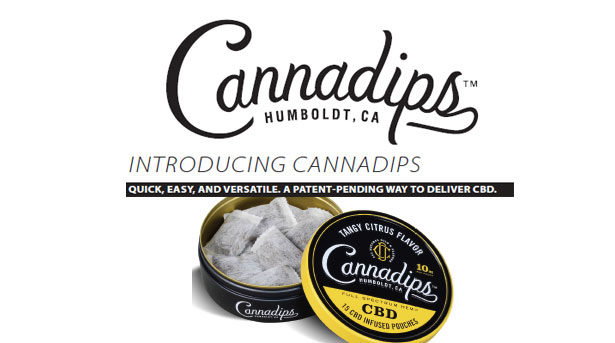 Cannadips
Introducing Cannadips:
Quick, easy, and versatile. A patent-pending way to deliver CBD.

This patent-pending product offers a new method of delivery for cannabidiol ("CBD") that is certain to appeal to a wide variety of CBD users for its versatility and ability to fit into an active lifestyle.

Cannadips were developed and founded by long time buddies Case Mandel and Cliff Sammet. Having grown up in Santa Cruz, California, Mandel and Sammet were no strangers to the industry. While Mandel had held a series of cannabiscultivating jobs before pursuing a master's degree in business, Sammet's experience was more personal. He had gone to Santa Clara University on a basketball scholarship, only to have his athletic career derailed by bone cancer, diagnosed in his sophomore year.

Surgery and chemotherapy ravaged the 6-foot-8 athlete, his weight dropping to just 150 pounds.
"He started using cannabis at the hospital," says Mandel, "and got his weight all the way back up to where it was pre-chemo, by having people sneak edibles into the hospital."
Both Mandel and Sammet used smokeless tobacco as young adults, so the idea of a CBD product that used the same delivery method seemed like an innovative concept. "I thought, this has definitely already been done," recounts Mandel. "So I Googled it and started researching. It turned out that there was nothing, zero."—so they got to work.

Derived from US Farm Bill compliant hemp, one of the problems that seemed to stymie the duo was the bioavailability issue. Bioavailability is the proportion of a substance that enters the circulatory system when introduced into the body. It has to do with absorption, and refers to the fraction of an administered dose that reaches the body's systemic circulation.

"Finally, we found an amazing food industry chemist, Leslie Norris, who had developed a technology that allowed us to make the CBD water-dispersible," Mandel explains, noting that the initial concept of a pouch product was not revolutionary until the partners added the water dispersible aspect.
Eliminating the need to ingest CBD by smoking or eating sugar-filled, fat-soluble edibles, Cannadips works similar to smokeless tobacco, allowing CBD to be absorbed transmucosally. Its fast-acting, water-soluble formula provides quick results, with effects being felt in under 20 minutes. The ingredients are clean and natural, and the easy-to-use, discreet nature of Cannadips allows for use practically anytime or anywhere.
15 pouches per tin
Available in Citrus, Mint & American
10 milligrams per pouch

CannadipsCBD.com