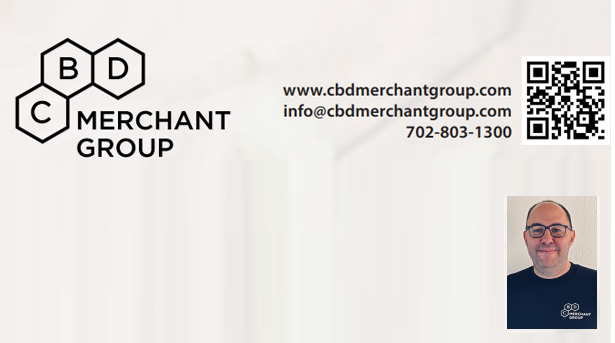 CBD Merchant Group
CBD Merchant Group was established when the U.S Farm Bill legalized CBD. They saw this as an opportunity to make their tools available to sellers in the CBD space, so they can start, run, and grow their business with CBD Merchant Group.

Art Wedge recognized a serious need, while supporting an industry he believes in. Art's 20 year background in processing gave him the experience necessary to take on the challenge of CBD merchant processing. After this transition into the space in 2018, CBD Merchant Group quickly became one of the fastest growing merchant processors by providing secure payment processing solutions for some of the largest brands in the CBD industry, while growing as the central hub for CBD payment processing solutions.

CBD Merchant Group provides payment processing to the retail and ecommerce space, especially for companies that sell products that are often considered high risk, such as: flower, prerolls, Delta 8, ingestibles, topicals, smoking accessories, and more.

"CBD Merchant Groups success is derived from the amount of resources we put into compliance; since we are not looking for quick, short-term solutions that cuts corners, we spend the time finding long term, compliant solutions to ensure longevity.

"We only make money when our clients make money, so it's my job to ensure their success with payment processing." – Art Wedge

CBD Merchant Group boasts an incredible 98% approval rating for their merchants, which is rare in this industry. In addition, they can take on both new and existing businesses. They are one of the fastest growing sales organizations that offer credit card processing solutions to businesses of all different sizes and industries. Their rapid growth over the past few years is attributed to a focus on providing unique programs and solutions based on the client's needs. CBD Merchant Group and its partners offer comprehensive compliance and account monitoring to ensure companies will have a seamless processing experience every step of the way.

The CBD industry is full of struggles given the craze behind it. With such a new industry screaming with profits but not federally accepted, processing solutions have come to be more of a myth than reality to the majority of businesses. The main challenges are with how new this industry is to the banks. This means each bank (for those considering processing for the CBD industry) is trying to pioneer their own underwriting process while trying to stay compliant within both card brand regulations as well as federal laws.

CBD Merchant Group has taken on specialization in the CBD space to offer a viable solution. For this reason, they've quickly become one of the largest providers of merchant accounts within the CBD industry. What sets them apart is their vetting process. Although there are few solutions offering merchant accounts to the industry, more than half of these solutions are operating out of compliance, miscoding accounts in an effort to gain initial processing, only to lead to termination as well as putting the merchant's revenue at risk from held funding. With these solutions being temporary, the merchant is then on the constant hunt for merchant accounts with the business being on hold without one. The solutions CBD Merchant Group offers have been vetted closely to ensure compliance, resulting in merchant accounts with longevity. The key is transparency. CBD Merchant Group doesn't have to cut corners and avoid telling the banks exactly who they're doing business with.

Look no further than CBD Merchant Group to assist with online credit card processing, retail accounts, mobile credit card processing, shopping cart solutions, and more.

"Success isn't something that can be achieved overnight. To us, success is sustainability and long term relationshipsat all times while also sustaining the highest quality services, without doing anything short of "outstanding." Chasing success is a never ending journey for us because if you don't keep chasing it, then failure will start chasing . It is the ability to sustain top level customer service you." –CBD Merchant Group

CBD products must be hemp-derived and have less than 0.3% THC. All CBD products must have COAs.

What is COA?

Certificate of Analysis, or COA, is a document issued by an accredited laboratory that includes a full composition of a product. For CBD, a Certificate Of Analysis should include a total list of cannibinoids, microbiological levels, terpenes, and possible contaminants such as pesticides, solvent residue or heavy metals.