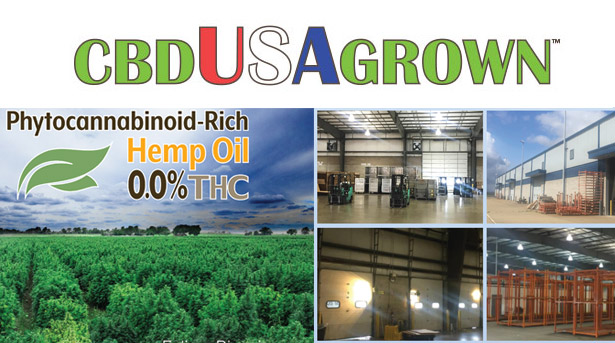 CBD USA Grown
Changing the CBD Game and leading the hemp revolution from Pittsburgh

Established in January 2017, CBD USA Grown is a distributor of Folium Biosciences products worldwide. Folium Biosciences is the largest vertically integrated grower of industrial hemp in the USA. CBD USA Grown distributes only 100% THC-free PCR-hemp-derived products (phytocannabinoid rich). President, Founder and CEO of CBD USA Grown, Deborah Gestner, and her team have been diligently working toward providing CBD-infused products to the masses. Since their initial launch in early 2017, Gestner has established four distinct global corporations to support the distribution of the company's expanding hemp product lines, which extend far beyond CBD dietary supplement products.

CBD USA Grown, Inc. was established in 2017 to distribute hemp-CBD products that are 100% THC free.

Greenleaf Golden Enterprises, LLC was established in 2017 to support drop-shipping of hemp-CBD products worldwide.

KMA Holdings Group, LLC was established in 2018 to provide consulting services to food and beverage markets, as well as sell hemp-CBD products to manufacturers for infusion purposes.

HEMP Abode (dba) was established in 2018 for the acquisition, processing and wholesale distribution of hemp construction products.

Gestner, along with three partners split between Pittsburgh and Sarasota: Roger Gestner, Phil Luci and Jane Robinson, has focused on assembling a top-notch management team to develop a complete corporate infrastructure and marketing strategy for their four growing global corporations. These developments helped them proceed in July 2018 with the goal of setting the ultimate standard for CBD products. The CBD USA Grown motto of "Getting Healthy not High" is the foundation of their approach to the CBD market, retailers and consumers. Their approach includes education on the benefits of CBD-infused goods and instruction on how to use them, coupled with fullservice storage and distribution options for businesses.

One of the most exciting new products from CBD USA Grown is their CBD-infused water, Above Water™. A single serving will offer 15 mg of active CBD per bottle. Above Water currently offers the highest CBD-content water on the market . With the help of Folium Biosciences, the water is formulated with a water-soluble CBD powder (WSP) to be refreshing and great tasting.

Independent testing for quality is a focus of CBD USA Grown, as well as their water division. Working with Folium Biosciences and a third-party lab on the testing of the WSP, Above Water will set the bar for other companies to follow their lead just to stay competitive. Above Water is certified kosher and received full regulatory approval this past summer.

CBD USA Grown also offers a full line of 100% THC-free CBD products, including tinctures, soft gels, balms, equine pellets and a full line of pet treats. New product formulations in food, beverages and cosmeceuticals are on the way, so stay tuned for exciting product announcements.

In an effort to supply businesses with these high-quality products and provide retailers with the simplest way to sell them, CBD USA Grown offers drop-shipping services through their sister company, Greenleaf Golden Enterprises. They ship directly from a warehouse located in Foreign Trade Zone #33 at The Greater Pittsburgh International Airport.

Because of the uniqueness and diversity in their CBD business approach, CBD USA Grown was invited to join the Board of Directors of the U.S. Hemp Roundtable, a coalition of over 60 hemp companies and industry leaders. The U.S. Hemp Roundtable was integral in getting the 2018 Farm Bill passed that legalized industrial hemp having no more than 0.3% THC. Today, Deborah is the only female on the board. Since the highly anticipated signing of the Farm Bill in December 2018, the team at CBD USA Grown has been busy and focused on the next phases of industrial hemp.
Additionally, Deborah and CBD USA Grown are dedicated to educating the masses about the positive impacts that hemp will have on industry as we know it. Currently in development and scheduled to air in the spring of 2019, CBD USA Grown will be the focus of a four-part series produced by Planet TV Studios. The series will profile the changing landscape of farming with hemp and the CBD market.
As Deborah knows, it is an exciting and vitally important time for the hemp and CBD industries, and she plans to be there every step of the way. From inventing new equipment for CBD-infusion techniques to cutting-edge product development, CBD USA Grown will continue to provide industry- leading products and innovative services – setting and exceeding standards in a new frontier.

Retailers can find CBD USA Grown exhibiting as these upcoming trade shows: CannaCon Seattle (Jan.), CHAMPS in Las Vegas (Feb.), CBD World Congress in NY (May), CannaCon in Springfield (Aug.), CBD Expo in Las Vegas (Aug.), CWCB in LA (Sept.) and CHAMPS in Denver (Oct.).

For more information on CBD USA Grown, Above Water, Greenleaf Golden Enterprises drop-shipping services, or KMA Holdings Group, please visit: cbdusagrown.com, above15mgwater. com, greenleafgoldenenterprises.com, and kmaholdings. us. You can also contact them directly at sales@cbdusagrown. com or contact Phil Luci directly at (724)318-5001.

*CBD USA Grown and Above Water are trademarks of CBD USA Grown, Inc.