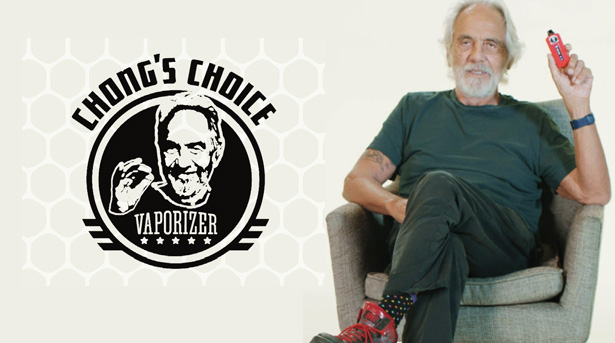 Chongs Choice
Thomas B. Kin (Tommy) Chong has come a long way from the classic 1970s and '80s films like Up in Smoke, Cheech and Chong's Next Movie, and Nice Dreams that he made with Richard "Cheech" Marin, but his message has remained the same: cannabis will save the world. And he is using his name and reputation to spread the word.

The Chong's Choice TC-1 Dry Herb Vaporizer features a 2200 MAH high-capacity lithium polymer battery; a thick ceramic baking/heating chamber; an OLED display with battery meter; a five-minute auto shutoff a five-year warranty. It comes in black, white or red; is temperature-adjustable from 300o to 435oF and heats in 20 seconds or less. It comes with a flat mouthpiece, a glass mouthpiece, four silicone rings, a USB charger, a cleaning brush and a dab tool, as well as a complimentary carrying case.

The TC-1 outperforms other products because it is manufactured under the highest standards to assure that it performs without the failure rate that other vaporizers on the market experience. Chong's Choice TC-1 is available at any participating Kretek/Philips & King International Retailer throughout the United States and soon in Canada. Philips & King and it's parent company Kretek International Inc are the exclusive Distributors of the Chong's Choice TC-1.

Chong says he is putting his name on a number of projects that further the use of cannabis "because I believe cannabis will save the world -- and who better to have his picture and name on the product than Tommy Chong?" His Chong Star strain is still being grown in Colorado. In fact, he now markets several strains that are collectively known as Tommy's Choice.
Chong explains that he is a fan of the Chong's Choice Vaporizer not just because his name is on it, but because of how it works. "Number one, it's one of the few vaporizers that deal with flower (buds). Most of the vaporizers deal with oil, and my problem with oil is that sometimes you don't get enough and other times you get too much. The great thing about flower is that just a little bud in the vaporizer and you know exactly what you're getting."
He also praises the unit because it doubles as an effective hand warmer. "It's the only vaporizer that does. I'm a golfer, and one of the problems when you get out there is that your hands get cold. I turn on my vaporizer and within seconds it warms up my hands."

Melting Glaciers
Chong, who was born in 1938 in Edmonton, Alberta, Canada, says that becoming a so-called weed activist wasn't solely his decision. "Actually the government pushed me into that role. I was very content to be just a pothead/actor/comedian. But when they busted me for bongs and put me in jail for nine months I automatically earned a degree in weed activism."

Chong waxes philosophical when it comes to the spreading legalization of pot. "It's going at the rate it has to go at. Legalization is like the melting of the glaciers: it doesn't look like it's doing much but underneath there's a whole thing going on, and then suddenly everything is going to be legal as if it happened overnight." We sniff at the notion of it day when all the world has it legal."

As for the meteoric growth of the cannabis industry, he remains a major booster. "I love it. I love it. I would love to see the big conglomerates get into marijuana production, because what it means is that now they are creating a product that is going to help the world, not make it fatter, with the GMOs and all of that. People say to me, 'Well, aren't you worried that they are going to take over?' I want them to take over, just like I wanted GM to produce electric cars. Use what we've got to better the planet."

The acceptance of medical marijuana "could be a little faster in some states, where they are dragging their feet," says Chong, who has survived a couple of bouts with prostate cancer. "It's like abortion: it's available to everybody, and sometimes you have to travel out of state, which is also a good thing. Travel is good. If you're stuck in some Podunk town that won't allow you to have your medical marijuana then my advice is to move."
For the politicians still opposed to legalization, Chong says he would like to "help them get their heads out of their asses; we would do an extraction. And then I would tell them to watch the CNN program with Sanjay Gupta and the little one-year-old who had epilepsy, where she hugged her mother for the first time thanks to marijuana. That's all I would do, just show them that tape."
Even at 78, Chong maintains his stoner cachet, as was recently verified. "The other day I was somewhere and this lesbian lady who looked like Rachel Maddow saw me and came up to me and very shyly said, 'Tommy Chong, you are the coolest guy in America.'"