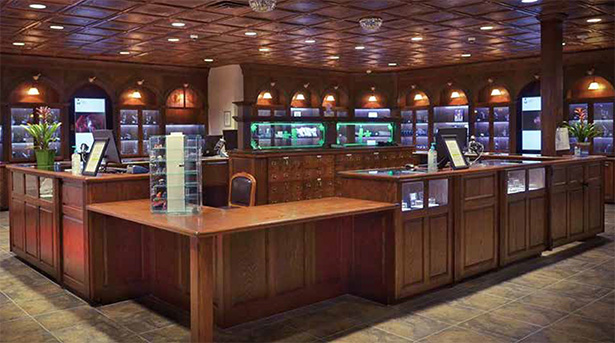 Clubs and Lounges
Anyone who thought this summer's Floyd Mayweather-Connor MacGregor spectacular was the most intriguing fight in Nevada since Muhammad Ali danced across the ring at Caesars Palace haven't been following the bare-knuckle brawl over marijuana lounges.

Adults in Nevada 21 years and older have been able to legally buy recreational marijuana since July 1. But now, as The Hill reported in mid-September, Nevada could become the first state to allow users of recreational marijuana to light up in clubs and lounges, opening a new front in what is already a booming pot business.

Nevada's Legislative Counsel Bureau had said that state law does not prohibit city or county governments from operating a lounge or facility in which patrons may use marijuana. "Cities and counties are allowed to adopt their own rules governing those businesses and decide whether they are required to obtain special permits," the bureau said.

The ruling means tourists and visitors may soon have a place to consume marijuana in public. "Pot smoking is banned under state law in Nevada's hotels and casinos. None of the four other states where marijuana is legal for recreational use — Washington, Colorado, Alaska and Oregon — currently allows so-called pot lounges. All four states restrict marijuana use to private residences."
The three other states where legislators and regulators are finalizing rules in advance of legalized marijuana — California, Massachusetts and Maine — are not currently considering legal pot lounges. Legalization advocates say pot lounges are a logical step, the site noted, "especially if states where marijuana is allowed hope to connect their pot industry to tourism."
At the same time, Fox News is reporting that recreational marijuana dispensaries "have been open in Nevada for more than two months, but businesses like pot lounges could now start popping up across the state." During this past legislative session, Senator Tick Segerblom proposed a bill that would allow local governments to grant licenses for businesses to offer marijuana consumption on-site.

In an interview with News 4-Fox 11 back in March, Segerblom said, "That's what we do. We sell sex. We sell drugs. We sell gambling." His bill never made it to the governor's desk, "but now, it seems the issue has been revived thanks to a new opinion released by the Nevada Legislative Counsel Bureau…"

The cannabis news site Leafly weighed in as well, noting that Nevada is moving forward on consumption lounges. "A new legal opinion says consumption at lounges, festivals, concerts, and one-off events would be allowed under state law.

Ballot Question 2, the adult-use legalization measure passed by voters last November, allows for the possession and consumption of up to one ounce of marijuana flower or up to one-eighth the equivalent of THC concentrates and edibles by adults in Nevada. "But language in the law is generally unclear on consumption regulations outside of a private residence. So state lawmakers questioned its reach."

Nevada's Gov. Brian Sandoval was busy raising concerns about that opinion by lawyers for the state legislature that says nothing in state law prohibits local governments from allowing marijuana consumption in businesses such as cannabis lounges and cafes.

"I did not support them previously," Sandoval told the Las Vegas Review-Journal. "I don't support them now." He said in an email to the Reno Gazette-Journal he's concerned that such establishments could pop up "piecemeal throughout the state" with different rules and regulatory structures.

Sandoval also questioned why Segerblom proposed his legislation to legalize consumption in some public places if the legal authority already existed. "That measure failed to pass last session," Leafly noted. "But Segerblom said the new opinion by the Legislative Counsel Bureau should help clear the way for county commissions and city councils to approve legal cannabis consumption at places including special events.
Sandoval said he's worried legalization of cannabis lounges might invite more federal scrutiny of Nevada's marijuana sales. "He said he has not read the bureau's opinion, but he would like the attorney general's office to weigh in on the matter. He said an opinion from the Legislative Counsel Bureau "doesn't have any precedential value."
The Reno Gazette-Journal put it bluntly. "Gov. Brian Sandoval is not happy that pot clubs could be on Nevada's horizon. "I am concerned with these establishments popping up piecemeal throughout the state with differing rules and regulatory structure," Sandoval said in an email to the paper. "Since passage of the initiative, I have called for Nevada's regulatory structure to be responsible, restricted, and respected."

The tussle will eventually work itself out, but for the time being Nevada perfectly illustrates the forces pulling in different directions across America. When it comes to legal cannabis, states say it's okay… but not Washington, DC. Americans want it… but not too much of it. Legislators don't mind if people enjoy it… but not just anywhere.

Nevada and the other 49 states must decide how they are going to live with legalized marijuana… or not.