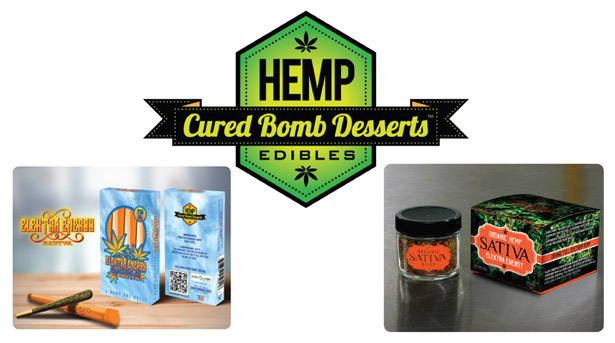 Cured Bomb Desserts
The Cured Bomb Desserts brand was established in 2015 in South Florida by husband and wife team, Marco Hurtado and Ashlee Silva.

It all started when Marco's 72-year-old father had been diagnosed with stage 4 colon cancer. Nothing seemed to be helping him with his pain and with the chemotherapy side effects. Marco knew he needed to figure out a natural remedy medicine to help his father get through such a rough time in his life. Being active in the cannabis community for many years, it dawned on him that all of the benefits of CBD could help his father's battle with cancer. Marco began his father on a CBD oil regimen, and faithfully, he would take it every single morning and night, and extra whenever he was feeling pain.

He was cured of cancer only 3 months after he had begun the chemotherapy and regularly supplementing with CBD. He was able to stop the chemotherapy treatments 6 months early, with no detection of a cancer cell in his whole body! After this eye-opening experience with his own father, Marco was compelled to build a brand that not only helps people with the natural medicinal benefits of CBD but also implements a fun and new way of taking medicine. In 2015, Cured Bomb Desserts launched their Hemp Candy line with funky hemp versions of classic candy favorites like Peach Rings, Lego Man Nerd Gummies, Cherry Coke Bottles, Spice Drops, Sugar Bears, Sour Worms, Lollipops and Rainbow Belts!

Cured Bomb Desserts has made it a point to stand above the crowd when it comes to quality control. To ensure utmost safety and quality, they follow GMP (good manufacturing practice) standards at their facility. Their company takes the most pride in making sure that every single batch of hemp that they initially start off with is tested for mold, potency, and pesticides. It is imperative that they provide only the best quality product available on the CBD market. They have also gone out of the way to utilize multiple different accredited labs for their testing for confirmed accuracy. Before making a purchase online, the lab test results can be viewed in real time via the Cured Bomb website.
To prove the quality of their products, they display the lab results right on the packaging of all of their products. The user can simply scan a QR code with their phone and it will direct them to the website of the lab results. The message on the packaging clearly conveys that the lab results are accurate and that Cured Bomb Desserts are 100% compliant with hemp regulations, to ease the minds of potential customers. As stated on their website, "We envision to help the everyday consumer use alternatives to pharmaceutical drugs that are no the most beneficial to their health. We use organically grown, gluten-free, Non-GMO, Full Spectrum Industrial Hemp that is tested twice at SC Labs and PSI Labs located here in the United States. Our initiative derives from our goal to reach a diverse clientele and encourage them to see hemp-based products as an all-natural tool for a healthier lifestyle."
Cured Bomb Desserts has just rolled out (no pun intended) two new styles of their CBD Preroll Joints! They were inspired by Sativa and Indica, two strains known for opposite effects. The sativa Preroll is for energy, called Electra, and the indica Preroll is for bedtime, called Citrus Fire. Another new Preroll they are offering for the connoisseur, are Hemp Caviar Prerolls. Their Hemp Caviar Prerolls are crafted individually with premium organic hemp dipped in oil, and rolled in hemp powder, each box contains 4 lab-tested Prerolls. The Caviar Prerolls are available in a variety of tasty flavors; Grandaddy Purple, Pineapple Express, Hardcore OG, Gelato #65, and Sunset Sherbet.

Cured Bomb Desserts is excited to announce a brand new addition to the product line; CBD Vapor Tea. Consumers can now choose to either vape or drink their full spectrum industrial hemp. This herbal blend contains 60mg of CBD per gram, and is packaged in a glass jar containing 10 grams (small), or 20 grams (large). Users can infuse the herbs into their tea with a traditional infuser, or use their dry herb vaporizer to vape the herbs.

The goal of Cured Bomb Desserts is to one day have their products on the shelf in a big box store like Walmart or GNC to make beneficial CBD products easily available to the average consumer. As the leading Full Spectrum Industrial Hemp manufacturer of South Florida, Cured Bomb Desserts offers a high-quality product at a cost-effective price and intends to continue to do so while also formulating even more new, fun ways to consume hemp. If you haven't tried any of their delicious original candy creations before, you will have to get a sample when Cured Bomb Desserts exhibits at the Champs Trade Show in Las Vegas this February and also the ASD market week in Las Vegas in March 2019! If you don't make it out to the shows, for more informations you can visit their website anytime www.curedbomb.com