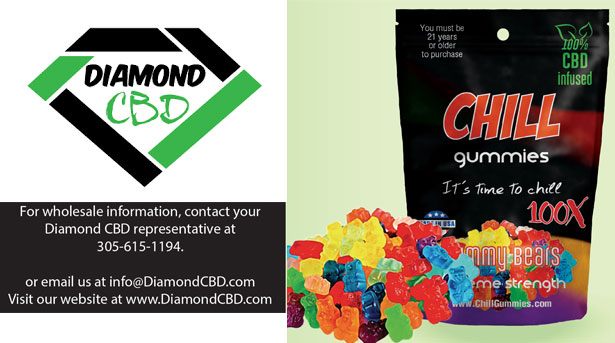 Diamond CBD
Taste the sweet success with Diamond CBD. The steady growth and sudden explosion of the Diamond CBD products is no surprise. The company continuees to create innovative products that consumers love and industry retailers cannot keep on the shelf.
Over the last couple of years, cannabidiol, abbreviated as CBD, has become more commonplace and accepted by the smoke and vape shop retailers across the country. CBD is naturally derived from the industrial hemp plant and is one of the many active cannabinoids identified in the plant.
Hemp refers to the high-growing varieties of cannabis that are grown to be specificially utilized for fiber, oil, and seeds. These are then refined into numerous products including wax, resin, cloth, pulp, paper, rope, fuel, and hemp oil. For many people, CBD products have become a relaxing addition to their daily lives.
Diamond CBD has been an industry leader and at the forefront when thinking of any CBD products. Most recently, the company has added Chill Gummies to its line of products. As the concept creator, Diamond CBD has already sold millions of gummies through its extensive distribution partnerships with access to more than 22,000 stores nationwide.
As reported by the President of North American Sales, Justin Darman explains that an overwhelming demand for the Chill Gummies product has developed in the last couple of months since the products line was launched. For that extra strength CBD feeling, choose the Chill Gummies which are hand crafted and infused with CBD oil. The gummies are available in a variety of shapes, sizes and flavors including rings, slices, fruits and even snakes. With special occasions and requests, your insatiable sweet tooth can be satisfied with an amazing selection of CBD infused chocolates.
For a candy selection with lower CBD strength, you can order the Relax Gummies which are just as tasty and delicious. Diamond CBD also supplies a cool countertop retail display for the gummy products to help promote and share the sweet success by generating tremendous sales and profit margins to the store owners.
Although there are a growing number of companies touting CBD products, there are relatively few that have been involved in the industry prior to the acceptance and growth of CBD.
"At trade shows a couple of years ago", Darman recalls, "there may have been one other CBD company besides Diamond CBD"
With its original best seller, Diamond CBD launched its natural flavor hemp CBD oils ranging from 150 mg to 1,000 mg glass dropper bottles that can be consumed sublingually (oral drops). now, consumers can choosees from almost 200 delicious flavors.
Shortly after the initial line of oil, Diamond CBD created the industry's first 2oz CBD shots available in three flavors of berry, grape and jungle juice. With the simple concept, consumers were able to grab a shot of relaxation on the go.
For those who vape and prefer a specific e-juice flavor, no worries. The company developed the Diamond CBD vape additive that can be dripped into the tank with your favorite e-liquid. There is no smoother, more effective CBD additive available on the market.
One of this year's top sellers through the Diamond CBD distribution channels has been the CBD Liquid Gold available in three flavors of jungle juice, sweet leaf and strawberry. This product will provide the best vape experience possible.
More recent additions include the large 30 ml glass dropper bottle of Blue CBD which is created from crystal isolates for those consumers who prefer a clear CBD product rather than CBD oil. Similarly, the Relax CBD has the clear CBD look with the amazing feeling and taste of extreme strength as its name states (RELAX).
Diamond CBD has a long established division in the company to provide the best wholesale raw CBD to other retailers, wholesalers and distributors at the lowest possible price in the industry. The business also offers private label opportunities for other companies looking to expand their own product line.
With more than 20 trade shows and events scheduled for the company in 2017 within the United States and with expansion into Europe, Diamond CBD has established optimistic goals and the game plan to execute in order to reach (and surpass) those expectations. You can be part of that sweet success.
All of the products are created with the highest quality of CBD derived from the industrial hemp plant. Quality products and consumer satisfaction is of the utmost importance at Diamond CBD. You will satisfied with the sweet success, guaranteed. For more information or to place an order, call Diamond CBD at (855)4BUY-CBD or (305)615-1194.
Send an e-mail to info@DiamondCBD.com or visit online at www.DiamondCBD.com.