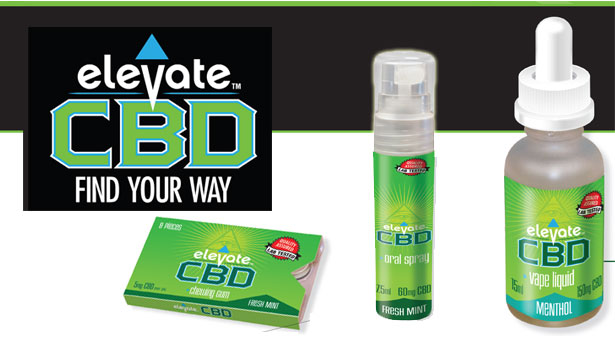 Elevate CBD
Americans are notable for always wanting to elevate their experiences -- and now they can, naturally and safely.

Elevate CBD is the newest line of products from Axcentria Pharmaceuticals, LLC. The company says it has garnered its pharmaceutical quality standards "and pivoted into offering innovative products for Millennials as well as other early adopters seeking healthier lifestyles and alternatives to pharmaceutical drugs."

Elevate CBD products are available in a variety of forms for every occasion, demographic and its marketplace is diverse.

* For on-the-go individuals, there are portable, discreet product forms in a variety of flavors: an oral spray, a dissolvable strip, a lozenge and chewing gum.

* For leisure use, there are e-liquids to be used for vaping or as an additive to food products like coffee or tea as well as a dab (straight CBD oil/wax) that can be placed directly in the mouth or placed on the user's preferred vaping device's heating element.

The company's products are part of a growing category of individuals looking for natural alternatives to live a healthy lifestyle. Offered at affordable cost to the consumer, the products still offer the distributor and retailer competitive margins.

Simply Natural
"Simply put," explains David Simpson, VP of Business Development "CBD and any associated effects or benefits -- especially those looking for a 'high' or an immediate 'effect' -- are not to be confused with what has commonly been called 'weed' or 'pot.'" CBD is a cannabinoid extracted from industrial hemp plants and has existed for over 4,000 years. It is a totally natural, non-psychoactive component of the industrial hemp plant and one among more than 80 active cannabinoids and terpenoids that affect different brain and immune receptors, referred to as CB1 and CB2 receptors, within the body's endocannabinoid system. "Even the plants are different," says Simpson, "with Cannabis Sativa (a primary source of CBD) growing tall at 10 to 15 feet, with fibrous stalks producing very few flowering buds (the plant looks like bamboo shoots), and Cannabis Indica, the primary source of marijuana, being the traditional short, bushy leaf plant."
The cannabinoids and terpenes, Simpson continues, are believed to have significant therapeutic potential and offer a natural alternative to pharmaceutical drugs addressing a vast range of ailments and diseases.

The findings of many independent research studies indicate CBD may be the most important cannabinoid, offering users numerous potential health and behavioral benefits, but results of its use vary widely according to individuals. Company executives encourage customers to do their own research and determine whether CBD is appropriate for them.

Vast amounts of research are being conducted to validate benefits associated with the use of CBD and inflammation, pain management, anxiety and stress and other common ailments, he notes. "However, it should be noted the U.S. FDA has not approved any therapeutic claims, although there is a patent held by the U.S. government as an antioxidant and neuroprotectant: Patent# US 6,630,507 B1 (October 7, 2003). It is also known and recognized that CBD is rich in essential Omega 3 fatty acids and amino acids."

In fact, industrial Hemp, the source of CBD, has been one of the most persecuted agricultural crops in history due to its association with cannabis, Simpson claims. "This confusion led to prohibition of cultivating hemp in the Unites States until 2014, and confusion remains."

Local and state jurisdictions may prevent the sale of CBD products, although federal prohibitions have been eliminated. Hemp, up until the early 1800s, was the largest industrial crop in the United States. Says Simpson, "It was bigger than cotton at one point, used in clothing, rope, homeopathic medicines, and is still used internationally in a variety of industries – even in the automobile industry for its strength yet light-weight features."

HIGHEST STANDARDS

Elevate CBD products are manufactured to the highest standards, which is important since not all commercially available CBD products are. "The FDA has issued dozens of warning letters citing many CBD products are mislabeled (not containing the stated level of CBD or no CBD at all) and making medical or supplemental claims that are not validated," says Simpson.

Elevate CBD is manufactured in a cGMP facility registered with the Food and Drug Administration. Every ingredient is tested to ensure strength and that there are no contamination from pesticides or other materials such as heavy metals. The CBD used is from international sources and is extracted using a solvent-free CO2 process. Finished products are tested to ensure that there are no microbial contaminations, and label claims are met. Plus, finished goods do not have more than the allowed .3% THC and are lot coded for traceability.

Consumers and independent research studies indicate the strongest effects result from products taken orally (through the mucosal membrane). The company recommends its customers try all of its products to find their own favorite way to Step Up to Elevate!
"Quality assured, lab tested is a guarantee," Simpson concludes. "We know what's in our products, as well as what's not. What we say is, 'Try them and let us know what you think.'"