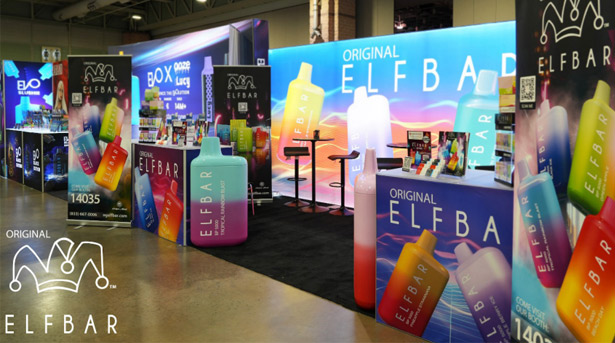 Elf Bar
Authentic Elf Bars From Official Court-Verified Company

Elf vaping products were introduced to the market on November 24, 2017. Elf Bar quickly became one of the most sought after disposable vape pens in America. The unique e-liquid flavors and reliable vaping hardware catapulted the e-cigarette brand to new levels of popularity. However, smoke shops and distributors in the U.S. have faced challenges with selling Elf Bar pre-filled e-cigarettes. The issues stemmed from a company infringing on Elf's intellectual property. Fortunately, those complications are a thing of the past and businesses can finally sell Elf with confidence due to new legal developments.

Approved to Sell - Original & Authentic Elf Bar Source

There is only one company recognized by law as the official Elf Bar brand in America—VPR Brands. The court has made a legal ruling that VPR is the official owner of Elf e-cigs, eliminating all confusion. In partnership with VPR, Elf Bar Distribution Incorporated is the official provider of this world famous pre-charged vaporizer.

The trademark is "in connection with 'Electronic cigarette lighters; Electronic cigarettes; [and] Smokeless cigarette vaporizer pipe." The court stated that "Upon review of the Motion and the full record, the Court hereby enjoins Defendants from use of Plaintiff 's ELF trademark through the selling of Defendants' ELFBAR products in the United States." American vape stores and wholesalers can now sell authentic elf bar disposable vape pens with confidence.

These legal developments ensure that there are no trademark restrictions for businesses who wish to sell authentic Elf Bar nicotine delivery systems. However, it's important to purchase from a legally authorized supplier. The vape industry is ridden with bad actors and counterfeiters. To help protect customers and businesses from inauthentic and potentially dangerous phony Elf Bars, VPR and Elf Bar Distribution Inc. are issuing cease and desist letters to all companies selling counterfeits. In fact, several distributors have already been served legal notices for carrying e-cigarettes that infringe on the company's trademark. All businesses who work with the official Elf Bar brand or distributors who purchase from them will receive a certificate of authenticity, which they can present to their customers (providing another layer of security).

Authentic Elf Bar Device

Elf Bar is known for their 5000 puff device. However, you may have come across Elf Bar vapes that only hold 9.5 ml. This 9.5 ml e-liquid capacity does NOT yield 5000 hits. Fortunately, the original and authentic Elf Bar provided exclusively by Elf Bar Distribution Inc. holds 13.0 ml of salt nicotine e-juice (over 30% more capacity than 9.5 ml), which results in a true 5000 hit vaping system. The oneuse e-cigarette is unrivaled when it comes to flavor, reliability and airflow. It comes fully charged and ready to use immediately after purchase. With a 650mAh pre-inserted battery, the Elf Bar is super long-lasting and a dependable pocket-size pal. It is also important to mention that all legitimate Elf Bars have "BP 5000" printed on the hardware.

Upcoming Events

Elf Bar will be attending several upcoming trade shows, including Champs and others. Elf Bar's most recent trade show appearance was at Champs Atlantic City. This was a great opportunity for distributors and stores to familiarize themselves with the hardworking people behind Elf Bar. The Elf team is always happy to answer questions, share exciting updates and do whatever they can to assist trade show attendees.

Dedication to Excellence

Although Elf Bar has become one of the most popular single-use vaping pods, they are far from complacent and always looking to improve. The brand is dedicated to implementing inventory management systems and putting customer service first to ensure the best possible experience for their valued community. Elf Bar Distribution Inc. is committed to providing all of their partners with attention, education, transparency, and the tools to succeed. Most importantly, Elf puts youth prevention above everything else. The company has stated that any retailer who does not take proper measures to prevent underage consumption will be ineligible to sell or promote their pre-charged vaping systems.

Authentic Elf Bar Flavors List

Here is a list of all official Elf Bar flavors. If you come across an Elf e-juice option not listed here, contact Elf Bar Distribution Inc. immediately to confirm that it's not a counterfeit. The company is constantly dropping new salt nicotine flavors, so stay tuned.

Beach Day
Watermelon nana Ice
Straz
Sunrise
Sunset
Triple berry ice
Tropical mango ice
Red mojito
Strawberry mango
Strawberry watermelon
Green apple
Energy
Mint tobacco
Passion fruit orange guava
Miami mint
Pineapple strawnana
Kiwi dragon fruit berry
Strawberry cream
Black ice

Customers Love Elf

Considering that there are thousands of disposable electronic cigarette options to choose from, it's hard to stand out from the competition. Elf Bar has proven to be unlike any other one-use vape, verified by its meteoric rise to the top. With over 200,000 searches on Google every month, the demand for Elf Bar is unrivaled. Whether your company already sells this top-of-the-line product or is looking to introduce it to your customers, count on Elf Bar Distribution Inc. for support, authentic products and the best customer service. For more information, visit ogelfbar.com, email sales@ogelfbar.com or call 833-667-0006.