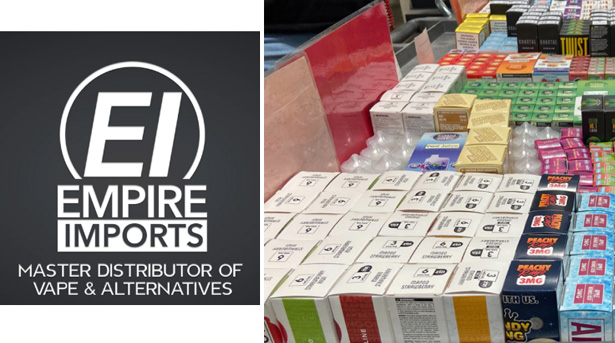 Empire Imports
In a landscape marked by shifting regulations and challenges, Empire Imports has carved its path as a steadfast player in the vape industry.

Since its inception in California in 2014, the company has risen to prominence, establishing a significant footprint within the industry. As distributors of renowned national e-juice brands, hardware devices, and vape accessories, Empire Imports' trajectory from its modest beginnings in a garage to its current stature as a pivotal industry player underscores its tenacity and carefully devised strategies.

Empire Imports pioneered the B2B pureplay online model early on, starting with 10,000 SKUs in-stock online. Following that model, the company continues to offer retailers the ease of ready-to-ship, accessible products. Their commitment to fostering strong manufacturer relationships is evident through their close ties with industry giants like Smok, Twist, Air Factory, Cloud Nurdz, and many others. To maintain an active role within the vape industry, Empire Imports participates in a lot of marketing and R&D with these brands. The company has positioned itself as a reliable conduit for distributing product information to regional distributors and retail outlets. This proactive engagement accelerates brand momentum, the successful launch of new products and securing them for their customers.

Empire Imports' operating principles have remained constant over the years. These principles have not only enabled the company to navigate the challenges of a rapidly changing regulatory environment but have also positioned it as a dependable partner for retailers across the nation. The company's dedication to meeting customer needs is evident through its vast product offering. With a catalog of over 14,000 SKUs to date, Empire Imports ensures that retailers can source a diverse range of products from a single, reliable distributor. This commitment to convenience is further bolstered by efficient order processing, with most orders shipped within 24-48 hours. They are dedicated to catering to retailers of all sizes and locations, ensuring seamless delivery directly to stores, including those in smaller towns, facilitating the expansion of their product range.

Central to Empire Imports' strategy is its investment in systems and people. Recognizing the importance of streamlined supply chain management, the company has consistently upgraded its ERP systems to ensure the seamless movement of inventory from vendors to customers. The company empowers its customers by providing real-time inventory and order information online, allowing retailers to plan their purchases effectively. Additionally, Empire Imports offers drop-ship services and user-friendly software systems for online-only retailers, streamlining the ordering process.

In a dynamic market, the ability to adapt and select the right products is crucial. Empire Imports excels in this area by employing real-time sales data and analytical insights to curate its product offerings. By staying attuned to market trends and consumer preferences, the company has been able to maintain a competitive edge and avoid the pitfalls of stagnant inventory. At the heart of Empire Imports' success lies a commitment to reliability. The company prides itself on its predictability, avoiding over-selling inventory and limiting price fluctuations. This steadfast approach not only fosters trust among its customers but also ensures stability within the industry.

An exciting milestone for Empire Imports is the development of a first-of-its-kind software data system for the vape industry, Empire Data Services (EDS). This advanced system compiles data on regional distribution trends, product concentration, and sell-through, offering valuable insights to key brand partners and manufacturers. This initiative highlights Empire Imports' commitment to innovation and its integral role in shaping the vape industry's future. Their creation of EDS also emphasizes their dedication to serving their customers by proactively researching the market trends so they can most effectively stock inventory that is beneficial to retailers' bottom line. This value-added approach solidifies the company's reputation as a partner invested in the growth of its customers. To get involved with Empire Data Services, manufacturers can contact pearce@eivape.com.

John, COO of Empire Imports, articulates the company's mission with clarity: "We believe our mission is to provide inventory that keeps the retail stores open." In line with this vision, Empire Imports extends support to retailers' success by offering marketing materials (such as window stickers, brand sponsored merchandise, counter displays, and more), running regular promotions, and facilitating discounted offerings. They believe this creates a winwin scenario, enriching both retailers and their end customers. A remarkable accomplishment for Empire Imports lies in their diligent effort in curating an extensive selection of premium brands, showcased by their catalog featuring over 250 top-tier names, while simultaneously providing steadfast support to the brands they proudly feature.

For those eager to engage with Empire Imports in person, the opportunity presents itself at TPE 2024 in January. With two exhibition booths, the company will be readily available to address inquiries and showcase its offerings. To learn more, you can contact Empire Imports at info@eivape.com or call (909) 930-5020. For a comprehensive overview of their products, visit eivape.com and explore the extensive online catalog.