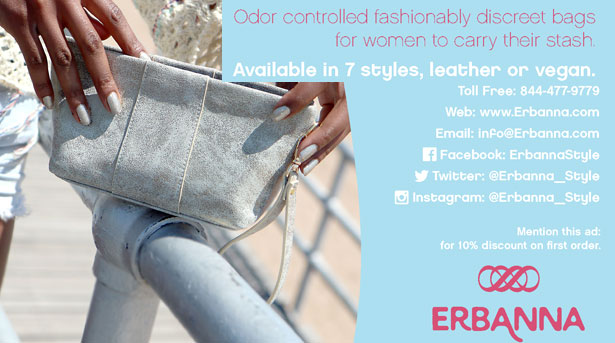 Erbanna
With the steadily increasing number of states legalizing marijuana, Erbanna brings a new design aesthetic to the Cannabis industry with a beautiful, practical and fashionable product that women have been waiting for.
On a mission to find a case that was odor controlled, stylish and worthy to stand beside her other accessories, Erbanna founder, Ann Shuch created this feel-good accessories brand to cater to those consumers who want to shed the stigma affiliated with Cannabis use and welcome in a new era of knowledge and usage.
A graduate of Parsons School of Design, aesthetics have always been important to Ann, whether through actual art form or from a design perspective. After years of research and personal experience, Erbanna was born.
"My goal is to design products that bring women into this new Cannabis age on their own terms" says Shuch. "Whether you are a medical or recreational user, we all want to feel good about our choices. Erbanna allows women to throw away the stigma and start to bring Cannabis usage mainstream." She adds, "Women are about 50% of this industry. We should recognize that women have a certain aesthetic and want to enjoy their smoke and smoke shop experience as much as men do. I'm thinking beyond pink, with more appealing offerings for women."
The product line consists of leather and vegan options, in 7 styles with 28 SKU's, and retail prices ranging from $40 to $90. Each case is lined with Odor-Loc technology and contains strategically placed pockets, to perfectly store your lighter, stash and any additional paraphernalia. Every detail has been thought through. From the inside pockets, which are also lined for extra odor control, to the special zippers, you'll never have to worry about that "puff" of odor escaping from your purse again. Available at www.erbanna.com and smoke shops nationawide.