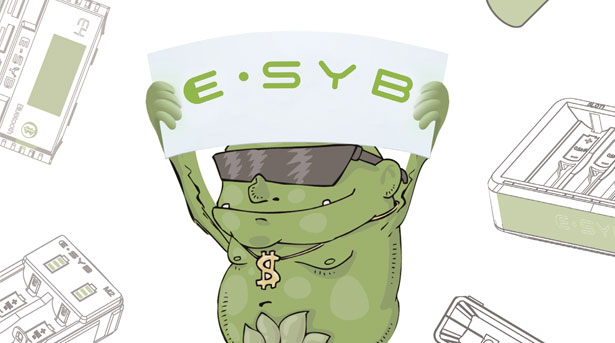 E-Syb
E-SYB Technology Limited has carved a strong niche in the U.S. marketplace by listening to its customers today in order to satisfy their wants and needs tomorrow.
Based in Longhua District, Shenzhen City, Guangdong Province in China, E-SYB is a high-tech enterprise with strengths in research and development, production and sales. It specializes in the production of lithium batteries, battery packs, battery chargers, power banks, 3C digital products and more. Product designs are developed in-house using the rm's own proprietary patents. Its advanced production processes have been ISO9001 certified.
The company was established in 2004 by Liu Xiu Zhang, who also serves as its chief executive officer. The company notched revenue of about $20 million in 2015. There are 220 employees. Its customers are involved in a diverse collection of product categories, including electronic cigarettes, flashlights and outdoor products. Its top-selling product lines are batteries, chargers and power banks.
E-SYB's management believes that "quality is the only way for us to expand the market; science and technology are the motivation behind our development; integrity is our philosophy; and our reputation is the immortal soul of our company. By regarding customers' demands as our guide and quality for satisfaction, credibility for development, and challenge for survival as our principle, we have become a well-known brand owner in the field of lithium batteries, battery packs, chargers and power banks." Indeed, the phrase that greets visitors on the website is 'Power Your Life.'
"We had made OEM (Original Equipment Manufacturer) for all of our 12 years," says executive Yuan Liexing, "and last year in 2015 we started our own brand, E-SYB, for battery, charger and power bank. Our main markets are the United States and Europe. Own research-and-development team develops these items according to customers' requests."

E-SYB, Mr. Yuan points out, is "a high-tech enterprise which includes research and development, production and sales. We have our engineer team in place to make the best products at the lowest cost. We are good at being creative."

And creativity is employed at all times in response to and in service of its customers. Executives collect market feedback every week. "We are always on trend with market for the products we make when it comes to design and function. Customers' requests are always our company's targets."

For example, its ESYB Power Bank comes in several popular designer colors -- Tungsten Steel Gray, Elegant Silvery and Champagne Golden -- and offers a slim design, 93% conversion efficiency, Li-Polymer battery cells and a super-high-efficiency circuit. The company's E4 Battery Charger features charging current of 0.25A, 0.5A, 1A, and 2A, as well as a 2.1-inch LCD screen and Bluetooth/APP function.

E-SYB's most recent product introduction is the four-bay Bluetooth charger with power bank function. "We named it E4, for Elite 4," Mr. Yuan points out. "This is the newest charger product in the market. Most of the young people like this high-tech product very much since it gives them a very intelligent using experience. It makes the charging fast, convenient and unique."

Innovation is a matter not only of new functions, but of new ways of meeting and exceeding customers' requests, Mr. Yuan explains. "Innovation should be professional, meeting customers' requests and desire for enjoyment and inspiration." He believes that a brand must have uniqueness and innovation as core values "so that nobody can replace and exceed it. We are working hard to meet this target."

Mr. Yuan describes E-SYB as what he terms a "long-term" company, one with its eyes squarely on the future. He and his fellow executives feel that their company and its product lines are crafted to serve the needs of the marketplace regardless of short-term economic trends or political campaigns.
"People pursue what some people like to call a high-quality life when the economy is good," Mr. Yuan points out. "We just make the kind of high-quality products that let people enjoy good experiences. When people experience the outstanding quality of the E-SYB products, we have achieved success."
Yuan Liexing's goals for the remainder of 2016 and beyond include doing more of what E-SYB has always done: ongoing R&D aimed at developing high-quality products at the lowest possible cost. "Our goal is to help more people enjoy E-SYB products. This is also our long-term mission. Customers' requests are always our goals."