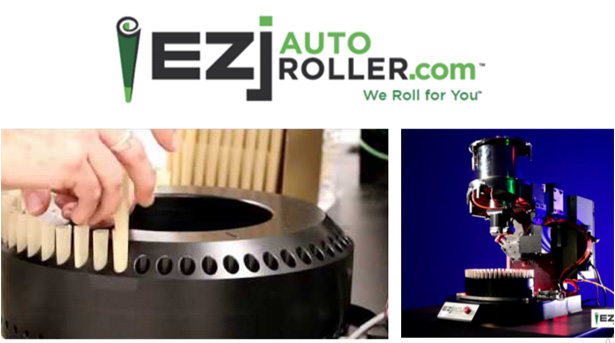 EZJ Autoroller
Cutting Edge Cannabis Machine Lights Up Medical Marijuana Industry
The Revolutionary, EZJ AutoRoller technology, mass-produces up to 500 joints per hour.

It resembles an oversized coffee machine, but rather than shoot out grinds -- this innovative device is the catalyst to cranking out cannabis cigarettes in mass quantities.
"The EZJ AutoRoller is patent-pending proprietary technology that is critical to producing up to 500 joints in an hour," said Jack Leadbeater. The chairman and CEO says cannabis dispensaries can only produce about 700-900 joints per day.
"Our machines contain pre-roll cones and are key to mass production. They will allow grow facilities to replace entire teams of employees whose sole purpose is to roll marijuana cigarettes. The EZJ AutoRoller will turn the industry on its head."

The product -- after several years of research, development, and testing -- will be unveiled at this year's Marijuana Business Conference from Dec. 11th-13th at the Las Vegas Convention Center. The industry event is the largest of its kind in the world. Thirty-Five thousand attendees are expected. The public will get the chance to witness a fully-automated system that grinds, fills, tamps, and finishes select pre-roll cigarettes.
"The EZJ AutoRoller delivers ease of use while increasing output for grow facilities and dispensaries," said Leadbeater. Our machine only requires a single system operator to load trays, which ultimately eliminates teams of workers who grind, fill, tamp and twist each individual cone. Production goes up, costs are reduced, and consumers benefit."
More information on EZJ AutoRoller Inc. can be found at www.ezjautoroller.com.
Interview opportunities with chairman and CEO, Jack Leadbeater, are limited. Call now to book your press availability.

Media Contact:
George Lin
Public Relations & Media Strategist
Email: georgelinphx@gmail.com
Phone: 602-492-1288