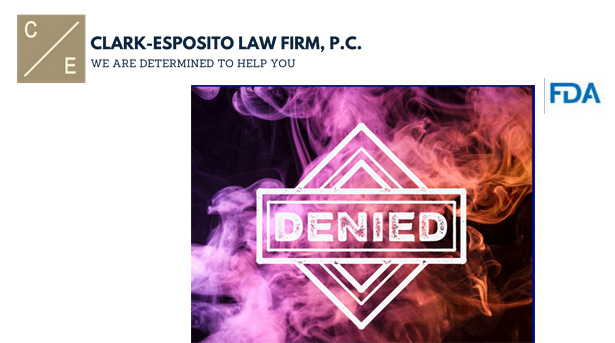 Do You Know the Real Reasons Why FDA Issued an MDO on Your PMTA?
We now know that the U.S. Food and Drug Administration's (FDA) decision-making process to deny thousands of PreMarket Tobacco Product Applications (PMTAs) and issue a formal Marketing Denial Order (MDO) from the FDA was not very transparent. It also appears to not have been very thorough.

Do you even know the real basis of why yours was denied? Want to find out if it was actually based on anything specific? Click the button below to read our full article and find out.

Want to learn about your options? Contact us using the information provided below.

Feel free to connect with us using the contact form at the bottom of the Home page or send us an email at contact@clarkespositolaw.com.

Also, be sure and check out our educational videos on our YouTube page.

Clark-Esposito Law Firm, P.C. ©2021
1345 Avenue of the Americas, 33 Fl.
New York NY 10105
(917) 546-6997

www.ClarkEspositoLaw.com

DISCLAIMER: The content of this website has been prepared by the Clark-Esposito Law Firm, P.C. for informational purposes only and should not be construed as legal advice. The material contained in this email newsletter is not intended to create, and receipt of it does not constitute, a lawyer-client relationship, and readers should not act upon it without seeking professional legal counsel. The Clark-Esposito Law Firm, P.C., did not produce and is not responsible for the content of off-site legal resources. The materials on this site may constitute advertising under various state ethics rules.