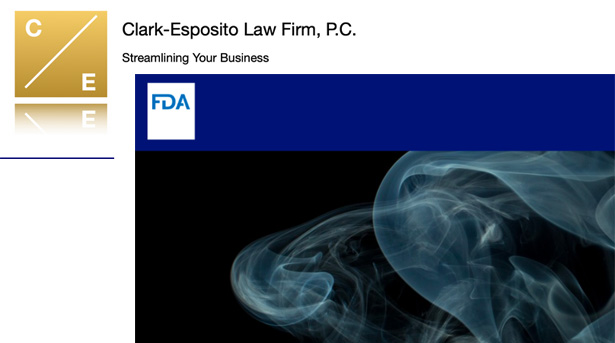 How is the FDA Processing PMTAs?
The U.S. Food and Drug Administration (FDA) continues to process, review, and take action on as many timely Premarket Tobacco Product Applications (PMTA) as possible before September 9, 2021. The FDA usually sends a Deficiency Letter prior to reaching a final decision on a PMTA.

Through Deficiency Letters PMTA applicants may provide additional information required of them by the FDA in order to conduct a thorough scientific review. Recently, the FDA has updated the language in Deficiency Letters related to PMTAs.

The Clark-Esposito Law Firm, P.C. monitors FDA actions across the field of tobacco and vapor regulation. Click the button below to view this article, and to monitor our frequent updates on FDA's review of timely submitted PMTAs and many other rapidly developing areas of tobacco product regulation.

Click the button below to read our full article on FDA's review process for PMTA, what to expect as FDA conducts review on pending PMTA, and FDA's review outlook.

We can be reached at contact@clarkespositolaw.com for additional questions related to Deficiency Letters, PMTAs, or tobacco product compliance in general.

Clark-Esposito Law, P.C.
Clark-Esposito Law Firm, P.C. ©2021
1345 Avenue of the Americas, 33 Fl.
New York NY 10105
(917) 546-6997
www.ClarkEspositoLaw.com

DISCLAIMER: The content of this website has been prepared by the Clark-Esposito Law Firm, P.C. for informational purposes only and should not be construed as legal advice. The material contained in this email newsletter is not intended to create, and receipt of it does not constitute, a lawyer-client relationship, and readers should not act upon it without seeking professional legal counsel. The Clark-Esposito Law Firm, P.C., did not produce and is not responsible for the content of off-site legal resources. The materials on this site may constitute advertising under various state ethics rules.