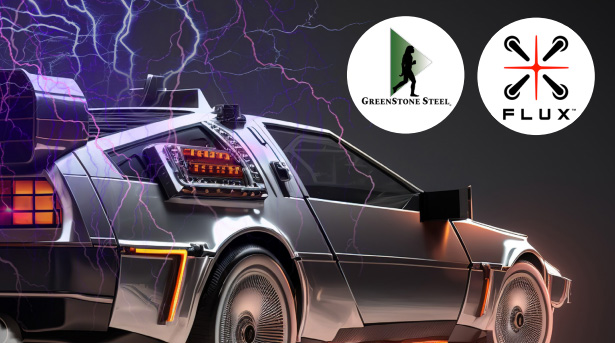 Flux + Greenstone Steel
BACK TO THE FUTURE…

The DeLorean of Water Pipes meets the FLUX Capacitor. It's a perfect fusion!

For 25 years Greenstone's timeless Stainless Steel TravelMasters have proven to endure in the marketplace as an entirely unique and reliable design. The FLUX line features a futuristic, touch reactive Plasma technology incorporated into every one of their water pipes and hookahs. Actually, it's Nicola Tesla's invention the "Tesla Coil" from 1891 that FLUX has miniaturized and placed inside a glass chamber. So, both of these companies have integrated turn of the century technologies into exclusive lines of contemporary smoking products that are only available under the FLUX brand.

Now that it's all under one roof, let's crack open the door and take a look at what you'll see when you visit FLUX…

First, you'll find a full array of modular Plasma water pipes with interchangeable components. For example, their cornerstone Flux Rig comes with both a straight mouthpiece and a curved one right in the box. Customers can also get the hookah accessory kit and easily transform this unit into a 18 inch hookah. The Tedion and EON are straight forward fishbowl style water pipes but, with a really cool feature; the water actually sits inside a glass pocket floating inside the round Plasma chamber. Here, you also have a straight and curved mouthpieces to choose from. The glass is handblown, thick and durable. They have a dedicated Dab Rig called the ION. A futuristic compact design featuring combination of silicone and glass with the touch reactive Plasma globe perched right on top. When they say "touch reactive" you understand what they're talking about right? The colorful electrical tentacles inside these Tesla Coil Plasma chambers follow your fingers as you caress the outside of the orb. It makes for a truly mesmerizing light show and a phenomenal conversation piece.

Fun fact…

Plasma is one of the four common states of matter – solid, liquid, gas and Plasma. It is the most common state of matter in the universe. 99 percent of all matter, other than the mysterious "dark matter" is plasma. Most of the matter in the Sun and other stars exists in a plasma state. Plasmas are created when extra energy is added to a gas. Plasma in Earth's magnetic fields flow towards the polar regions, creating the colorful light shows we call the aurora borealis, or northern lights. Beautiful right… So, what FLUX has done is like capturing the northern Lights and placing them inside a water pipe. You'll find a full line of medium and large hookahs as well. They all come with the plasma effect and the large hookahs even come with an external laser light that emanates from the base and lights up the billowing smoke in a variety of colors. Every plasma unit comes with a one year warranty and NiCad batteries for portability.

The Fusion Filters are truly unique, and customers love em!

They are glass, ash catcher style housings, filled with a carbon bead made from activated coconut and seaweed based carbon filter technology that can remove up to 80% of tar and harmful chemicals. The bong and the lungs stay cleaner! The beads are easily replaceable, and customers come back religiously for the refills. There's a bunch of other cool stuff including a metal housing 14mm male and female carbon bead filters, a cell phone kickstand lighter that you've gotta see, and finally, you can't forget the Stash Bear. A zipper back, carbon fabric lined Teddy Bear that you see everywhere at the shows cause the chicks can't keep their hands off him! They say he'll actually sit on the sofa, watch a movie, and get ripped with you.

Introducing to the Flux lineup is the seriously upgraded TravelMaster 3.0

That workhorse of a rig designed to travel anywhere and everywhere. 100% stainless steel body, bowl & stem. It's modular with really tight tolerances. designed to travel in its beautiful new camera lens style, smell proof carry case. These are custom made for the TravelMaster by Dime Bags. The TravelMaster is 8 inches in the case, and it sets up to 15 inches tall in less than a minute. Unlike anything on the market; there are no threads and no hard to reach places, so it cleans up like new with very little effort. In fact, it's touted as the easiest water pipe to keep clean on the market. Their slogan is "Function Is Beauty." The idea behind it - it's so easy to clean, people don't mind taking 2 minutes every couple of days to wipe it out with a sponge-literally 2 minutes! Once a week you can toss it in the dishwasher like a YETI or a Hydro Flask and it's sterilized. Put the whole thing in the freezer or simply put some ice in the cup. They'll have a custom koozie later this year to keep that ice cold for hours. It travels totally incognito. Put the bottom cup in your backpack, the transition piece in a checked bag, and the top tube in carry-on; totally incognito! There are things you can do with the TravelMaster that you simply can't do with any other water pipe. Poolside, backpacking, car camping, river rafting, horseback riding, etc… No, it does not get hot. Yes, it smokes just as clean as glass. They guarantee it 100% or they'll buy it back. Think about it; if it wasn't true, they wouldn't still be here 25 years later. They've literally been around since the very first Champs Show in 1999.

Finally, to top it all off, have you seen their new Magnetic BongBandz ?

A nifty little must have item for any shop; it's a heavy duty silicone band with (2) strong rare earth magnets embedded into the sidewall. It holds a lighter and a tool right to the side of nearly any bong or dab rig. (2) sizes and a bunch of colors come assorted in a countertop jar. People love em. They're new, they're fun and it's a great upsell item with good margins that still retails for under 5 bucks. Brian Rains and Henry Chung run a clean operation out of the beautiful city of Walnut in Southern California. Do yourself a favor and check them out at FLUXsmoke.com or you can reach their sales department at 800-551-8551. If you're at the Vegas Champs Show make sure you check out their full product line in person at Booth 3105.