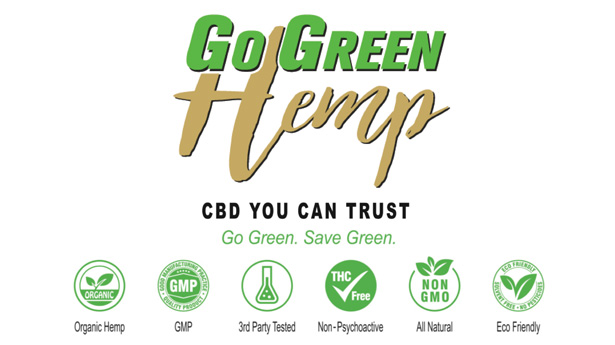 Go Green Hemp
On the One Year Anniversay of Go Green Hemp's launch, Romas Marcin reflects on the growth he's seen since last December when he started a company based on one belief; an inherent need to share the exciting benefits of CBD with others. After discovering CBD through searching for his own relief from pain after requiring reconstructive surgery on his ankle, Romas made it his mission to spread awareness and education about such a valuable product. "It's been all about maintaining that delicate balance between providing our customers with both a quality product and hands-on customer service." Romas explained in regards to staying on top of the rapid expansion from being a company with 6 sku's available to 25 in just twelve short months.

The top sellers from Go Green Hemp are their Premium CBD Oil drops that come as Unflavored, Citrus, Cinnamon, and Peppermint. The bottles are 30ml and come in 250mg, 500mg, and 1,000mg doses. The CBD is derived from their own unique strain of hemp: GoGreen, providing a blend of cannabinoids and naturally occurring antioxidants and neuroprotectants, creating a Premium CBD Hemp Oil Extracted from Organic Industrial Hemp. They contain absolutely no THC, so there is no "psychological high". One of their other top sellers are the GoGreen Hemp CBD Gummy Bears. One bottle contains 200mg of CBD (10mg CBD per Bear) and has assorted flavors which include pineapple, raspberry, lemon, orange, and strawberry. They are best sellers for a reason, they are known for their exceptionally great taste!

In November, Go Green Hemp was happy to launch their newest products, CBD Wax crumble (for dabbing) and dog chew soft bites! The GoGreen Hemp CBD Wax Crumble is 850mg and comes in two flavors, Pineapple Express and Blueberry OG. It is a highly concentrated gram of CBD Wax Crumble that contains no THC. The GoGreen Hemp's veterinarian formulated CBD Dog Soft Chews provide a full spectrum hemp extract product specially formulated to help canines with pain, inflammation, stress, anxiety, age related issues and overall health and wellness. Each container has 40 (2mg) Veterinarian formulated, All Natural, Eco-Friendly Soft Chew Bites.
CBD Balm. "It was exactly what I needed for my ankle," Romas mentioned. "It's also great for any external pain, arthritis, and joints."
The balms are carried in 500mg and 1000mg per 1oz and come in either essential oil infused Eucalyptus Lavender, or terpene infused Calming Purple. The GoGreen Hemp CBD Balm Salve has a Beeswax and Coconut Base, and is made with Extra Virgin Hemp Seed Oil, Cocoa Butter, and Organic Beeswax. Cocoa butter helps skin dryness, fights signs of aging, and sooths burns, rashes and infections. Since Extra Virgin Hemp Seed Oil won't clog your pores like many other oils, you can safely use it to moisturize your skin without any greasy buildup. Organic Beeswax acts as an emollient and a humectant, drawing moisture to the skin and sealing it in, and contains vitamin A, which may be beneficial in softening and rehydrating dry skin and in cell reconstruction. CBD is revered for its medicinal properties for being a highly effective anti-inflammatory for targeted pain relief for ailments such as: Arthritic pain, Fibromyalgia, tendon soreness, and physical pains in specific areas. This makes The GoGreen Hemp CbD Balm Salve a super hero amongst topicals.

Go Green Hemp is proud to offer 20% discounts to all Veterans & those with long-term disabilities through their Helping Hand Program.
The Helping Hand Program Mission Statement is: "At GoGreen we believe that everyone interested in experiencing the health and wellness benefits of hemp extracts should have the opportunity to. That's why we now offer assistance programs to serve individuals that might otherwise find it difficult to purchase GoGreen products."
The program is one more way Romas tries to spread his message and help bring relief to those in need. He is also gearing up to bring even more great tasting products to his loyal customers, such as peach ring gummies, multi-flavor peach ring gummies (coming out in Jan 2018) and even chocolate bars later in the year. Go Green Hemp emphasizes to their customers on their website, www.gogreenhemp.com that GoGreen Hemp products are all derived from industrial hemp and are completely legal in all states, and informs them of things like CBD's effectiveness at helping you get a restful nights' sleep. "We are excited to attend Champs in Las Vegas in February, and more shows to come after." Romas is looking ahead to the bright future of Go Green Hemp and their important message.