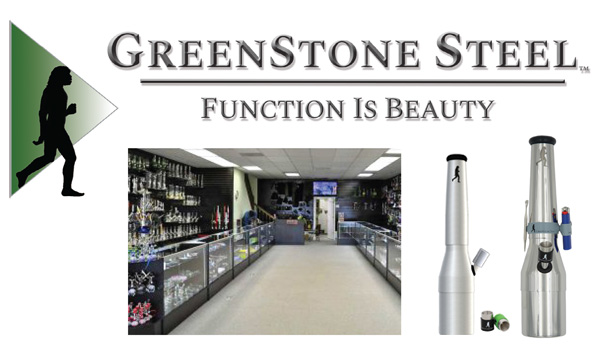 GreenStone Steel
Since the beginning of the millenium, GreenStone Steel has been a part of revolutionizing the way people smoke cannabis. The founder started with a few main objectives: Durability, Ease of cleaning, Functionality, and Ease of Travel.

"We have boiled down the fundamental design of the water-pipe into its simplest form!" Stainless Steel Smokes as Clean as Glass. Believe it! The creators of the TravelMaster™ have been saying this for years! In fact, they feel so strongly about it, they offer a GUARANTEED SALE to all retail stores.
Brian Rains, the founder of GreenStone Steel, says "We have always sold the TravelMaster with a guaranteed sell through and 20,000 pieces later, we have never had a single unit come back!"
The same goes for their lifetime warranty on every customer purchase, which has never been called on either! A longtime customer recently called the TravelMaster "the DeLorean of water pipes", which is a nickname that fits perfectly, especially considering Brian's background in the marijuana movement. Let's take a trip to the past...

Brian recalls, "Somewhere there is news footage of me smoking a joint on the Los Angeles Federal Building footsteps during a rally in 1995, just before Prop 215 passed in California. Seems like a lifetime ago. I remember working with Jack Herer at his house, going door to door, getting petitions signed. We got kicked out of a few places back then for trying to get signatures. People still believed it was the work of the devil. It was a different world back then; we fought hard for every little win. Every little mention about legalization on the TV or radio was a huge victory. Wow! Look how far we've come... It's nice to be able to reap some of the harvest from all that hard work years ago. PS. Jack, rest in peace..." Shortly after that fateful accomplishment for the cannabis community in California, in 2001, the original TravelMaster was born!

Now, 17 years later, GreenStone Steel is stronger than ever and has gone into full production of the next generation of their Flagship Product; The Travelmaster 2.0! You might be asking yourself; why metal? Well, it's not just metal, it's Stainless Steel! We eat with it, cook with it, and use it in surgical implant for a reason; Stainless Steel is a superior metal that is easy to sterilize and truly smokes as clean as glass with no residual taste. People are so accustomed to glass being the only viable water pipe material that they often don't consider the benefits of stainless steel. GreenStone recommends a display that shows two or three pieces- One assembled and one in its case ( in Travel form) so customers can really see the unique capabilities of the TravelMaster 2.0. Once your customers understand that stainless steel smokes as clean as glass, and see how well designed the TravelMaster is to easily set up and collapse down without any threads, it's a sure sale.

The TravelMaster fills a real gap in the market. There is simply nothing out there that is indestructible like stainless steel. Think of all of the Car Campers, Backpackers, Fishermen and Urban Travelers who would love a work horse like this in their collection. Everyone says the TravelMaster looks like a martini shaker, and it does, which is perfect to clean just like a martini shaker without ever having to worry about breaking it. And because you're not worried about breaking it, you can keep it cleaner more often. The tolerances of the modular slip-fit transitions of the TravelMaster are far tighter and more difficult to achieve than that of traditional martini shaker, though. It's a real challenge to perfect this element of the design. GreenStone Steel prides themselves on matching every 3-piece body by hand to ensure a superior, waterproof fit that will never fail. They have been hand spinning their original units since 2001. now, with the market finally opening across the country, they are stepping up their production with the 2.0 model to meet increasing demand. The TravelMaster 2.0 is 15 inches tall by 3 inches wide, and collapses down to only 8 inches in Travel form! It comes in a bright mirror polish to inject an element of class, and is crowned with a custom silicone lip piece for comfort. The stainless steel stem and bowl have a silicone sleeve so it won't get hot. It has a 14mm down stem and customers can use a 14 mm female banger on the down stem to transform the TravelMaster into a dab rig instantly! It is also very easy to clear thanks to the no clog bowl. When you're ready to travel, the Top Tube goes inside the Body When you pack it up, it goes in a telescopic hexagon case that was designed to travel and take abuse for years. GreenStone Steel is proud to boast the TravelMaster's price point as well; with an MSRP at $79-$89, which is really a bargain for a piece that will last a lifetime!

GreenStone Steel is stoked to introduce the Magnetic Dab Tool, Poker & Lighter Kit that they just released! The Magnetic Dab tool & Poker Kit works on any water pipe or rig. It has everything one needs to set up (2) separate pieces; One for a magnetic Lighter and Poker on a flower piece, and the magnetic Dab Tool on a concentrate rig. Everything is always right where you want it and the Dab Tool never touches the ground! This Kit has great retail margins for under $10, ideal for that last-minute impulse sale. The real jaw-dropper is that although it has a very attractive price point, they still use very high-quality component materials. It contains a magnetic (410 series) Stainless Steel dab tool/poker, 3 neodymium (rare earth) magnets, and 3 food grade silicone bands in varying sizes for each component. Everything comes in a cool little clear tube with caps and is displayed in a Point of Purchase (POP) "pickle jar" with 60 kits inside. The POP translates into $385 pure profit and only takes up 5 square inches of your counter space! GreenStone Steel has a patent pending on both products to back up their proprietary designs.

GreenStone Steel is proud to have the same 800 number since 2001 and haven't received any call ins on their Sell-through guarantee or the product's lifetime warranty, which they have been offering since the very beginning. Keep an eye out for their brand expansion starting with the dab tool kit for national brand recognition, and continuing with the formulation of new products like accessories for concentrate in 2018!

You can see the TravelMaster 2.0 in action at the Champs Las Vegas & Champs Denver Trade Shows this year. You can order from their website at Greenstonesteel.com or give them a call at 800-551-8551