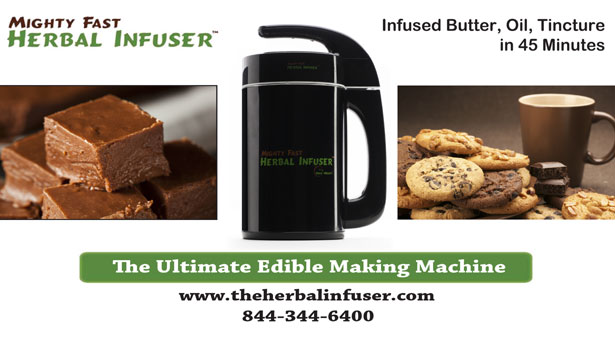 Mighty Fast Herbal Infuser
The Most Cost Effective Way To Ingest Herbal Medicine; Mighty Fast Edibles
Save money while saving your health? Heck yes please! That's the bottom line when you purchase the Mighty Fast Herbal Infuser. This hot pot on steroids, as the company's CEO likes to say, allows anyone, regardless of kitchen prowess, to create consistently potent and powerful infused butter, oil or tincture. Butter and oil can be infused with your herbs of choice in just 45 minutes with the Mighty Fast 1 cycle. Or perhaps you'd like to have your herbs hang out with your base (butter, oil) for 90 minutes with Mighty Fast 2. Tincture is made in Mighty Long 4-hour cycle, but regardless of the cycle chosen, the end result will always be the same; homemade, potent and delicious infusions that can be eaten alone or made into edibles.
With the contagious legalization of marijuana filtering throughout our country, we've only just begun to scratch the surface of the entity, marijuana infused edibles will create. The duality of a struggling economy and a shift to utilizing marijuana recreationally and medicinally, the issue of cost effectiveness will arise.
That is one of the Mightiest Perks one receives when one purchases a Mighty Fast Herbal Infuser. After one batch of perfectly infused butter, oil or tincture, the machine has paid for itself.
The significant monetary savings one makes just by having one's own homemade stash of edible heaven is priceless. Especially when the average cost of purchasing one pre -made edible cost's $10-$30 per piece. The Mighty Fast Herbal Infusers minimum production is 2 cups of butter or oil in just 45 minutes. The average cookie recipe requires ½ cup butter or oil which translates to 1 teaspoon per every 24 cookies (1/2 cup= 24 teaspoons). That means that in just one batch of infused Mighty Fast butter or oil, at least ONE HUNDRED medicated cookies can be made, each containing one teaspoon of highly potent herbal medicine.

Couple the consistently potent, delicious tasting butters, oils or tinctures with the financial common sense it makes to have the ability to create your own homemade medicine in edible form. Another absolute bonus in the world of neon colored food like products, is the ease that one is using one's own ingredients. The freedom of being in control and in charge of what one puts into one's mouth is crucial in a world of omnipresent unrecognizable chemical ingredients. Your own homemade chocolate chip cookies, brownies, gummies, tinctures, etc., will contain only what you approve to put into them. In a world where disease and illness are rampant, isn't it empowering to finally take charge/control of your health.

Once the Mighty Fast butter or oil is made, it takes a few simple ingredients to put together delicious edibles you would see in a dispensary. How does a piece of all natural medicated fudge with a cup of cold brewed coffee sound? Expensive for the layman but a reality for a Mighty Fast Herbal Infuser customer.
Mighty Chocolate Fudge
½ cup Mighty Fast coconut oil or butter
¼ cup nut butter (peanut, cashew, almond)
½ cup raw cacao or cocoa powder
½ cup pure maple syrup
1 teaspoon vanilla extract
¼ dark chocolate chips

After infusing coconut oil or butter in the Mighty Fast Herbal Infuser, set aside above amount. In a large mixing bowl, combine oil or butter, nut butter, cacao or cocoa powder, maple syrup and vanilla. Mix well before adding in chocolate chips. Spread mixture out onto a small greased baking pan. Sprinkle the top with a dash of sea salt. Place in refrigerator or freezer for at least 30 minutes or until fudge becomes solid. Remove, cut into squares and enjoy.
Mighty Cold Brewed Coffee Latte
1 tablespoon Mighty Fast coconut oil or butter
1 cup cold brewed coffee
½ cup milk (plant based almond, coconut or cashew is best)
1 teaspoon cinnamon

To make cold brewed coffee: simply grind 1 cup of coffee beans and mix with 4 cups cold water. Allow mixture to sit overnight. Strain grinds and leave coffee concentrate in refrigerator until ready to use. After infusing coconut oil or butter in the Mighty Fast Herbal Infuser, set aside above amount to cool. Take 1 cup cold coffee concentrate and place into blender. Add in milk, cinnamon and Mighty Fast butter or oil (in liquid form). Blend on high for 1 minute until frothy. Pour into a mug and serve.

Invest in your health, invest in your body, invest in your life by owning your own Mighty Fast Herbal Infuser. www.theherbalinfuser.com