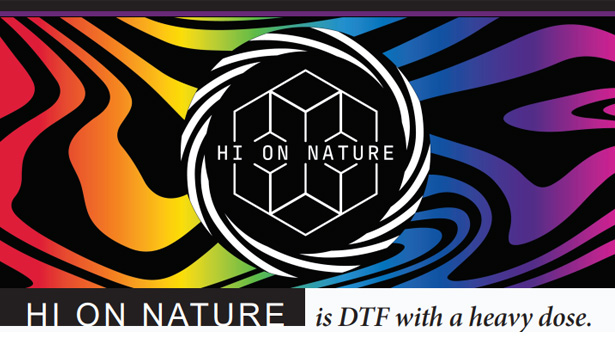 Hi on Nature
HI ON NATURE is DTF with a heavy dose.

Born in Los Angeles in 2020, Hi on Nature started boundaries of possibility. like every great company - in a garage. Hand-making trays of 25mg gummies, it didn't take long before the first employees were downing entire 300mg packs. Stoner friends rolled their bloodshot eyes at the idea of making Diet Weed in California. The founders knew they had to show the world what could be done with alternative cannabinoids. Using their expertise from the legal D9 market, they created a product that was just as potent and reliable as those found in dispensaries.They shot for the moon with Space Rings, blowing minds by packing a hey 250mg dose of D8 when other edibles topped out at 100mg. With their first hit product, Hi on Nature proved that just because it's legal to mail, doesn't mean it wont pack a punch. Now operating out of a sprawling complex in Houston, TX with a team of 75 full-time employees and nearly 100 products in their catalog, Hi on Nature continues to innovate and push the

Hi on Nature has established itself as a trailblazer in the wholesale market by combining advanced technology, eye-catching design, and consistency that customers can rely on. ey use proprietary measurement methods and pharmaceutical equipment to ensure their products are accurately dosed. eir line of edibles feature an array of exciting flavors that taste great, and oer the kind of products customers genuinely want – say goodbye to boring sugarfree jelly cubes. Splashed across the top of pouches with sleek and colorful geometric designs, "CAUTION: THESE F*CK" demands attention on store shelves, while leaving no question these are products for adults. With high MG counts, delicious flavors, and striking packaging, Hi on Nature has skillfully created a brand that is both innovative and captivating.

A standout in their product line, Hi on Nature's KO3 Shockwave Sour Belts are a perfect blend of flavor and power. Brace yourself for the shockingly sour punch to the taste buds, setting the stage for the heavyweight high that follows. anks to quick-onset activators from the CBx family, you'll feel the eects without the wait. A combo of HHC and D8 deliver a familiar high, while THC-P boosts and prolongs the experience. Shockwaves are available in six extreme flavors. Magic Rainbow, Electric Lemonade, Tropical under, Red Lightning, Cloud 9, and Apple Pucker. As with every Hi on Nature product, Shockwaves are made from premium, Farm Bill compliant hemp and are strictly quality-controlled with third-party lab testing.

For further evidence that Hi on Nature is leading the way with innovative, high-quality, and powerful products, look to their cutting-edge THC-P line. ese are products you won't find anywhere else. With a unique THC-P drink, the market's first 100% THC-P vape, and THC-P enhanced edibles, Hi on Nature has gone all in on harnessing the most potent cannabinoid on Earth.

If you're looking for an out-of-this-world experience, take a sip of Hi on Nature's Maximum Strength Liquid Chill. Made with fullspectrum THC-P,CBC,CBD-P, and GrapeApe cosmic terpenes, each shot is equivalent to 500mg of Delta 9 and has eects that can last for over 24 hours. With this maximum strength drink it's important to remember you can always take more, but you can't take less. Its delicious grape taste makes it easy to chug, but be warned - this drink will have you forgetting which planet you're on!"

Additionally, Hi on Nature is the only brand to oer a 100% THC-P vape. While other companies settle for 1-2% THC-P in their products, Hi on Nature brings the One Hit Wonder with THC-P, live resin terpenes for a satisfying weedy taste, and no bullshit. e quick onset and long-lasting eects will take you on a mind-blowing journey that can linger well into the next day. Customersrave about it, saying it's a "game changer" and that "this is it, this is the endgame for max level stoners."

With the aim of reaching every smoke shop in America, Hi on Nature has big goals for the future. You can see them in person at trade shows such as Champs, Alt Pro Expo, and TPE, or connect with them at one-on-one buyer events. If you're attending Champs in Chicago this June, be sure to visit their booth!

e company prides itself on supporting retailers with exceptional customer service, oering dedicated account representatives, fast shipping, a 30-day money-back guarantee, & promotional materials. Once customers get HI, they always come back for more.

Hi on Nature is a brand that is not to be missed. With their focus on quality, consistency, and innovation, they are setting the standard for the industry. Whether you are a retailer or a consumer, you'll never be disappointed with what Hi On Nature delivers.