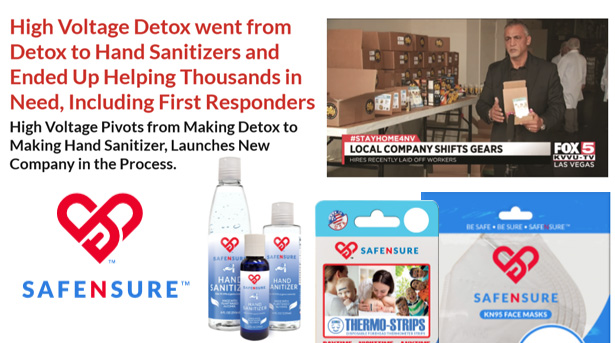 High Voltage Detox/Safe N Sure
LAS VEGAS – April, 2020 - This is a story about a company (High Voltage Detox) whose leadership attempted to save their business during a crisis, and in the process began a crusade to provide much-needed supplies to a community suffering from one of the greatest pandemics in generations.

Already a well-known manufacturer of herbal detox drinks and supplements that are sold around the world, High Voltage Detox's management team saw that the economic impact of the coronavirus pandemic (Covid-19) would slow down the market for their products due to the imminent economic shutdown.

Director of Operations Michael Salame began calling around to all of his vendors, trying to find out if it was at all possible to convert his manufacturing infrastructure into one that could start producing the hand sanitizer that was quickly disappearing from supermarket shelves nationwide. With his nearly twenty years of experience in packaging, sourcing, and filling Michael knew what needed to be done, he just needed the raw elements to make it happen.

What he soon discovered was that, while the capacity and the raw materials we're available, multiple hurdles, including transportation issues, made it very difficult to achieve his goal.

Despite that, he began going above and beyond his original vision, realizing the overwhelming need of friends and family that were healthcare professionals. He soon began sending out hand sanitizer and KN95 Masks to people and organizations across the country, moving mountains to get what he needed to manufacture as much of the needed sanitizer and KN95 Masks as possible.

Meanwhile, High Voltage's General Manager Mark Miller, who had long pushed for the company to diversify into other conventional product lines, saw this as a chance to help the community and give the company a new mission.

Mark worked with Michael to develop new product lines that would redirect High Voltage's manufacturing muscle towards helping out first responders in the Las Vegas and Detroit metropolitan areas.

High Voltage Detox would eventually go on to produce over 450,000 units of hand sanitizer within the first couple of months and donate nearly 90% of that to groups like the Las Vegas Metropolitan Police Department, Henderson Fire Department, Community Ambulance, and other first responders in the valley.

Word eventually reached the local Fox 5 News station, which aired a piece highlighting the business' efforts, and word began to spread like wildfire about the company that retooled to help their fellow Nevadans.
In the interview Mr. Salame stated that "something like hand sanitizer, that was used only once in a while, people will now carry with them forever" and Mr. Miller became overcome with emotion when asked how he felt about what the company was doing, saying that "there are a lot of folks hurting out there, and the fact that we're able to help means everything to me".
The company, despite the economic collapse, has also hired many out-of-work locals who have lost their jobs due to the shutdown. This caused their payroll to explode while their bottom line shrank. Despite this, Mr. Salame has committed a tremendous amount of the company's and his own personal resources to help the company rise to the occasion and meet this moment in history head-on.

Seeing the hand of destiny at work with the tremendous support of the local community, who flooded their online portal with orders for hand sanitizer and other safety products, the leadership of high voltage has decided to rebrand and redefine its core mission.

High Voltage's ongoing goal of helping consumers to boost their immune health and cleanse their system of impurities has now evolved into a larger mission. That new mission is to provide products that will ensure the safety and well-being of consumers nationwide and potentially across the globe.

That is why High Voltage's parent company is now happy to introduce a new company with a new vision: SafeNSure™ Industries.

With a growing list of high quality, affordable, and reliable products, SafeNSure™ hopes to fill the void that has been left by other sources that have been unable to meet the public's needs during this worsening crisis.

These products so far include Hand Sanitizer in a wide variety of sizes, KN95 Face Masks, Hairnets, and their most unique offering of all; Thermo-Strips - disposable forehead thermometers that offer continuous, non-invasive, child-safe monitoring of anybody's temperature for up to 8 hours.

With their tremendous efforts, despite the incredible odds stacked against them, this Las Vegas company has gone "All-In" on a gamble that promises to make quality safety products available to everybody that needs them.

About High Voltage Detox
High Voltage Detox's mission is to create a convenient and delicious detoxification product that provides key nutrients and herbs and provides essential immune health support. highvoltagedetox.com/safety-products

About SafeNSure™
We are committed to providing affordable and reliable safety products for your home, your family, your business, and your life Daytime, Nighttime, Anytime products.

safensure.com

Social Networks

FaceBook:
@safensureproducts
@highvoltagedetox

Instagram:
@safensureproducts
@highvoltagedetox

Twitter:
@safe_n_sure
@high_volt_detox