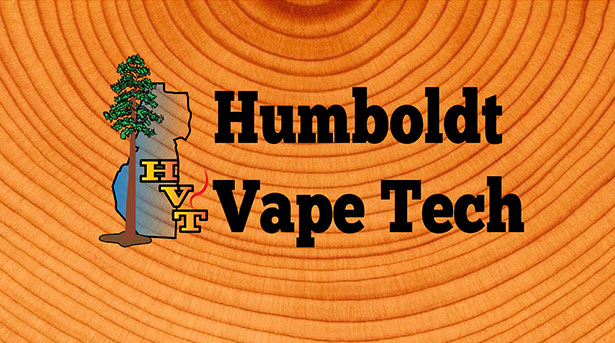 Humboldt Vape Tech
www.humboldtvapetech.com

The founder of Humboldt Vape Tech, Vic Arvizu had health problems that caused the loss of his left big toe, and eventually the leg just below the knee. After the surgeries, he began to experience phantom pains. These eventsled him to become a medical marijuana user.Vic got tired of running into the issue of low quality products available for vaping concentrates, and decided to do something about it. Vic founded Humboldt Vape Tech in June of 2016. He wanted to evoke a change and provide the rest of the marijuana community with a better product. First, he joined his friend Matt with Divine Tribe building their website, and got started networking in the industry. He now distributes for them as well. Since Vic needed to work from home, he got to work designing his first products, and before he knew it, the company began to take off! Humboldt Vape Tech is now a full-fledged small business run by Vic and his family.

Vic and his family are unwilling to compromise on Humboldt Vape Tech's customer service, and because of this, they are building a strong reputation in the industry as a company that will go above and beyond for their customers. Vic makes it a point to be available to his customers 7 days a week, even his cell phone is directly linked to Humboldt Vape Tech's 844 number! They are very serious about shipping time as well, which they know is an important asset in this industry. They are happy to offer same day shipping on all orders until as late as 3pm. In addition to exceptional customer service, they take great pride and confidence in knowing they provide fair pricing and their product's safety, quality, and durability are next to none.

Humboldt Vape Tech's top seller is the Sai atomizer, a stainless-steel atomizer with a black ceramic kanthal coil installed. It is sold with a spare Miracle A Coil and a Black Ceramic Stainless-Steel coil. The Sai atomizer receives accolades in reviews for being such a well-made product with coils built for durability and safety. Another note-worthy product in the line, that will soon be available, is a ceramic Crucible cup, a cup style atomizer that eliminates the metal coil to enhance flavor profile of your consumables. Vic is the genius behind all their product designs and offers all the products wholesale direct to retailers. He is happy to boast great product reviews viewable on their website, humboldtvapetech.com.

Exciting new products frequently launch on the Humboldt Vape Tech website. Keep an eye out for their newest product line expansion, which will be featuring a redwood play into their theme. They are also looking forward to offering more coils that will be coming out for existing products. Vic is constantly designing more innovative, customer feedback driven, products built with consumers in the industry in mind. With the gaining popularity and new laws in the marijuana community, more consumers are getting exposed to Vic's products, and he is able create a close business relationship directly with his retail buyers. You can meet the Humboldt Vape Tech team at Champs shows in Las Vegas and Denver and see the latest cutting-edge creations Vic has been pining away on!