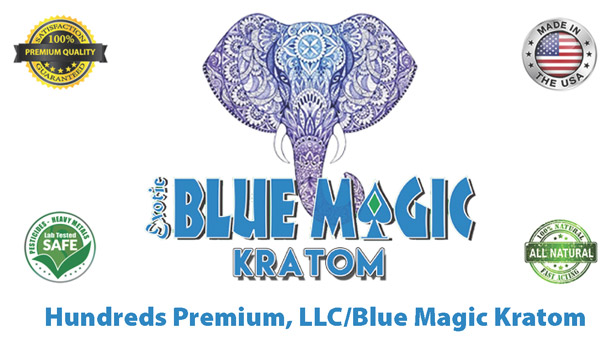 Hundreds Premium, LLC/Blue Magic Kratom
From humble beginnings working out of a garage in Temecula California in 2016 Hundreds Premium's success has been tremendous. Their growth required larger space and they quickly moved from the garage to a 2,500 SF building. Growth, growth growth! Expansion continued as their products offerings grew from two: MD and Bali to 8 different blends of kratom, 8 sizes of capsule packages – ranging from 12 count to 1,000, 4 sizes of double strength capsules, 8 blends of powders in 8 different sizes ranging from 30G to 1 kilo and 7ml kratom tincture shots. As their success and popularity grew so did their operating needs and they now operate out of sprawling 4,500 SF building.

Ross Jaramillo, Nate Jaramillo, and Kyle Bratlien started the business are all are still very much involved. "Our objective is to becoming a national brand, putting customers first, and to have them feel like they are partner in business, not just a number," says Ross. Their objective, strong customer service and expanding quality products has led them to sell to a vast array of distributors who in turn sell to retailers. Their iconic highly stylized elephant is a much recognized symbol in the industry and immediately correlates with outstanding products that have been treated and tested for purity.
Clearly understanding the marketing and providing new prodcuts to meet their customers' demands has been one of their keys of success. For example, in addition to Blue Magic Kratom, Lit Kratom and CBD + Relief, they now offer, 7ml kratom tincture shots, and kilo jug and Trainwreck blend have been added to their capsules and powders.
Ross a highly experienced professional with years in the Ecig and Tobacco industries believes, "Integrity of a company comes when one is doing what they say they will do. Like maturity does not come with age, but with the acceptance of responsibility." This idea is put into practice and evidenced by the overwhelming high customer reviews for Hundreds Premium, LLC and Blue Magic Kratom. Active in their community, Hundreds Premium is also a member of the American Kratom Association.

To contact Hundreds Premium, LLC/Blue Magic Kratom please go to hundredspremium.com or contact Ross directly at 951-691-6498 or Nate at 951-414-5523.