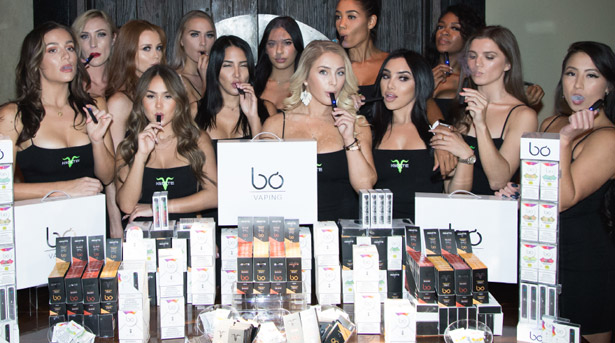 Ignite X BO Vaping
You may have heard of vaping CBD before, but you've never been able to experience it like this- until now.

Smokers and vapers alike can get pumped about this buzzworthy new partnership between BO Vaping, the innovative e-cigarette technology from JWELL, and the premium cannabis brand Ignite, owned by professional poker player and social media celebrity Dan Bilzerian. These industry leaders have come together with a mission to provide the ultimate CBD vaping experience to customers worldwide. If you've been thinking of trying out CBD vape, the time has come to get on board with the movement that is taking the vape world to the next level!

If you're already familiar with BO Vaping, you know all about their cutting-edge technology behind The BO, and its Cap design that makes vaping e-liquid a leak-free breeze. Previously, The BO was intended for nicotine smokers to have an alternative to cigarettes, disposable e-cigs, and the traditional e-liquid vaping apparatus. The BO offered the sleek simplicity of a disposable e-cig combined with the economic advantage of being reusable. Now, not only can nicotine vapers enjoy the flexibility between nicotine vape and CBD vape, but customers interested in vaping just CBD can enjoy the ease of use and state of the art e-juice flavors BO Vaping provides.
Dan, the owner of Ignite, and Shannon, Ignite COO both agree that education and awareness about CBD for the public are crucial, and have made it part of their partnership's ultimate objective.
Ignite Cannabis Co launched this September in California with their full line of cannabis products with plans to begin expanding the brand to Nevada, Arizona, and Oregon in the upcoming year. Ignite and BO Vaping released the launch of their nationally available CBD line during the NACS tradeshow in Las Vegas on October 9th. The Ignite CBD BO Vaping Caps contain 150mg of the cleanest CBD isolate available in two yummy flavors; blood orange and tropical fruit. After testing the flavors with the market, they have planned to roll out more tasty flavors like Bubble gum, Watermelon, and Mango starting in December and January.

Dan Bilzerian made the connection to partner Ignite with BO Vaping to pursue his anti-cigarette mission. After losing friends to lung cancer and then seeing how CBD has helped so many people with a variety of benefits, Dan saw a perfect way to disrupt the market. Ignite CBD is thrilled to provide such a great alternative to offer smokers and vapers with the help of BO Vaping. He is familiar with the oral fixation many smokers have and understands that sometimes a person needs to still smoke something even if they want to get away from cigarettes. He is also trying to reduce negative issues around second hand smoke, hoping to be a part of eliminating it all together. He hopes that bringing CBD to a nicotine market will encourage nicotine vapers to try CBD for the first time. He feels that the demand is loud and clear that the public wants to try CBD and offering another way for them to try it can only be beneficial. Especially after just launching and already reaching over 500K in sales, his future plans with the BO Vaping partnership include celebrating, expanding brand and CBD awareness, and creating a lasting impression on their customers that improves their lives.

BO Vaping has dedicated its efforts toward providing a superior vaping experience that all smokers and vapers would truly appreciate since the beginning. Continued determination to keep their promise to always think of the customer first has led them to become pioneers in many ways in this industry. BO Vaping is proud to give their customers the chance to try the newest innovations available from a trusted brand that has the highest standards of quality and customer satisfaction. Their collaboration with Ignite CBD is just another way BO Vaping proves the commitment they have toward offering their customers only the best. For more information about BO Vaping you can visit www.bovaping.com or Ignite Cannabis Co, you can visit www.ignitecbd.co.