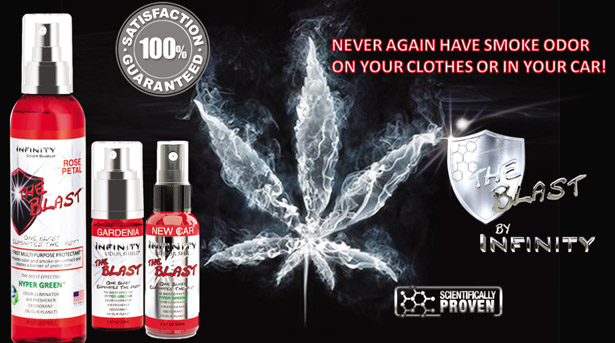 Infinity Odor Shield
Infinity Odor Shield® is not your average odor eliminator. Jim Howard, CEO of Infinity Worldwide explains the scientific process behind their proprietary technology.

"We've taken simple chemistry where opposites attract and introduced a super charged process. Everyone knows odor is positively charged because it's missing ions. So we started by over loading our formula with ions. This in itself eliminates odor on contact! The rest is top secret! So much that we coined the phrase 'Hyper Green® & Hyper Green Technology®.' Along the way, we noticed a lot of issues in oil-based odor eliminators, such as unclear directions, staining, masking not eliminating, and labeling issues on unclear application directions based on the industry standards. We were looking for a multi-purpose odor & smoke eliminator that would be water-based, having a true pH balance of 7.0, and safe. Unfortunately, what we discovered was that everything only masked the odor and didn't safely eliminate it for good." This inspired the Infinity Worldwide team to develop a formula that is truly multi-purpose; Eliminating, Protecting and Inhibiting surfaces. Infinity® creates an invisible barrier of protection which leaves no residue, is completely undetectable, water-based, contains no solvents, and no alcohol. Best of all, it's the longest lasting on the market today!

For the past 7 years, Infinity's research and development team has been hard at work devising a line of products to suit every need, resulting in Patent Pending Hyper Green Technology®, a water-based, non-toxic, non-corrosive, biodegradable, and a hypoallergenic formula, with a pH balance 7.0. Their ultimate focus is the consumer's safety, which is why their formula contains no alcohol, no Chlorofluorocarbons (CFCs), and no ozone depleting chemicals (ODCs). Infinity's trusted Hyper Green Technology® has met strict quality and safety criteria and has been scientifically proven to eliminate, protect and inhibit surfaces with an invisible barrier of protection, not only from odor and smoke, but also from rust, staining from mold, mildew, and even deter pests from the treated areas! The best part is that Infinity Odor Shield products can safely be used on nearly any type of surface, including plastics, woods, metals, glass, and fabrics. It is so safe, you can even use it on clothing without fear of staining or getting toxic chemicals on your skin.

To demonstrate the versatility of Infinity's Hyper Green Technology ®. Jim shares experiences of his customers through feedback he has received.
"One guy couldn't believe that our formula would be capable of eliminating the pungent, skunky odor of cannabis, and to prove it, his son went ahead and sprayed the car which reeked of weed odor, with 'The Blast' from Infinity. Then after the driver smoked while driving to meet his father to show him how it worked. The man couldn't believe his nose because he wouldn't have even detected that his son had just smoked in the vehicle."
The fact that it works after it's been used over and over again, puts Infinity Odor Shield down in the books. "We learned from our customers that our products are also handy at deterring rodents and other pests. After using the Odor Shield on trash cans, they've discovered it keeps the pests out, so they started using it to keep electrical wiring and cables from being destroyed as well. Even Disney Cruises uses our products on their theme ships to "prevent corrosion, and the re staining from mold and mildew in and on the HVAC coils." This market feedback shows the many practical uses their customers benefit from with their products.

The top product that gave Infinity Odor Shield its claim to fame was 'The Blast™. The first water based, non-toxic, 7.0 pH product of its kind, which is under provisionary patent. EPA acute chronic toxicity tested safe and California Prop65 compliant. The Blast works on contact, created with Hyper Green Technology, which also means it won't rub off or reenter our environment. The Blast by Infinity® is available in 1.67oz pump spray bottles or The Big Blast which is an 8oz spray bottle. A Counter Display Box that holds 25 (1.67oz) bottles, five to a row, is also available with a variety of 20 assorted fragrances such as New Car, Ocean Breeze, Eucalyptus, Fresh Linen, Almond, Baby Powder, Peach, Orange, Cherry, Vanilla, Lavender, Chocolate, Pine, Cinnamon and Sage, to name a few. The counter display box is the perfect point of purchase upsell because it's a product any smoker will need!

The brand recently released their newest product, Infinity Pro®, which concentrates on odor and protective pest deterrent. Since it's so effective, they had to develop a product for larger areas outdoors. They call it Infinity Pro Hose Rinse™, a 65oz container equipped with an attached hose nozzle for use on outdoor textiles, soft and hard surfaces. They are currently preparing their next addition to the product line, Infinity Fresh! Infinity Fresh bonds to clothing during the washing machines rinse cycle, eliminates odors, long lasting (up to 50 washes!) and will be available in the scent of Fresh Linen. Check out the power of Hyper Green Technology®, water based, non-toxic and safe for our environment when you visit Infinity Odor Shield for samples at upcoming trade shows: Cannacon, Champs, and ASD in 2019 or visit their website at www.infinityodorshield.com.