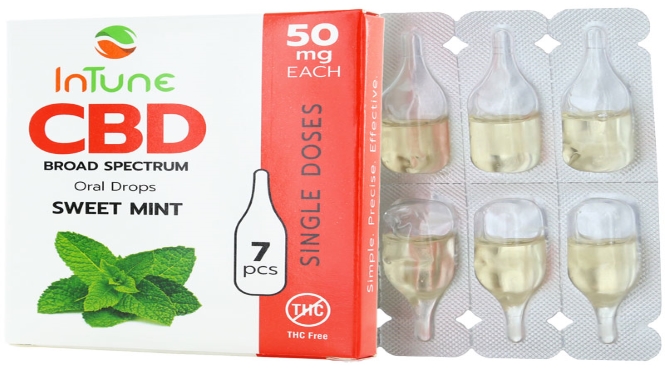 InTune
Vitali Servutas and his team launched the In Tune CBD brand last year, with a focus on providing a simple solution to the biggest problem CBD consumers are currently facing: Properly dosing their CBD intake. The In Tune CBD team worked together for 9 months to develop a unique, and innovative product line, with a focus on Single Doses, to introduce a first of its kind product to the CBD market.

WHAT IS A CBD SINGLE?

A CBD Single is a revolutionary new way of delivering a precise amount of CBD, simplified. Each single is filled with 1mL of the highest quality CBD in the strength that you choose. No more measuring, no more calculating. In Tune already took care of all that ahead of time. CBD Singles provide the best solution to try CBD's effects, without the commitment of purchasing a full-size product.

The In Tune CBD team is made up of dedicated individuals from different fields of expertise, from the medical field to the vape industry. After these thought-leaders got together and incorporated their differing fields of expertise into engineering the brand, In Tune CBD became what it is today. Vitali Servutas (CEO of In Tune CBD) has been in the vape industry since 2008. Five years ago, Vitali noticed the growing CBD industry due to the benefits it was proving to offer, and realized he could put his expertise and knowledge from the vape industry into engineering a new brand for CBD. He strategically partnered with experts in their own rights, Chris Dement, and Larry Buckman. Paige Koontz (VP of In Tune CBD) brought her background of seven years in the vape industry. Together, they brought In Tune CBD's mission to life with a product that is revolutionizing CBD dosing.
"We truly stand behind our products, and our main goal is to convey that message to everyone we talk to. When your questions have been answered and you can depend on us, that is how I measure our success. Focus on the conversation, not the conversion." - Owner & CEO, Vitali Servutas
In Tune has set out to become the leaders in single dosing for CBD. They already stand apart from the most popular delivery method with their proprietary Singles dosing design, which makes it easy for any consumer to simply bend a tab, and administer their prepared dose. The significantly lower price point for new users, starting at just $1.99 for a 10 mg Broad Spectrum CBD Single dose, makes it a no-brainer for the consumer who wants to try CBD for the first time. Each Single provides a precise dose for consumers, reducing the margin for dosing errors, and is much more convenient for on-the-go dosing. In addition to making it as easy as possible for consumers, it is also designed to help bring customers back to the Brick and Mortar shops more frequently.

Aside from the $1.99 Single 10 mg dose, In Tune CBD offers a "week dose" 7-pack of Single doses, meant to last the user one week, starting at $9.99 and available in 3 strengths: 10 mg, 25 mg, and 50 mg. The doses come in two great-tasting flavors: Sweet Mint, and Orange Cream. (Even more tasty flavors will be coming out in the future.) For retailers, they offer a "Fully loaded" Single Dose Display for only $325, which includes an acrylic display, packed with 15 of each Single dose strength, and 10 of each 7-pack strength. Alternatively to a counter display, a Clip Strip is available with 12 of each Single dose strength for only $55. They even have a Sampler display, which comes with just 5 Single doses on a compact, eye-catching dose-shaped counter display.

With the intent to lead the Single Dose market, In Tune CBD also developed a 10 mg Soft Chew, which is vegan, organic, and non-gmo. The Soft Chews come is a variety of flavors: raspberry, orange cream, cotton candy, and mixed berries. They offer the Soft Chews to retailers in a display box of 50. The Soft Chew will be made available in 25 mg soon, as well.

In Tune CBD's branding and packaging was carefully constructed in order to convey that they are clearly a CBD brand. The In tune name was chosen to indicate that CBD is great for tuning your body. Their slogan, "Choose Balance." Directly correlates with their logo, which is reminiscent of the yin-yang symbol, representing balance. Their retail displays target impulse buyers to try CBD for the first time. From seed to harvest, their hemp is grown in Colorado without GMOs or pesticides. As the foundation of their product, they source only the highest grade hemp from licensed and experienced farmers, and put their line through a triple-testing process, from harvest, during formulation, to post formulation. Their formulations are manufactured in California, and the final product will ship out of Virginia Beach to the retail stores.

The team is currently considering making co-packing licensing available in the near future to other brands, affording more CBD companies the opportunity to utilize their proprietary "Singles" dosing design. You can meet the experts behind In Tune CBD at upcoming Champs Trade Shows this year, and keep an eye out for them at any of the CBD expos you may attend this year. To get in touch with or learn more about In Tune CBD, you can call their customer service line at (888)246-8650 anytime, or visit their website at intunecbd.com