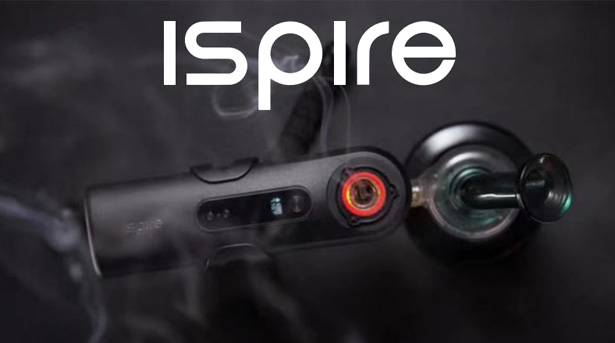 Ispire
Ispire was established in Venice, CA, by Owner and Founder Tony Liu, to meet the need for better-performing concentrate cartridges on the market. Tony Liu has been designing and inventing many industry standards in the vape industry, such as the bottom vertical coil style used in every traditional vape cartridges today. He also originated the bottom vertical 'cloud' coils, popularized across the e-cig industry. Mr. Liu then decided to lend his innovation to the cannabis market after many of his customers complained that cannabis cartridges on the market performed so poorly and appointed Michael Wang as the CEO of Ispire. Ispire was formed to solve this issue for the entire market with the new Ducore Cartridge.

Ispire takes pride in their ability to make cutting edge products based on the customer needs, in a sanitized environment that is fully compliant to laboratory standards. With over ten years experience in making vaporizer products produced in a clean facility and heavy metal tested by SC Labs, Ispire ensures confidence in customers that what they use is safe and sound. Patented Ducore Technology utilizes Dual Ceramic Coils that allows the user to experience the complete flavor spectrum while delivering better hits and more power. In the R&D process, Ispire conducted hundreds of tests with different testers, and they all agree that the Ducore Cartridge delivers the goods.
Ducore is best known for being the first-ever 'big vapor' cartridge, boasting incredible hits similar to smoking a pipe or a good joint. The Ducore cartridge was designed to work specifically with concentrates, not to serve as just a carryover for the e-cigarette market, as the majority of cartridges out there. It has adjustable vapor production to fit the customer's smoking needs, along with the Ducore's ability to bring out the flavor profiles of concentrates in both ½ and 1 gram cartridges. With twice the heating surface area as traditional coils, it offers louder yet more nuanced flavor notes than a traditional cartridge.
The Ducore was made with a mission to put all cartridge complaints to rest, once and for all. Aside from the exceptional user experience the Ducore provides, Ispire has integrated into a patented anti-leak, anti-clog feature to ensure hassle-free performance, every time. Leveraging a revolutionary three-fold leak-proof design, the dual ceramic coils were uniquely designed with an airflow system that creates a multi-channeled function to prevent oil leakage by capturing it in the inner chambers.

In addition, Ispire incorporated a dense top and bottom cotton layer to prevent leakage from either end of the tank. In one final measure, the Ducore has an airflow shield installed on the outside to help direct and minimize a direct airflow to reduce backpressure. This expert combination represents the leadingedge patented industry tank with great airflow and no leaking or flooding, which is now known as the Ducore Cartridge. The Ducore Cartridge is made available to brands with fully customizable colors, graphics, glass, and mouthpiece so they can create a version of their very own.

The Ducore still includes the industry-standard features, such as a 510 thread, which allows users to use Ducore cartridges with traditional vape batteries found at every vape and smoke shop, and a magnetic connector that allows for easy connection to high-performance Ispire batteries. The official Ducore battery is a Palm 400 Battery, as the ultimate high-performance companion for Ducore cartridges. It delivers top features such as 3 adjustable power settings, a preheat function, a magnetic connector, fastcharging, and is compact and ergonomic. This powerful 400 mAh Battery can vape a full tank on just one charge. As a new company hitting its one year anniversary by the end of this year, the team at Ispire prepares for the future. Ducore is just the start for Ispire, and they have a plethora of new products for different categories that are preparing to be released over the coming year. For more information about the new, innovative Ducore Technology, visit their website at getispire.com

Facebook: @ispirecigs
Instagram: @ispireofficial
Twitter: @ispireofficial
Youtube: @Ispire-Official
LinkedIn: @IspireOfficial