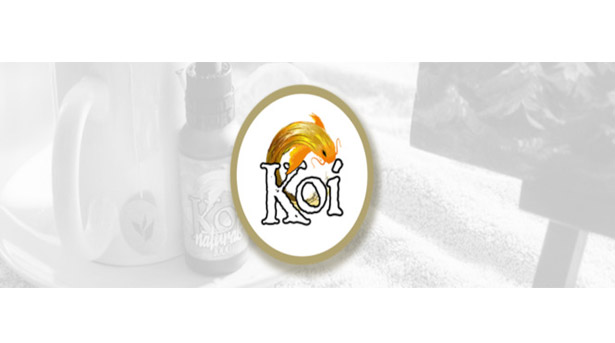 Koi CBD
Koi CBD: Setting the Standard, Against All Odds

Way back in 2015, Koi founders Brent Brunner and Brad Ridenour saw the tremendous potential of CBD. The hemp supplement was barely a blip on the radar of public consciousness. It was still three years away from gaining legal status from the federal government. But all of the intel that was out there pointed to one thing: CBD could change lives. Brad and Brent went all in.

It's fitting that the symbol of the koi fish swimming upstream, facing adversity head-on, was chosen to represent a brand launching on $500 and a carton of bottles in a garage. With virtually no market and so many misconceptions circulating, the landscape of the CBD industry was slanted firmly uphill.

The next two years saw Brad and Brent educating the public and building the Koi brand one relationship at a time. As they helped people understand the power behind CBD, something interesting began to happen. Calls, emails and social engagement all went through the roof as customers reached out to share their stories of how Koi CBD had given them a new lease on life.
"And that just fueled us to want to build it, to create a better product," recalls Brunner. As the struggle of legitimizing CBD as a viable form of alternative medicine began to wane, Brad and Brent chose their next challenge: To turn their small, family-owned business into the industry standard for quality and excellence.
2018 saw the launch of Koi Naturals, the company's innovative line of tinctures blending CBD oil with natural flavors for an unmatched taste, smoothness and purity. By this time Koi was partnering with the leading farmers in the industry to get access to the best hemp extract available. They also started going the extra mile with ISO accredited 3rd party lab testing, ensuring the final products deliver in terms of potency and purity.. Koi has gone all in on full-panel testing, and these lab results are proudly posted on the Koi website. Every Koi product comes with a batch number that enables users to find the exact COA (certificate of analysis) and download the full lab results.

Koi advocates not only for the safety of their own consumers, but for all CBD users. Amidst unreputable brands selling inferior product and a lack of any meaningful regulation from the FDA, Brad and Brent have stepped up to hold the industry accountable. As board members of the US Hemp Roundtable, Koi serves the goal of safe, legal CBD products through legislation, compliance, and education.

Thanks to their passionate team of CBD consultants, Koi has been able to get its products into thousands of brick-and-mortar businesses across the country. In order to provide support not only for CBD questions and product information, the Koi consultants are organized by region to provide guidance on compliance with state laws. Jonathan Wark, Director of Sales, explains: "Our wholesale partners are going to get somebody who wants their business to succeed, rather than just sell them a product. We make sure they're educated on CBD and get all their questions answered. They're part of the Koi Family."

Today, Koi continues to fulfill their pledge to excellence in CBD with innovative products designed to reach a wide range of lifestyles. This year alone, Koi has added premium-quality CBD Bath Bombs, a pain-relieving Gel Roll-On, an assortment of smokable CBD Hemp Flower strains, and a line of high-end CBD Skincare products to build on its already-robust offering of amazing flavors of tinctures and CBD vape juices. In fact, Koi is one of the most widely-assorted CBD brands in the U.S. according to a study conducted by CBD Intel.

At the heart of it all, the customer remains the driving force behind Koi's nonstop quest for a superior product. The thousands of glowing reviews from dedicated users speak to the success of this approach. The power of CBD is real, and the most successful products will always be those which can deliver that power undiminished.

To that end, Koi has chosen to invest in a few key additions to their team, most notably Dr. Jennifer Knaack, their new Director of Science and Compliance. Having earned her PhD in Pharmaceutical Sciences from the University of Southern California, Dr. Jen joined Koi CBD with a wealth of experience in the biological and toxicological activity of compounds. Her botanical understanding of the hemp plant allows Koi to build upon and diversify the company's ever-growing list of products that answer the needs of a growing demographic. "Development of new formulations based on the science behind cannabinoids is critical for making effective and high quality products." states Dr. Knaack.

Beyond developing amazing products, Koi also has invested in making sure current and future customers understand what CBD products are available, what the key features and benefits are, and how to present them to end users. To support the team of CBD Consultants, Koi hired Kevin Sather as the Vice President of Marketing. "As we grow our brand and product offerings, we understand it is critical to be able to communicate effectively to our partners and end users. By ensuring the team has the information and assets they need, it empowers them to quickly develop solution packages for our clients, including the materials needed to drive awareness and sales in stores." Sather explained.

To talk to a Koi CBD Consultant about how to expand your CBD offering and grow your business, you can give them a call at 877-774-4779 or email directly at wholesale@koicbd.com. To explore the range of Koi CBD products, read customer reviews, and view lab reports, visit their website at KoiCBD.com

Contact Info:
-web: KoiCBD.com
-phone: 877-774-4779
-email: wholesale@koicbd.com
Social media:
-Instagram: @koicbdlife
-Facebook: @koicbd
-Twitter: @koicbdlife