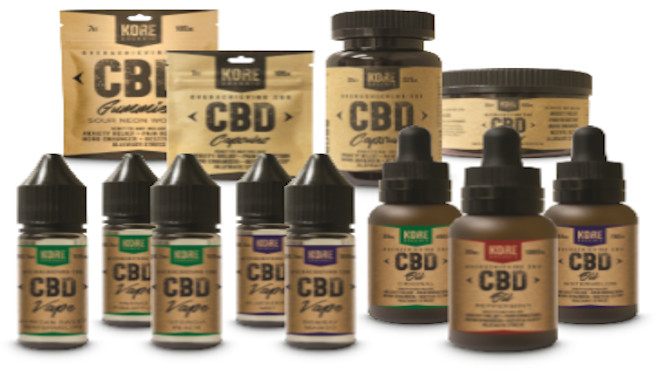 Kore Organic CBD
What draws a consumer to a Summitt Lab's product isn't bright neon colors or in-your-face graphics, it's the natural packaging and muted tones that attract a customer's attention.

Kore Organic™ isn't just another CBD brand. With packaging made from recyclable products and an emphasis on organic ingredients, it was created for a higher end client who vlues quality and efficacy.

Summitt Labs even goes as far as to source 100% certified organic flavors for their "Inhale" vape series featuring a proprietary blend of intense flavor profiles such as Ananas Pineapple, African Sweet Watermelon, Georgia Peach and best-sellers Bombay Mango and Blueberry Mist.

The quality of ingredients in the CBD oils stands out in that they are formulated using pure hemp seed oil, MCT oil, and grape seed oil, which are known for additional health benefits, compared to other brands that use a basic canola oil.

Just celebrating their 1-year anniversary, Kore Organic™ 's strong brand appeal has led to discussions with some of the nation's top retail shopping centers who want to partner with the organic CBD brand because it compliments a more sophisticated shopper. It has also become a go-to source for trendy restaurants and bars looking to infuse their menu items with organic CBD.
Unlike other CBD brands who use a third-party manufacturer, Kore Organic™ develops everything in-house to maintain quality control in their CGMP compliant lab that produces pharmaceutical quality products.
This allows them to have creative supervision from start to finish and has fueled the growth of the company's product line which has over 50 SKUs and counting. The Inhale Series™ includes CBD vaping products, the Edible Series™ includes CBD oils, gummies, capsules, and fruit and nut mixes and their newest "Pawsitive Series" provides clients with organic CBD pet products. Within the next year, Kore Organic™ will be launching CBD topicals including massage oils, personal lubricants, body balms, salves, pain-freeze rubs, and lotions. Their innovation and pulse on the rapidly growing CBD market are keeping their research and development department constantly in motion.

With state and federal attention increasing on CBD products, Kore Organic™ welcomes the regulations, as all of their CBD isolate is third-party tested by an independent facility to ensure purity from pesticides, heavy metals, and additional chemicals. The final product is then again tested for accurate CBD milligram dosage. Every product display comes with a Certificate of Analysis with lab results showing the purity of the CBD, and each package has an imprinted QR code so that consumers can see the numbers for themselves.

All of Kore Organic™ 's products are 100% THC-free and have no added terpenes. They source their organic CBD from Northern Colorado and Bowling Green, Kentucky and is never imported from overseas. .

Kore Organic™ sells to distributors and retailers. They provide sales support and training, graphics, in-store displays, and marketing materials to aid in their client's success.

FOR MORE INFORMATION ABOUT ADDING KORE ORGANIC™ TO YOUR PRODUCT LINE CONTACT HELLO@KOREORGANIC.COM OR CALL 833-810-KORE (5673).

www.koreorganic.com