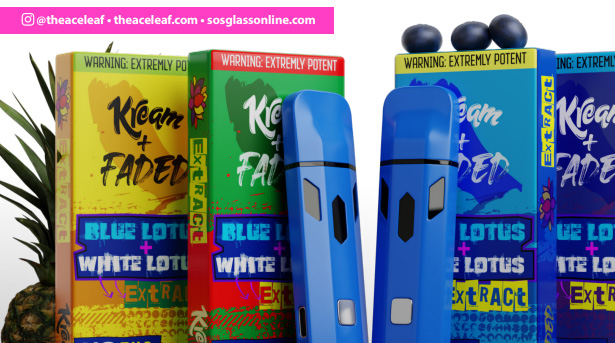 Kream
For over 27 years, Kream has been an illustrious name in the retail smoke shop industry, situated in the heart of Los Angeles, California. They have not only stood the test of time but has also played a pivotal role in shaping the industry.

Kream's journey began with glass smoking instruments by the name of SOSGlass, and today, they continue to be trendsetters, introducing groundbreaking products that are unlike anything else on the market. In the early days of Delta products, Kream was among the first to establish a brand and introduce revolutionary items that set new industry standards. The Kream brand's influence on the glass blowing industry by the name of SOSGlass transitioned seamlessly into the world of CBD labs and farms.

This transformation eventually led to the development of different cannabinoids for the Delta market, opening up a world of possibilities for consumers seeking relief from insomnia, pain, weight loss, and more. With a keen eye on consumer needs, Kream set out to create a premium brand that exclusively offers products of the highest standards and adheres to stringent regulations.

What truly sets Kream apart are its first-of-its-kind innovations that push the boundaries of what's possible in the industry. Kream is all about pioneering premium products, and they take immense pride in being the first to introduce a 9-blend Delta disposable infused with natural fruit-derived flavors. This innovation allows consumers to savor the experience without the traditional taste of hemp, making it comparable to nicotine disposables, without any nicotine, of course. It's a game-changer for those seeking a flavorful alternative.

One of their crown jewels is the first 5-blend mushroom disposable and gummies, a product that defies industry norms and has become a best-seller. It's an innovation that's never been seen or heard of before, offering consumers an entirely new dimension of choice. But Kream doesn't stop there. They've just launched the world's first Blue Lotus + White Lotus disposable, poised to be the next big thing since Delta. Blue Lotus, with its millennia-old history in ancient Egypt, offers a unique and cherished experience. This natural wonder delivers a soothing body high that not only aids in pain relief but also provides respite for those grappling with insomnia, gently coaxing the body into a state of relaxation.

In contrast, the White Lotus, derived from the lush landscapes of Kashmir, India, brings an entirely distinct set of sensations to the table. It's renowned for its mind-altering properties, inducing euphoric effects that lead to contagious laughter and an enchanting sense of altered consciousness. These two Lotuses, hailing from different corners of the world, offer a fascinating contrast in their effects, providing consumers with a diverse range of experiences to explore and enjoy. Together, they create a potent blend that rivals, if not surpasses, any Delta product on the market.

Kream's mission is to be pioneers in the industry, consistently introducing legal, safe-to-consume, and never-before-seen products. Their commitment to adhering to the highest standards and regulations is unwavering. All their products undergo rigorous testing by DEA-approved labs, ensuring top-notch quality without cutting any corners. Their continuous growth is a testament to their dedication. With an average of 120-130k disposables sold each month, July marked an all-time high with 180k units sold. Kream also knows that packaging plays a vital role in capturing consumers' attention. Their colorful, vibrant, and classy packaging ensures that their products stand out on store shelves, attracting customers and driving sales.

Kream understands the importance of supporting their retailers, wholesalers, and distributors. They offer warranties on all their products, instilling confidence in their customers that their investment is secure. This commitment to customer satisfaction sets Kream apart from the competition. With all they've accomplished this year, Kream's journey is far from over. They are continually innovating, with a slew of never-before-seen products on the horizon. Retailers and consumers alike can look forward to exciting new offerings in the coming months. If you want to experience these innovations firsthand, be sure to catch Kream at upcoming Champs Trade Shows and Alt Pro Expos.