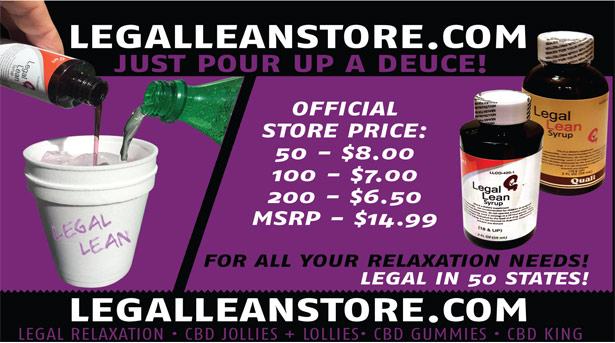 Legal Lean
Legal Lean store provides a unique assortment of "mood enhancing relaxation supplements" that range from beverage shots to cbd candy to even brownies. All of our products are all-natural "50 state legal" relaxation that helps the mind and body to find the balance of tranquillity. Our flagship high light product includes the "Legal Lean syrup grape and cherry flavors."
The close knit team at legalleanstore.com prides ourselves on "exceptional customer service" and do our very best; "free shipping" on all orders on the same day of payment. We offer 24/7 phone customer service and order support for any questions and concerns you may have.
We strive to offer our distributors and retailers an " exclusive territory" and offer a "firm pricing structure" to protect the margins, integrity and profitability of all our products.
We stand firmly behind the products we sell and offer a "money back guarantee" and will gladly accept any returned products that you may have trouble selling within a reasonable period of time.
www.LEGALLEANSTORE.com
LEGALLEANSTORE@gmail.com
408-883-5326