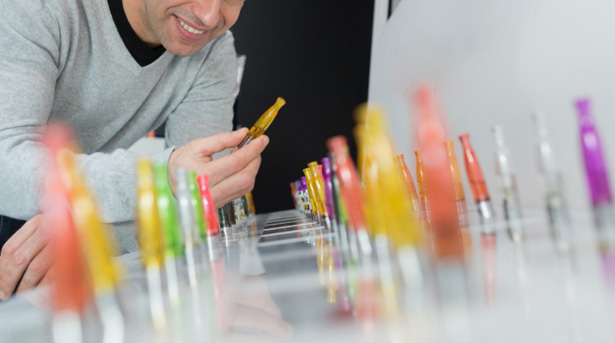 Liquid Trends
While some lawmakers apparently want the vaping industry to go up in smoke, the fact is that its future is largely liquid

Nicotine vape juice, or e-liquid, is used in electronic cigarettes and vape pens. It contains nicotine and is available in a great many flavors and strengths, providing a satisfying vaping experience.

Nicotine vape juice is popular among people who want to quit smoking or enjoy a satisfying experience. It provides a host of benefits, a wide range of flavors and customizable nicotine strength. "There are different types of nicotine vape juice, including freebase nicotine and nicotine salts, each with unique characteristics," reported fordhamram.com. "When choosing one, consider flavor, nicotine strength, brand reputation, PG/ VG ratio, and price."

In addition to nicotine, e-liquids may contain propylene glycol (PG) or vegetable glycerin (VG). VG is a thicker substance than PG. Varying ratios of these ingredients will affect the viscosity of the vape liquid, and therefore which types of device they will be most suitable for. Almost all vape juices will contain a ratio of both ingredients, though consumers may see some e-liquids marketed as 'max VG,' which means they contain only very small amounts of propylene glycol.

One of the things vapers enjoy most about vaping is the variety of juices and flavors. Some estimate that there are thousands being marketed by a cadre of manufacturers. Strawberry and watermelon are two of the most popular. Others include candy, desserts, beverages, foods, fruits, menthol and tobacco.

Liquid Trends

Despite those who wish e-cigs would go away, the liquids business continues to grow worldwide. Washington, DC-based Vantage Market Research (VMR) recently reported that "The increasing adoption of e-cigarettes drives the global e-fluids market as a smoking cessation tool" and thanks to "the growing demand for flavored e-liquids and the favorable regulatory environment in some countries.

"E-cigarettes are increasingly being used as an alternative to traditional tobacco smoking, with many smokers using them as a tool to quit smoking," the company pointed out in a release. E-fluids are "a critical component of e-cigarettes, and the growing adoption of e-cigarettes is driving demand for e-fluids. This trend is fueled by increasing awareness of the health risks associated with smoking, and the convenience and affordability of e-cigarettes compared to traditional tobacco products.

Flavors Driving Growth

Flavored e-liquids – which many state and local legislators are, ironically, currently attempting to ban – have become increasingly popular among consumers. Favorites include fruit, candy, dessert, and menthol.

Indeed, it is the availability of a wide range of flavors that is driving demand e-liquids and helping to attract new consumers to the market, VMR reported. This trend is being driven by the desire for a more enjoyable and satisfying vaping experience and the ongoing introduction of unique new flavors to suit individual preferences. "As a result, many e-fluid manufacturers are investing in research and development to create new and innovative flavors to meet consumer demand."

Top U.S.-based players in the global e-fluids market include Black Note Inc., Breazy, Crystal Canyon Vapes LLC, Philip Morris International Inc., Molecule Labs Inc. and Nicopure Labs LLC.

One trend that Vantage Market Research said it expects to continue to see in the e-fluids industry is a growing demand for nicotine salts. Nicotine salts are a more stable and less harsh form than traditional freebase nicotine used in e-fluids.

"This trend is driven by the desire for a smoother, more satisfying vaping experience," VMR said in its just-released report. "Nicotine salts can also deliver higher levels of nicotine without the harsh throat hit associated with high-strength freebase e-liquids, making them attractive to smokers trying to quit. As a result, many e-fluid manufacturers are now offering nicotine salt e-liquids as part of their product lines." Another trend that VMR predicted will continue is the increasing popularity of natural and organic e-liquids. As consumers become more health-conscious and environmentally aware, the demand for e-liquids made from natural and organic ingredients is growing.

"Many e-fluid manufacturers now offer e-liquids free from artificial flavors, colors, and sweeteners made from organic and natural ingredients," the researchers reported. "This trend is driven by concerns about the health effects of synthetic chemicals in e-liquids and a desire for more sustainable and eco-friendly products. As a result, e-fluid manufacturers are investing in research and development to create natural and organic e-liquids that meet consumer demand."

Europe has a large population of smokers, and many are turning to e-cigarettes to quit smoking or reduce their tobacco consumption, VMR noted. This is driving demand for e-fluids across the region, and many e-cigarette companies are investing in Europe to capitalize on this trend. In addition, European consumers tend to have a higher disposable income than those in other regions, which should also contribute to the growth of the e-fluids market in the region.

At the same time, VMR said, the Asia Pacific region is expected to see the fastest growth in the e-fluids market due to several factors, including the increasing adoption of e-cigarettes in the region, a growing middle class with higher disposable incomes, and favorable government initiatives promoting the use of e-cigarettes as an alternative to traditional smoking.