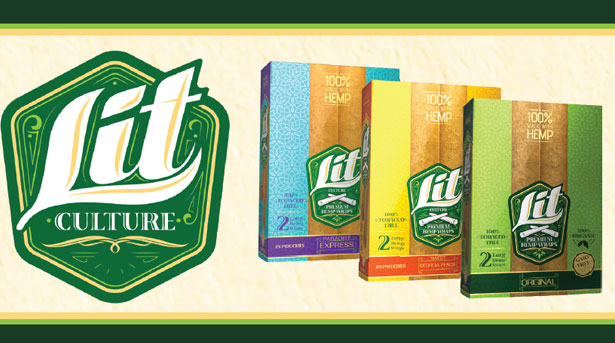 Lit Culture
In January 2018, Ron Pugh and his team introduced Lit Culture to the market. The Lit Culture crew has been part of the counter-culture industry for over 10 years, and were even involved with the trend setting of Kratom.

After helping with a large hemp operation 2 years ago, Ron and the crew decided to create their own hemp based product with the experience and market feedback needed to back up their plan. They wanted to engage the consumer within the industry, feeling that other brands may simply be out of touch with the end user, and knew it was imperative to build a platform for their consumers to have a voice. This is why even on their website, they request that customers email any feedback to them. Lit Culture encourages the public to become involved in the growth of the brand as a leader in living your authentic truth.

Manufactured by Lit Culture, exclusively distributed by Free River Distributing, the star of the show at Lit Culture are the Premium Hemp Wraps. 2 years ago, hemp started gaining popularity for blunt wraps for a few reasons. Hemp Wraps are tobacco free, to start. In some areas, there is a tax on tobacco products, and in other areas, tobacco is banned altogether. There is no tobacco tax on tobacco-free wraps, and no bans on hemp. This made hemp wraps a desirable alternative. Lit Culture Premium Hemp Wraps are made from organically grown hemp, made in USA, and are made with a more durable and higher quality 2-ply wrap than the traditional 1-ply. They are currently available in 3 flavors; Original, Sweet Georgia Peach, and Paradise Express (Pineapple and Honey) and each pack comes equipped with 2 tips. These quality hemp wraps were made for the connoisseur, to complement a premium lifestyle.
In order to build up a movement behind the Lit Culture, gear is essential. The Lit Culture Gear line is designed for every day wear to represent not only the brand, but the lifestyle. The Lit Culture lifestyle promotes living your truth, living authentically, and having quality premium experiences as a member of the counter-culture. The brand wear designs and logo imagery was intentionally made to look non-branded, to represent more of the lifestyle and less of a traditional brand. To elevate the gear's authenticity and creative flair, they teamed up with JiggyKorean, a talented street artist and clothing designer, who designed custom art pieces especially for the Lit Culture Gear.
The beginning of 2019 is going to be Lit with new products, the crew is bringing in a Lit glass line, Lit grinders, and of course, Lit lighters! The brand is essentially creating a 'Redbull marketing model' for the industry, by creating excitement around the brand for the young adult generations. They have big plans for the year including building up celebrity endorsement, and providing sponsorships to different venues and events, ranging from concerts to yoga classes! By featuring the word "Lit" most prominently on the Lit Culture Gear, "Everything can be Lit", built up around the lifestyle of the counter-culture. This gives the public a chance to really engage with the brand on an intimate level. Customer service and creating an overall high quality experience for the consumer is the key to Lit Culture's success.

For stores, Lit Culture has prepared a bright and beautiful display POP box. The future of Lit Culture is going global, rolling out new Lit products, building exciting partnerships, and creating international experiences and opportunities. They are also looking forward to releasing their highly anticipated new flavors in Quarter 2. Keep a look out for Lit Culture throughout 2019 at Smoke Shop Events, TPE, Champs Tradeshows, and ASD. You can also check out the wraps and Lit Culture Gear at their website www.litculture.com.