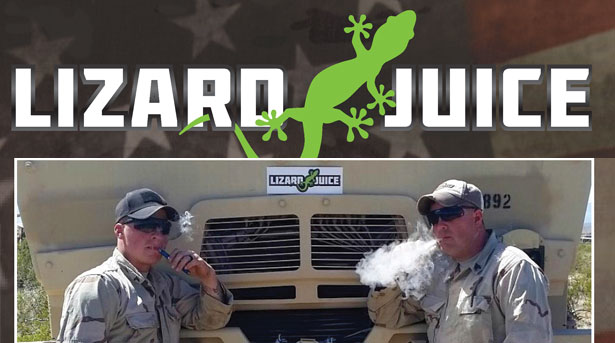 Lizard Juice
Launches Program For Active Military

The company will donate one e-cigarette to someone on active military duty for every retail or wholesale e-cigarette sold, reports www.lizardjuice.com.

Lizard Juice, a premier provider of high-quality e-juice, recently announced the launch of their new program for active military personnel deployed overseas. The program is centered around their newest line of e-juice called "Hero." For every retail or wholesale bottle of e-juice sold by Lizard Juice, the company has committed to donate one bottle of e-juice to an active military member serving overseas.
Gary Wilder, a spokesperson for Lizard Juice, commented "Contrary to popular belief, virtually all unbiased studies, like the one recently conducted by the Royal College of Physicians, back up claims that e-cigarettes are a healthier alternative to traditional cigarettes. Because we know that there are many men and women who serve in our military and love to vape, we decided to create a program that will help them do so at minimal cost. Not only did we create a special military-themed line of e-juice, but we committed to donating a bottle of e-juice to an active member of the military each time one of our retail or wholesale customers purchase one for themselves."
At Lizard Juice, the company mission is to produce only highquality products that will change people's lives for the better. The new Hero line, which was created with military men and women in mind, is no different. The premium e-juice is produced by the company in a newly built "clean room" laboratory with natural ingredients, including vegetable glycerin, distilled water and select flavorings.
"We're about more than just e-juice," Wilder goes on to say. "We strive to provide top-quality ingredients, easy to use products that ensure our customers' satisfaction. Having had many military customers, we decided to show them how much we appreciate what they do for us by giving back the best way we know how."
Anyone interested in participating in the program can learn more by visiting www.LizardJuice.com or contacting the company directly at hero@lizardjuice.com. To learn more about Lizard Juice's other exclusive lines of e-juice, visit the company at www.LizardJuice.com/e-liquid.

About Lizard Juice:

Lizard Juice declares that customers might find cheaper e-cigs and e-juice on the market, but they will not find anything better than what they have to offer. A lot of thought and planning has gone into offering their customers the best quality, easiest to use, and most fun to vape e-cigs and e-juice. They don't clutter their product line with a lot of generic, cheaply-made products to create the illusion of a wide variety of choices. What Lizard Juice sells is what they know are the best e-cigs and e-juices to get customers vaping and keep them coming back.