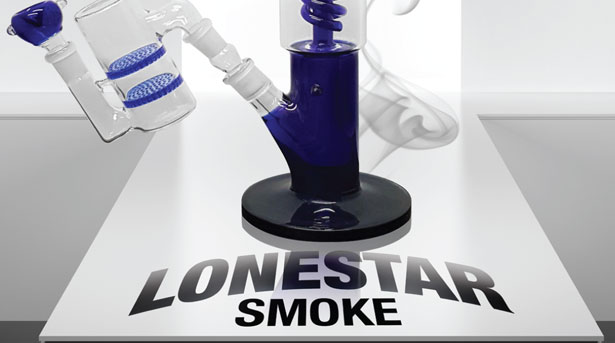 Lonestar Smoke
Trending Now: Self Expression through Water Pipes Customizations for Going Up in Smoke
Options abound for water pipes, and consumers are jumping at the chance to express themselves through customizations that re ect their unique personalities, individual interests and personal desires. For many, there's great joy in customizing what's about to go up in smoke.
Th aesthetics of functional glass art run the gamut: diverse sizes, shapes, weights, textures, colors and characteristics. Many smoke shops feature the works of talented local, regional and national artists, while others venture beyond U.S. borders to include imported wares. The best gauge of the exponential increase in the popularity of water pipes is the growth from a handful of traditional pieces to more than 200 current — and growing — options. Among emerging sales trends are sports team and erotica-themed water pipes… and consumers just can't seem to get enough.
Hot $ellers in Smoke Shops Smoking enthusiasts are also enhancing their smoking experiences with new-to-market products and accessories that make big statements without breaking the bank. Here's what's trending now:
• Skull and animal ash catchers
• Movie- and sports-themed character bowls
• Stacked and smaller chambers
• Ridged showerheads that provide for a longer, smoother and more enjoyable smoke
• Animal-themed hookahs
• Percolators on fish-, dog- and dragon-shaped hand pipes
Why Customizations? Why Now?
Consumers have a unique yen to put an individual stamp on what they wear, drive, eat, add to their coffee, create in playlists, put in their homes and, now, how they smoke. Over the past two decades, consumers have steadily and consistently shift ed away from mass-produced standardized products in favor of products that refl ect their individuality while also meeting their needs. In a nutshell, their demands have driven product creation and, in many cases, recreation. From storefronts to web sites, there's a spotlight on customizations, solutions and unique confi gurations because consumers enjoy an increased sense of ownership for their creativity in customizing products that are uniquely theirs.
Clearing the Smoke
With so many options to consider in putting the right products on the shelves, what's a smoke shop to do?
"Consumers want — and expect — choices that reflect their individual personalities, and savvy smoke shops are jumping on board with more extensive and diverse inventories," according to Rahil Hamirani, president of Lonestar Smoke. "In addition to product diversity, it's equally important to have products with price points that appeal to all shoppers, from newcomers to the smoke world to committed patrons adding to their stash and serious collectors alike."
Whether a smoke shop offers simple accessories for customization or broadens its range of smoking products, "It's absolutely imperative to cater to the customization craze," adds Hamirani. "Th rough the wholesale side of our business, our value as a one-stop resource is recognizing trends early on, advising businesses on what consumers expect to see on the shelves and automating the process for smoke shops to effi ciently and privately place orders of all sizes."

In the end, as in the beginning, it's all about the customer. "Today's consumers want product customization, which boosts sales and creates customer loyalty," observes Hamirani. By empowering them with options that reflect their individuality, smoke shops have signifi cant opportunities like never before.

Founded in 2006, Lonestar Smoke (lonestarsmoke.com) is a family- owned, family-run business headquartered in Houston, Texas. Both a wholesaler and retailer, the company off ers an extensive selection of high-quality pipes with balanced fi ltration and unique designs, as well as accessories ranging from clever hideaways to portable must-haves. Lonestar Smoke travels the world to source unique products at varying price points aligned with emerging trends and customer expectations.

LoneStarSmoke.com