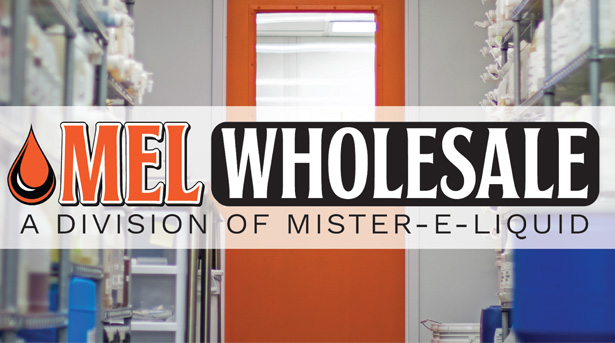 Mister E-Liquid
Mister-E-Liquid was founded on the principle of offering products that meet the extremely diverse needs of the vaping industry. With over 80 flavors to choose from, all available in a full range of bottle sizes, VG, nicotine, and menthol - plus over 50 additional flavors available in a more limited range of options to cater to the enthusiast - MELWholesale continues that tradition for Mister-E-Liquid's wholesale customers, including a full range of OEM and relabeling options.

When Mister-E-Liquid started in 2010, it established some traditions that continue to this day. "I was making every bottle myself, by hand, to order, so I could offer a lot of customization," reminisces Dan Lawitzke, owner and founder of Mister-E-Liquid. "Everything we've done since then has been refining and scaling that customization model." A growing list of e-liquid flavors was offered on www.mister-e-liquid.com and it wasn't long before customers from around the world were placing orders. To accommodate the increase in volume, and support local customers, Lawitzke soon started a retail storefront under the Mister-E's branding on Division Ave in Grand Rapids, MI. That first store remains to this day, offering e-liquid to order for West Michigan's growing vaping community.

By 2013, demand for Mister-E-Liquid was high enough that the relatively small retail lab could no longer accommodate it. That demand, and a continued desire for the highest-quality e-liquid, led to the construction of what would become Mister- E-Liquid's industry-standard-setting manufacturing facility.
"From the start, we had a vision for producing industryleading products," says Ron Pease, CEO of Mister-E-Liquid, then the Chief Operations Officer. "So of course we needed an industry-leading facility to realize that vision."
The result was a marvel of production engineering, a thirdparty certified ISO 14644 Class 6 cleanroom - an industry first - with multiple retail and wholesale production lines, governed by a world class ISO 9001-registered QMS system with strict training and procedure protocols. This lab would be staffed by the industry's leading e-liquid mixers, and supported by full logistics, inventory control, and administrative teams. With so much production capacity available, the lab could produce vape juice for other companies, as well, and thus MELWholesale was able to scale up operations to an industrial level.

A series of profitable partnerships followed, including a joint venture with the band Saliva, and the design and production of flavors for multiple OEM customers. This success necessitated an expansion of the cleanroom, increasing its capacity by an order of magnitude. At over 22,000 square feet, now employing a team of more than 80 people, Mister-E-Liquid made certain sufficient throughput was available no matter how high-volume the production contract.

The lab still operates, however, under the same basic operating principles that it always has: a wide variety of flavors, customizable with a broad range of nicotine strengths (optional, with 1.5 mg to 24 mg), multiple VG ratios (0% - 70%), bottle sizes (10 ml to 135 ml), and menthol (optional, with 3 different "Ice" levels). In addition, MELWholesale offers OEM production with a wide range of characteristics and flavorings, with a turn-key flavor development and production process. Several vape shops' entire house lines are wholly developed and bottled by MELWholesale.

Even the onset of FDA regulation didn't slow down Mister-ELiquid and MELWholesale, despite the serious commitment needed to obtain registration for the over 100,000 combinations of e-liquid. In addition to managing the registration of their hundreds of thousands of flavors, MELWholesale assisted their OEM and co-branding partners with their own registration before the dreaded August 8 deadline: that's what you call customer service before, during, and after the sale.

Mister-E-Liquid's retail vape juice is available online at www.mister-e-liquid.com, in any of its five Mister-E's locations in Michigan, or at all three BloNoSmoke locations in Illinois. MELWholesale, at www.melwholesale.com, produces some of the most popular vape juice in the world in Mister-E-Liquid's primary lab, with wholesale, OEM, and co-label customers from Michigan to Malaysia, from Europe to Down Under. Mister-E-Liquid has shipped nearly 300,000 orders to 65 countries around the world, but their original ethic remains unchanged. "It's not only about producing the highest- quality e-liquid," emphasizes Lawitzke. "It's also about offering the customization that gives the customers the eliquid they want, and standing behind it with solid customer care. You have to do all three." With an industry-leading lab, a wide variety of highly-customizable, fully-registered flavors, and an exceptionally dedicated staff, Mister-E-Liquid and MELWholesale are poised to do just that.