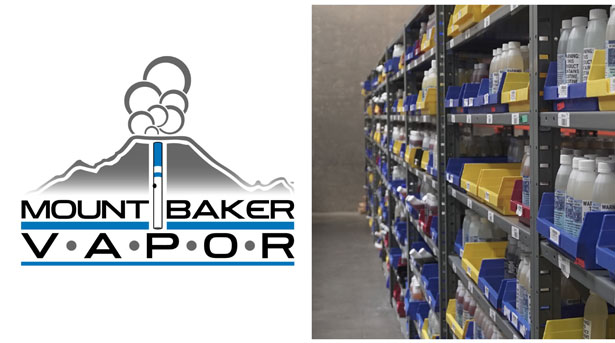 Mount Baker Vapor
For Mt Baker Vapor, the formula for success is a simple one: product plus people.
"At Mt Baker Vapor, we focus on manufacturing the best e-liquid in the world," says Sandi Bozarth, Wholesale Sales Manager. "We believe it's the quality ingredients, and the homegrown folks mixing our e-liquids that allows our product to be one of the best on the market."
One of the primary differences between Mt Baker and its competitors, according to Bozarth, is values. "The values we maintain are the same values that keep our customers shopping with us. Offering outstanding customer service, quality products, competitive pricing and fast shipping are things that Mt Baker Vapor considers to be of paramount importance."

James Thompson and Jesse Webb co-founded Mt Baker Vapor in 2011 for the purpose of bringing high quality e-juice at an affordable price to vapers around the world. The firm started operations in Bellingham, WA, but relocated to Mesa, AZ in July of 2015. There are 80 full-time employees.

"The great thing about our wholesale catalog is that it mirrors our retail catalog, which means more than 6,000 SKUs are available for purchase," she says. "Creamy, fruity, desserts, menthol and tobacco flavors; there's really no shortage of flavor selection or bottle sizes."

Business-to-business products are listed on the company's website, and can be purchased by contacting one of its wholesale account managers at 1-877-565-8273, ext. 2. Says Bozarth, "Most of our direct-to-consumer business is done through our main LLC." Mt Baker Vapor also has two brickand- mortar stores -- one in Mesa, the other in Bellingham -- in addition to its growing number of certified retail partners throughout the United States and United Kingdom.

Mt Baker's premium line, GWAR is now available in 240mL bottles; formerly, it had only been available in 30mL bottles. "GWAR is actually an American heavy metal band," Bozarth explains. "Many of the juice lines we carry are named after song titles -- names like Bloodbath, Immortal Corrupter and Jizmoglobin, just to name a few."

A Look Back, A Look Ahead

As Bozarth recounts, 2017 was a year that saw many changes for Mt Baker Vapor.
"One of those big changes was pouring more focus into our domestic market by making the Mt Baker Vapor Blue Label Brand exclusive to the United States and its territories. This change has enabled us to expand our brand while at the same time continuing to be a valued partner to our customers. Mt Baker Vapor Wholesale also opened the 'floodgates' and aligned our catalog with our Retail LLC, which provided customization and expansion of our offerings."
One of management's biggest goals in 2018 is to implement a system that allows for 24-hour shipping on wholesale orders which, when compared to top competitors, is unprecedented. "We're also working on launching a special project called Biz-In- A-Box," Bozarth says, "which will open up a whole new market of people who are unaware that a cleaner nicotine-delivery system exists, and that making the switch is very possible. There are a couple more special projects underway, but customer's will have to keep an eye on our social media for updates."

Executives are always working to increase Mt Baker's speed and efficiency when it comes to shipping its products. In 2018, "we will also be continuing those efforts and increasing our operating hours to keep this commitment to ship wholesale orders within 24 hours," says Bozarth.

Among the dynamics affecting wholesale today are legislation and regulation of e-liquid products. Each state can enact individual restrictions, for instance, as of January, "we're now able to offer our B2B products in Utah and Arkansas," Bozarth points out. "Federal law has an impact on our ability to develop new flavors of e-liquid in a timely manner. Internationally, each country dictates what we can offer to our partners."

The economy, understandably, has had and will continue to have a major impact on Mt Baker's business. "Our customers are mostly small, independent retailers from various landscapes with a vast array of backgrounds," Bozarth explains. Fluctuations in the economy can impact our customers' ability to keep the doors of their businesses open. "One way we try to help ease the financial investment of trying to meet all their unique customer needs is by stocking a huge inventory through our affiliate program. We offer a wide variety of flavors, and it would be very difficult and costly for the average vape store to keep them all in stock."

With the affiliate program, she continues, "our partners receive incentives to refer their customers to us when a particular flavor requested is not in stock. This is one way we provide value to our partners by helping them manage their costs, while assisting them in meeting their customer's needs."

Valued Partner

Management expects the greatest challenge of 2018 to be getting the small business owners to see Mt Baker Vapor as a valued partner instead of a competitor.
"We have, and will continue to, overcome this miscommunication by encouraging our customers to join our affiliate program," Bozarth notes. It offers FDA-compliant products, access to 600,000-plus retail customers, a retail store locator, reduced overhead, and 10% return on sale referrals. "And this is just to name a few benefits of the program."
Mt Baker places great value on its customers because it does the same with its own people. "Personally, I feel fortunate to work for a company that makes you feel like you're a part of a family," Bozarth says. "Even as Mt Baker Vapor has grown we've worked to keep that small business feeling. It is unique in a corporation, and it's one of the main reasons why so many people, myself included, love working here."

Bozarth says that the personal philosophy that has worked for her, and that she coaches her team on, is to "find their why. I received a great read from one of Mt Baker Vapor's owners, James Thompson called Find Your Why by Simon Sinek. It's all about discovering purpose for yourself and your team, and since I read it, I've been implementing the strategies laid out in the book and have encouraged my team to apply these strategies to all aspects of their professional lives."

When someone has a personal attachment to why they do what they do, such as selling Mt Baker's products, they are one step closer to achieving professional success, she explains. "We're making a difference in people's lives, and not a lot of people can say that about their profession. That is why I do this. It's a great feeling."