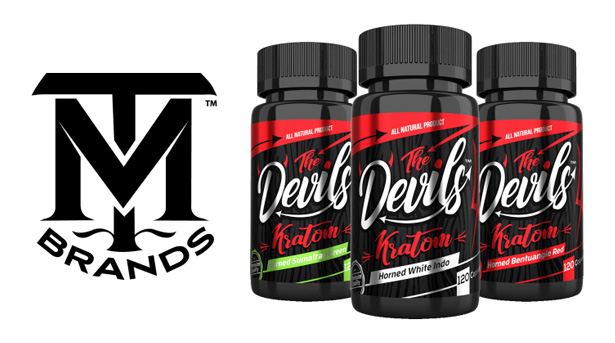 MT Brands
When it comes to the alternative products industry, there's one name that stands out as a true trailblazer - MT Brands.

Renowned for their commitment to excellence, MT Brands has been leading the charge in delivering unparalleled energy, relaxation, clarity, and relief through an exceptional line of natural herbal products. With a steadfast dedication to quality and safety, MT Brands has built a reputation for producing top-notch products that resonate with customers seeking genuine benefits. Jim, Founder of MT Brands points out, "I receive testimonials from consumers all the time about how much our products have helped change their lives for the better. That to me is exciting!"

A visit to their website reveals a treasure trove of educational blog articles, emphasizing the importance of CGMP Kratom, regulatory adherence, transparency, and the use of scientific data to produce top-quality and effective kratom products. Among their impressive offerings, Tianaa stands out as a proprietary blend of natural herbs and nootropics. This patented product has earned an enviable reputation for delivering unmatched benefits, including energy boost, mental clarity, relaxation, and overall relief. Available in three distinct varieties, Tianaa offers something for every occasion, ensuring that customers can find the perfect fit for their needs.

Another exciting development at MT Brands is the relaunch of their renowned "The Devil's Kratom" product line. As pioneers in the kratom industry, MT Brands, led by its founder James Morrissette, played a crucial role in establishing a thriving kratom market in the USA. With a firm commitment to maintaining the highest quality and safety standards, MT Brands has been a shining example of adhering to GMP guidelines. This dedication to excellence sets them apart from competitors and makes them one of the few providers of quality CGMP kratom in the country. MT Brands' Devil's Kratom lineup includes three enticing varieties - Horned White Indo, Horned Bentuangie Red, and Horned Sumatran Green. Each variant offers a unique set of effects, from mild stimulation to relaxation, catering to the diverse needs of kratom enthusiasts.

Certified as a GMP, HACCP facility, MT Brands takes pride in offering a wide range of price points and product styles, granting consumers the power to choose products based on their desired quality and effects. With a strong emphasis on purity and quality, their natural ingredients and nootropics are subject to rigorous testing, and Certificates of Analysis (COAs) are readily available on their website. This commitment to consistency and quality has been the cornerstone of their success and resonates with customers when they try their products. Jim, Founder of MT Brands asserts, "Everything we do is GMP-compliant. Distributors and retailers should always ask their suppliers for proof of GMP and HACCP certification. No cert, no sale."

Leading the way in innovation, MT Brands recently introduced their groundbreaking product - Kratom Tart, or K-Tart. Recognizing that some kratom enthusiasts may find the taste less than desirable, MT Brands devised a delectable solution with their "Sinister Cinnamon" flavored candy, offering a whole new way to enjoy kratom. The K-Tart can be chewed or savored like a lozenge, completely bypassing any unpleasant flavors. The company has even registered the trademark for Kratom Tart and K-Tart, paving the way for more tantalizing flavors in the future. Each Kratom Tart contains 1.5 MIT Kratom per tart, made from extract, and comes in a convenient tube with 16 tarts - perfect for on-the-go kratom consumption.

At MT Brands, branding and packaging are a source of pride as they diligently strive to deliver nothing short of excellence. Collaborating with seasoned designers boasting over 20 years of experience in this particular industry, MT Brands ensures that their products stand out in the competitive market. Thoughtfully designed, the packaging serves as a powerful message conveying the commitment to top-notch quality, promising customers an experience of consistency. The fusion of quality products and exceptional packaging truly amplifies the allure of MT Brands, setting them apart in the industry and captivating the discerning eyes of consumers.

MT Brands is not just committed to producing exceptional products; they also go the extra mile to support their retailers in promoting and selling their offerings. MT Brands is diligently building a comprehensive resource library exclusively for retailers. This valuable resource hub equips store owners with essential information, marketing tips, and industry insights to enhance their sales and customer engagement. Recognizing the significance of clear communication and accessibility, MT Brands adopts an open-door policy, warmly encouraging retailers to ask questions and seek guidance whenever needed. As a testament to their dedication, MT Brands provides a wealth of marketing materials to their customers. From eye-catching door signs to attention-grabbing window clings and posters, these materials enable retailers to create captivating in-store displays that attract customers and elevate the shopping experience.

Exciting news awaits as MT Brands prepares to unveil a new line of exceptionally high-end premium kratom products in the upcoming year- stay tuned! In addition to this exciting release, MT Brands is now offering bulk capsules, crushed, and powdered kratom, as well as white labeling and co-packing services, all meticulously produced within their stringent CGMP standards. As expected from MT Brands, every product is accompanied by Certificates of Analysis (COAs) and upholds the unwavering commitment to premium quality. This remarkable offering extends a golden opportunity to other brands, enabling them to elevate their product offerings and provide customers with the same unparalleled standard of service synonymous with the esteemed MT Brands name. "MT Brands was built on honesty and integrity. It's been the foundation of our company from the very beginning," Jim affirms.

As MT Brands continues to make its mark, their unmatched dedication to exceptional products, adherence to strict manufacturing guidelines, and devotion to customer satisfaction solidify their position as an industry leader. Let MT Brands Take You There; on a journey to discover the finest in alternative products and experience the unparalleled benefits of their topquality kratom offerings. But don't just take our word for ityou can see MT Brands' premium product lines for yourself at upcoming Alt Expos and Champs trade shows. To get in touch, you can email them at sales@mtbrands.com or just give them a call at 1-(888) 254-0924. Check out their full product spread today on their website at mtbrands.com.