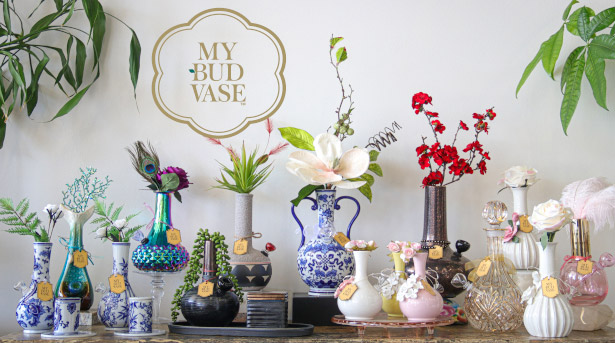 My Bud Vase™
wholesale.mybudvase.com

www.mybudvase.com

(843) 779-5371

Doreen Sullivan, a creative powerhouse and ultrapreneur, founded My Bud Vase™ in Folly Beach; SC. In 2015.Doreen is involved in every aspect of the company operations 24/7, designing and developing all products, and leading the overall growth of the company. But, she points out, now "has a kick-ass operational and creative team now in place to support her efforts".

My Bud Vase™ is today headquartered in Charleston; SC. Doreen was kind enough to take time out of her busy schedule to answer a few questions for us, regarding the direction and growth of her company.

What was your original goal, or vision you had for your company?

My original plan was to have a creative outlet for me. As a lifelong Cannabis consumer I've enjoyed the benefits of this plant and have relied on its ability to enhance all of my creative endeavors. My background is in entertainment marketing and advertising. My niche is in product development and through my agency www.postnobills.com I've spent the past three decades making unique products for companies such as ESPN, Disney and the Olympics.

I started My Bud Vase™ as an artistic hobby to feed my creative soul and focus on something personal rather than corporate. After I made and sold over 1000 One-of-a-Kind Artisan Vases (bongs) and loved every detail about all of them, I knew I was on a roll and started putting all of my energy on growing this into a scalable product line and company. As a woman in business and as a woman who consumed cannabis I felt the need to develop a woman's consumption and lifestyle category.

Did you originally plan on selling to retailers?

No, definitely not. My original plan for My Bud Vase™ was to create Artisan pieces and vend on the weekends, maybe sell a few online ~lol.

How has your company changed over the years?

It's blossoming in so many beautiful ways! I've been able to go way beyond Artisan pieces to create a full product line of beautiful and functional bongs (known as our Signature Collection). Thanks to my background I've got the knowledge and the experience to expand this business on all levels. We're growing fast and its super exciting. We're also really empowering women along the way. Not only do we have beautiful products that speak directly to the female consumer, we have a brand that supports and inspires women in the process. For example, our new 2400 sq ft shop is called our "creation station" and is more of a she-shop than an online business warehouse. Everything we do is covered in flowers and art and creativity. It's such a great space to develop products and creative executions for our products.

My future plans include launching and expanding My Bud Life™: a female inspired cannabis lifestyle brand. It's our new "beyond the bong" brand to create more accessories and Cannabis lifestyle products and content.

Who is your current target market, and has this target market changed or remained the same as you originally envisioned it?

According to our IG stats, our 80K+ followers are 78% women and 22% male; however, our true target market is the sophisticated cannabis consumer who appreciates artistic choices for consumption. Our line currently attracts more women than men but as we continue to expand we will continue to develop more unisexed pieces. Let's face it though, most products on the market are designed and made by men so they tend to serve a male aesthetic, which includes being heavy, complex and quite phallic….just saying.

Describe your product line for the retailer.

For the retailer My Bud Vase™ is a must have for the female consumer! Just check out our IG @mybudvase and see how woman love and appreciate these creative pieces. Also, My Bud Vase™ is a must have for anyone needing to be discreet because they are so easy to hide in plain sight in your home. We like to say that they are an artistic array of smoking vases. These are beautiful vase-bongs that combine floral, form and function. Made to be proudly displayed or hidden in plain sight, My Bud Vase™ is a fresh alternative to make smoking beautiful!

How does My Bud Vase™ distinguish itself from similar products in the marketplace?

The main difference is that they are Vases. It's a Vase and It's a Bong.. Each design is a unique work of art, made from a variety of materials (glass, porcelain, ceramic) each detail carefully selected, from it's bowl to its faux flower poker, curated with our motto in mind: Smoking Made Beautiful. It's a new twist on the classic water pipe, and it is in no way trying to diminish the artistry or talent of blown glass or any other products in this industry.

How can retailers and distributors purchase My Bud Vase™ products from you?

We sell directly to retailers, distributors and buyers of large chains online through our wholesale online portal. Our new wholesale online portal with the full Signature Collection is designed to keep orders simple. We have designed the site to ease the purchasing process for retailers. Building relationships with each retailer is very important to us; we can be reached at wholesale@mybudvase.com and we'll connect you with your own account manager who will take orders, advise on what pieces would be best for your store and walk you through the ordering process.

To sum up, are there any final thoughts you would like to leave with wholesalers and retailers, who are considering your My Bud Vase™ line of products?

We consider ourselves a newcomer to the industry. We are so happy to be welcomed and appreciated for our craftsmanship, attention to detail, and abundant energy! My slogan, "Creativity in Motion" has fueled My Bud Vase™ to become one of the most creative companies currently in the Cannabis consumption industry. My favorite quote has actually come from Steve DeAngelo - the name sake to our DeAngelo Vase.

"Your works of art are things of beauty and potently de-stigmatizing. Well done." -Steve DeAngelo

We highly anticipate recognition for our products as our exposure grows in the Cannabis consumption world. In 2018 at the Canadian Cannabis Awards our Coyote vase won Top Bong and in 2019 our Aurora Vase was the Top Bong Runner up.