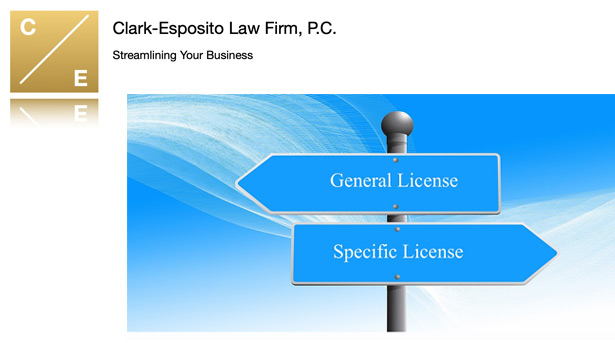 Which OFAC License Type Should I Use?
Selecting the Correct OFAC License Type for Various Export Transactions

Typically, when exporting from the United States an exporter must pay special attention to exemptions in regulations and sanctions while also understanding if a general or specific license is needed for their particular transaction. The Office of Foreign Assets Control (OFAC) of the U.S. Department of Treasury is the sole governmental body that an exporter will be interacting with to make these determinations.

It is very important for any thriving export business to maintain a robust compliance program which is familiar with such requirements and occasional changes. Below are brief descriptions of OFAC license-types.

Exemption

Within regulations and occasionally under a general license, there may be an exemption written into the legislation which expressly exempts certain transaction types or entities from a general restriction.

General License

A general license is made available to everyone, often originating from the enabling legislation or act. In this case, anyone is authorized to facilitate transactions within the scope of a general license without the approval of OFAC.

Specific License

A specific license is written authorization for particular transactions or the sale of certain goods granted by OFAC on a case by case basis. Whereas general licenses are publicized and readily accessible to the public, a specific license is granted to a particular business or entity and only that business and OFAC know of the ownership of the license.

When seeking specific licenses, OFAC requires considerable detailed information from the requesting party, including every person involved with the transaction, the shipment terms and schedule, end use of the products, which banks are being used and the payment mechanism that will be used.

Read our article on OFAC licensing by clicking the button below - and as always, feel free to share with your colleagues in export. If you have questions about OFAC license types or exports generally, please reach out to the Clark-Esposito Law Firm, P.C. at contact@clarkespositolaw.com.

Clark-Esposito Law, P.C.
Clark-Esposito Law Firm, P.C. ©2021
1345 Avenue of the Americas, 33 Fl.
New York NY 10105
(917) 546-6997
www.ClarkEspositoLaw.com

DISCLAIMER: The content of this website has been prepared by the Clark-Esposito Law Firm, P.C. for informational purposes only and should not be construed as legal advice. The material contained in this email newsletter is not intended to create, and receipt of it does not constitute, a lawyer-client relationship, and readers should not act upon it without seeking professional legal counsel. The Clark-Esposito Law Firm, P.C., did not produce and is not responsible for the content of off-site legal resources. The materials on this site may constitute advertising under various state ethics rules.