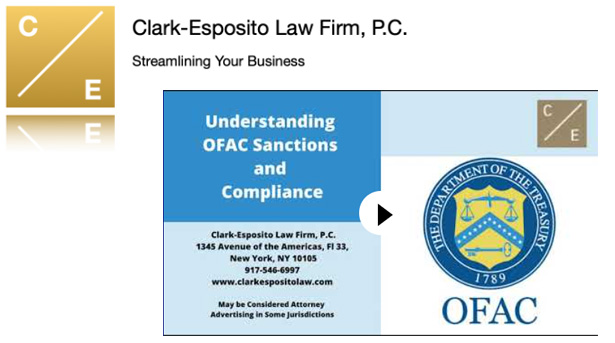 What are OFAC Sanctions?
The Office of Foreign Assets Control (OFAC) of the U.S. Department of Treasury administers and enforces economic trade sanctions against foreign entities or individuals found to be in violation of agreements, policies or civil liberties recognized by the U.S. government. OFAC has jurisdiction over any U.S. citizen or transaction that has a strong U.S. nexus.

OFAC manages sanctions through either comprehensive restrictions, limited programs or list based programs. Once OFAC has placed sanctions on an individual or entity, depending on which program is relevant, said entity may be either blocked or rejected. Rejecting limits certain transactions with those designated while blocking is absolute.

There are two types of OFAC licenses, a general license and a specific license. The need for either type of license may be dependent upon a variety of factors in the transaction including who the end-user is, where the end-user is located, what the goods are and many other aspects of the transaction.

If OFAC finds a violation of any of their imposed sanctions it has the discretion to either take no action, send a cautionary letter, send a letter stating a finding of violation, impose civil penalties or initiate a criminal referral. To avoid sanctions violations OFAC encourages businesses to develop internal compliance programs which would include multiple screening checkpoints.

We can be reached at contact@clarkespositolaw.com for additional questions related to OFAC Sanctions, or import/export compliance in general. For educational videos on topics such as this, watch our videos on YouTube to learn more.

Clark-Esposito Law, P.C.
Clark-Esposito Law Firm, P.C. ©2021
1345 Avenue of the Americas, 33 Fl.
New York NY 10105
(917) 546-6997
www.ClarkEspositoLaw.com

DISCLAIMER: The content of this website has been prepared by the Clark-Esposito Law Firm, P.C. for informational purposes only and should not be construed as legal advice. The material contained in this email newsletter is not intended to create, and receipt of it does not constitute, a lawyer-client relationship, and readers should not act upon it without seeking professional legal counsel. The Clark-Esposito Law Firm, P.C., did not produce and is not responsible for the content of off-site legal resources. The materials on this site may constitute advertising under various state ethics rules.